The Pandemic's Effect on Energy and the Environment
"Largest demand destruction ever seen" -- Duke faculty share perspectives during media briefing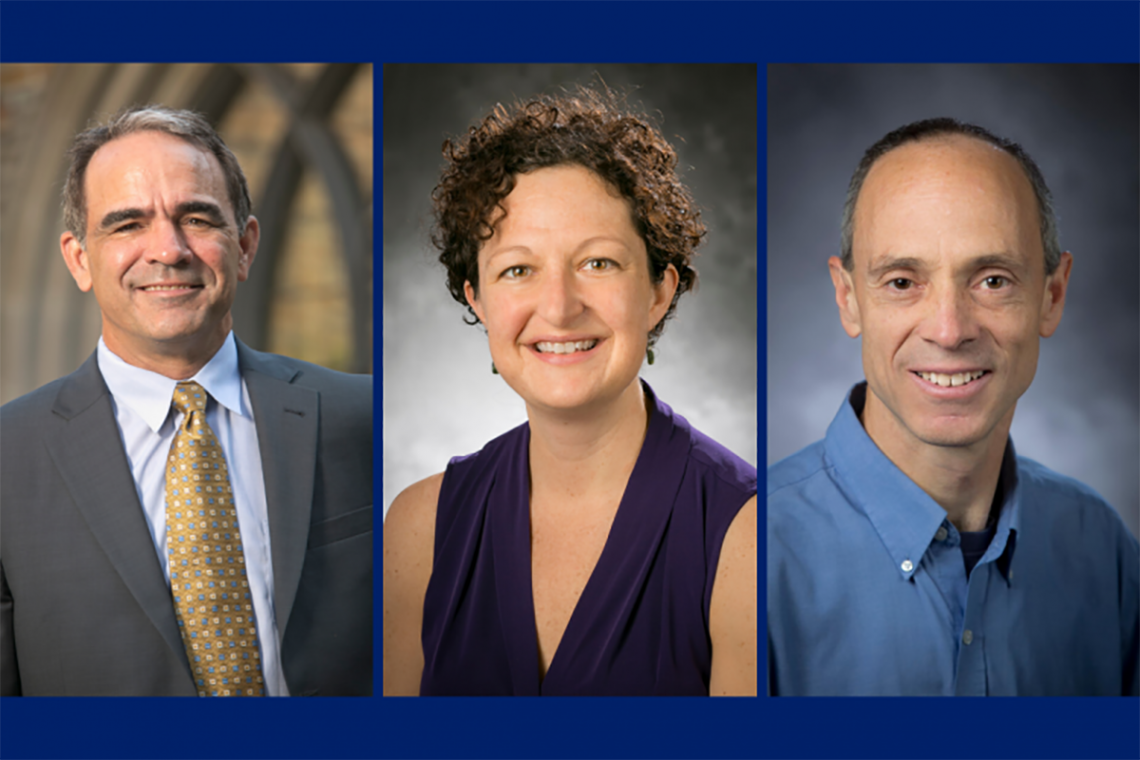 The ongoing COVID-19 pandemic has had a destructive effect on the oil industry, but may give lawmakers and policy experts a chance to do some productive, environmentally friendly long-term energy planning, three Duke experts said Wednesday.
The energy scholars spoke to reporters in a press briefing. Downloadable audio and video files are available here.
Here are excerpts:
ON THE PANDEMIC AND OIL PRICES
Brian Murray, director, Duke University Energy Initiative
"We're now witnessing the largest demand destruction ever seen -- about a 30 percent reduction in the daily consumption of oil. This has caused oil prices to plummet. It's a global market and this affects the highest-cost producers the most."
"Will this accelerate the adoption of renewables? That's a mixed story. What's favorable for renewables in this environment is that investment capital is looking for more steady returns. The volatility of commodity markets is really spooking them and renewable energy is a good alternative, especially as the cost and the reliability of renewable assets like wind and solar… have improved remarkably over time."
ON LEARNING FROM THE PANDEMIC
Kate Konschnik, climate and energy expert
"The most important thing for policymakers and the public to realize is how much we don't yet understand. We're seeing major divergence from our normal transportation and energy use patterns … but what we don't know is whether those trends will stick, whether they'll deepen or whether they'll reverse course. There's just a lot of uncertainty."
ON PUBLIC BUY-IN FOR BEHAVIOR CHANGE
Konschnik
"If you ask a lot of Americans, and tell them we've dropped our CO2 emissions 11 percent over the last year, they'll say I'm trapped in my house and I'm unemployed, so if this is what it takes to tackle climate change, no thank you. That is a real risk going forward."
ON THE IMMEDIATE IMPACT OF THE PANDEMIC ON AIR QUALITY
Drew Shindell, earth science professor
"The drop in energy demand is making a substantial difference to emissions of all things that affect air quality and climate change."
"As we change the emissions over the course of weeks, days, months … we see a response very quickly. Most of the public can see that. I go running around Durham, North Carolina, and I can feel the difference in my breathing. So I can only imagine what the difference is in Delhi or Shanghai. So these differences are very profound."
ON PEOPLE BEING HEALTHIER
Shindell
"I think we will be able to see (a profound difference) in human health. As people breathe less pollution, fewer people go to the hospital. So we're seeing people go to the hospital for COVID, but fewer people go to the hospital for respiratory problems. So there's some really interesting medical questions going on."
ON HEALTH AND ECONOMIC POLICY OPPORTUNITY KNOCKING
Shindell
"The real question is what happens going forward? Do we decide that hey, telecommuting works, and we like not having as many cars clogging up downtown streets and let's make this the new normal? Or do we decide that … the economy is in really poor shape and we need to pour money into tried and true things like propping up fossil fuel industries."
"I think what we're really going to be looking for is how governments respond post-pandemic. Do we build back better and get a new society where we put people to work doing things that will help the environment long term? All these 20 million people who have lost jobs, they need something to do."
ON THE BIGGEST DROP IN CO2 (CARBON DIOXIDE) EMISSIONS?
Shindell
"We see the largest percentage drops in things like shipping and aviation, but those are in general smaller contributors to global emissions. In terms of the total tons of CO2 coming out into the world, the largest drops are from industry -- the decline in industrial manufacturing -- and from transportation, primarily motor vehicles. We're seeing smaller declines in energy."
"Going into the future, we expect industry to largely return. It's still a big unknown what will happen with transportation, and if we'll go back to the same demand and usage patterns and commuting patterns."
ON RELIABILITY AND SAFETY OF POWER SYSTEMS DURING PANDEMIC
Murray
"This is actually just the kind of thing that utilities are really good at -- keeping the electrons flowing. In terms of keeping plants running, they're really good at this. They've had pandemic plans in place for a long period of time."
"People have said the only thing that stands between us and the Stone Age these days is electric power systems and reliable WI-FI. I think they have taken this role very seriously and have performed admirably in terms of keeping the system running."
"It will be interesting to see in the summer, as the demands for electricity change, how the needs will be met. It will also change the daily profile of electricity use. As people stay at home, our kind of peak load for energy shifts."
WILL ENERGY USE CHANGE WITH EVERYONE WORKING AT HOME?
Konschnik
"In a normal time, we see these spikes in the morning when a lot of people are getting ready for work or school, and then when they get home at the end of the day. We're already seeing in Florida a shift to residential electricity demand … and the temperatures have required people to start air conditioning their homes. We're not seeing overall electricity demand go down and we're not seeing these spikes. So it's looking like there's sustained increase across the day in electricity use in residential buildings. That could show where the rest of the country, as temperatures rise, is heading."
"We could see a shift from commercial spaces to residential spaces being air-conditioned in the summer. In some parts of the country … that could go against this general trend of a drop in electricity usage."
ON ADDRESSING CLIMATE CHANGE NOW
Shindell
"There is a great deal of opportunity. We've seen difficulties, very pronounced difficulty, in getting action put in place around the world, both because the public sees this as a diffuse and future threat rather than something that's here and now and tangible, and we've seen difficulty in getting the initial capital that's needed sometimes that's need to invest."
"What we're seeing with this pandemic is people can really see the air around them cleaner. They're seeing that when we make a change, we can have an immediate impact on the environment -- a profound impact. Obviously we don't want to deal with climate change by locking everyone up at home. But the public will to live in a clean environment is enhanced because they're seeing what can happen when we get rid of pollution."
"Given how many millions of people are out of work, and how much work there is to be done -- there are fairly non-specialized, low-skill jobs that can be given out to millions and millions of people that can aid the transition. I think there's a real opportunity there for us to speed this transition, as part of the response to the transition."
ON ONE THING THAT WOULD HELP RIGHT NOW
Konschnik
"I would like to see real investment in clean transportation and clean energy infrastructure. If we're going to be infusing a lot of capital into the economy to get it started again, we should be investing in the technologies of tomorrow, the technologies that are good for the environment and good for the economy."
Meet the experts
Kate Konschnik
Kate Konschnik is director of the Climate & Energy Program at Duke's Nicholas Institute for Environmental Policy Solutions. She specializes in the Clean Air Act and its application to clean energy and climate goals. Konschnik has worked with state governments on climate and energy policy, and she has deep knowledge of upstream oil and gas operations, particularly on impacts to air, water and land resources.
kate.konschnik@duke.edu
Brian Murray
Brian Murray is director of the Duke University Energy Initiative. He specializes in the design of economic policies to address a range of environmental problems, with a focus on climate change policy. This includes the design of cap-and-trade systems; price containment mechanisms; and emissions offsets generated by the agriculture, forest and land-use sectors.
brian.murray@duke.edu
Drew Shindell
Drew Shindell is a professor of earth science. He researches how climate emissions and air pollution affect human health and food security globally. Shindell has testified before Congress and chairs the science advisory panel to the international Climate and Clean Air Coalition; was lead author on the UN's 2018 Intergovernmental Panel on Climate Change report.
drew.shindell@duke.edu

Duke experts on a variety of other topics related the coronavirus pandemic can be found here.
###