Jill Jones: Following the Question of What It Means to Be Human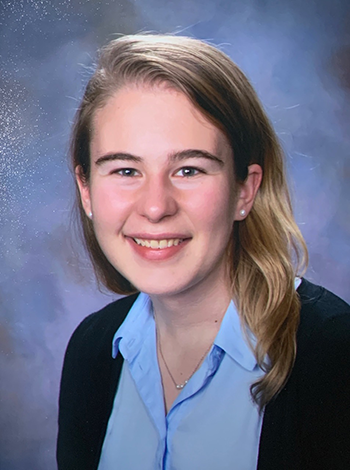 When she was a high school senior, Jill Jones had three priorities that shaped her college decision: A chance to play music, opportunities to do research science and a commitment to honoring the victims of genocide.
Four years later, Jones graduates with a double major in neuroscience and linguistics and a minor in German and as a winner of the nationally competitive Goldwater Scholarship. Along the way, she's fulfilled her ambitions:
She's played in the jazz ensemble, marching band, and wind symphony. She leaves with memories of having played the trumpet, tenor sax, mellophone and piano with her peers, performing in both Duke Chapel and Baldwin Auditorium and watching people dance the Zillertaler Hochzeitsmarsch at the Wind Symphony's Viennese Ball every year.
She's done original research on pediatric brain tumors in labs both at Duke and Washington University in St. Louis.
As one of the leaders of the Duke Coalition for Preserving Memory. (CPM), she's shaped a campus discussion on genocide and mass atrocities, organizing the annual 24-hour reading of victim's names. This year, with the pandemic closing the campus, Jones and other CPM leaders adeptly pivoted to making the event virtual, bringing in more than 200 recordings as members of the Duke community read names from across the world.
These various accomplishments seem disparate, but they all come out of Jones' drive to learn about the human experience.
"I'm fascinated by the question of what it means to be human," Jones said. "My neuroscience major set the foundation for my first insights, since it allowed me to study the neural networks that underlie all human life.
"Linguistics and music allowed me to unpack the verbal and nonverbal ways in which people can communicate and understand each other, and they taught me how we humans can use our language, musical or not, to enhance each other's lives.
"Finally, my continued human rights activism has taught me the value of every human voice – and encouraged me to use the privilege of mine, first and foremost, to lift others up. Overall, pursuing these different interests has given me a much greater appreciation for the people in my life and beyond and has allowed me to get in touch with my own humanity as well."
There are also personal connections behind several of these interests. Her focus on lab research on pediatric brain tumors was inspired by a friend and Duke Jazz Ensemble colleague, who died after a 15-year battle with neuroblastoma, a rare and aggressive cancer of the nervous system.
Meanwhile her interest in genocide remembrance came from her research into her family tree. She found she had relatives who died in the Holocaust and that her grandfather, whom her mother had never known, was saved by the Kindertransport, which provided asylum in the United Kingdom for more than 10,000 European Jewish children.
"I've become acutely aware of why I need to remember – both to acknowledge my own ancestors' names and stories and to speak up for every other person whose voice has been wrongfully silenced," Jones said. "It's been the biggest honor of my college career to be involved with both the Name Reading Ceremony and the Duke Coalition for Preserving Memory."
Jones added that her Duke experience she adds was shaped by relationships with "many, many brilliant minds" who have mentored and encouraged her in her accomplishments in the lab, classroom, concert hall and extracurricular work. 
But like other Duke students, Jones added that the spring disruption has posed challenges. It won't define her career at Duke, "but it definitely marked it."
Now with family in Columbus, Ohio, Jones said she focused her time on completing her courses, cherishing her unexpected time with her family and completing the Name Reading event, which this year included names of COVID-19 victims. She'll apply to Medical Scientist Training Programs for next year with the goal of earning a MD/PhD in cancer biology. "I've kept myself sane by playing music and staying in touch with friends. I have to remind myself that it's okay to not be okay – and I'm still working on this."