Axel Herrera Ramos: 'Yo Soy Un Americano'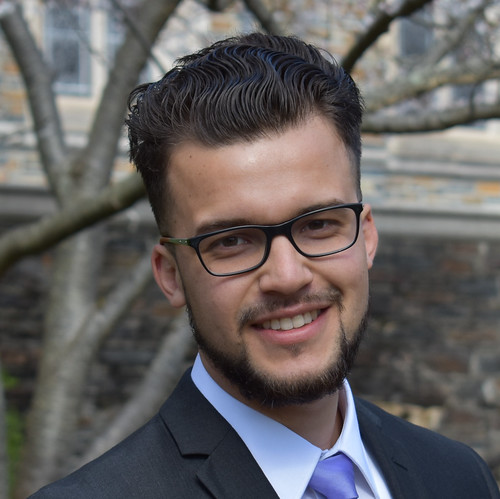 Axel Herrera Ramos was only 7 when his family came to the United States from Honduras. He's been making connections and making use of opportunities ever since.
They made Durham their home, and Herrera Ramos graduated from Riverside High School. A Golden Door Scholarship, created for undocumented students, helped make it possible for him to attend Duke.
He can hardly believe graduation is here, in part because it means so much to his family. "Finishing up undergrad has tremendous significance for my family," he said. "I am the first to be graduating from college, a testament to the love and support my family gave me ever since I was in Honduras."
As he has been helped along the way, Herrera Ramos has strived to provide similar support to other Deferred Action Childhood Arrival (DACA) recipients who were brought to the U.S. as children.  He and fellow senior, first-gen student and DACA recipient Ana Ramirez co-founded Duke Define American, the first undocumented student advocacy group at Duke. He also initiated Undocumented Awareness Week, bringing DREAMers–the nickname for DACA recipients–into the conversations involving Duke students and administrators. Herrera Ramos and Ramirez were co-winners of this year's William J. Griffith University Service Award for outstanding Contributions to the Duke Community.  
In April, he received the 2020 Betsy Alden Outstanding Service-Learning Award. "Axel cares deeply about community-engaged work and his service-learning peers," said award nominator Kimmie Garner, assistant director of Duke Service-Learning. "His continual efforts to strengthen faculty and student relationships, both within and beyond the classroom, exemplify Betsy Alden's vision of building more humane relationships through tangible action."
His advocacy work has taken him several times to Washington, D.C. He served as a congressional intern for Rep. Ben Ray Luján (D-New Mexico). Last Nov. 16, the day the Supreme Court heard arguments about DACA, Herrera Ramos, Ramirez and several others participated in a rally to support the program. In Duke Chronicle picture accompanying the rally story, Herrera Ramos can be seen holding a sign that reads, "Yo soy un Americano" (I am an American).
He said that the COVID-19 pandemic makes it an unusual time to graduate but, "I have also learned how to be resilient even before I was at Duke," he said. "More than anything I also think I am ready. I have so many passions and projects I wish to pursue and graduating is only one of the first steps in a very long journey."
Herrera Ramos jokingly noted that he has already received one diploma on campus: as a Riverside High School student in Cameron Indoor Stadium. "Maybe I can count that for two!" he added.
What's next? "I plan on doing some political organizing in North Carolina for the upcoming election cycle," he said, but he also plans to take some time off. "Finishing up has been quite the sprint. I am looking forward to sit, breathe and recharge for the next run," he said.