A Painting in Grass to Show Support for Duke Health
Watch a time lapse video of Duke University Facilities Landscape Services painting an appreciation message on the Duke University Hospital lawn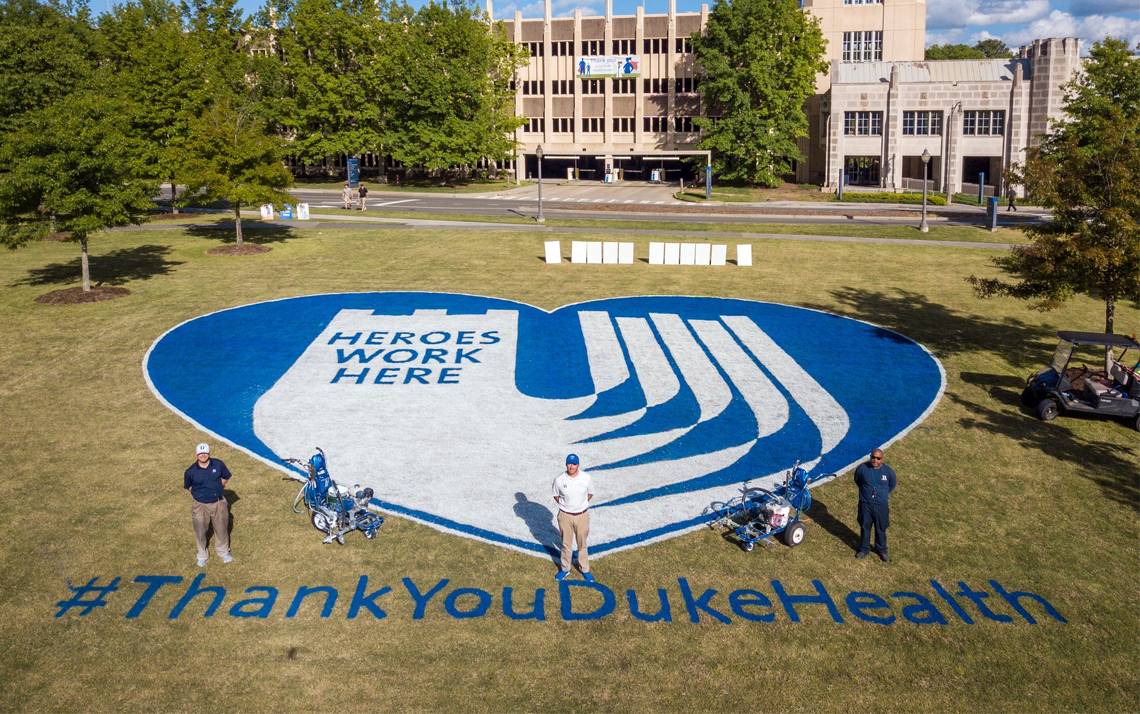 When Duke Health wanted to send a big message of appreciation for health-care workers on the Duke University Hospital lawn as part of their #ThankYouDukeHealth initiative, Duke University Facilities Landscape Services Athletics team was ready.
Scott Thompson, grounds superintendent and Ian Christie, grounds senior supervisor, began working on the design's dimensions, layout, as well as the logo, which was designed by Thompson's wife, Kristen.
Thompson, Christie and Kareem Cross, grounds equipment operator, painted the 60' x 60' design on the lawn after its outline was laid out by a relatively new member of Facilitates Grounds team, the Turf Tank, a robotic-intelligent, line-marking system that Landscape Services has been using to line athletic fields for the past year, Turf Tank was programmed by Christie ahead of time with the logo's lines.
"We were grateful to take a piece of what we do every day to encourage and motivate our fellow Duke employees," Thompson said. "It was a great opportunity to serve our health-care teams that have so tirelessly served us, our families, and our communities during this unprecedented time."
- Vanessa Roth, Duke University Facilities Communications
WATCH this time lapse video by University Communications and Duke Health Communications:
Help share the proactive and extensive work being done by all Duke community members during the COVID-19 outbreak. Send ideas, shout-outs and photographs here or write us at working@duke.edu