Order Up: 50,000 Face Shields
Quick thinking and collaboration lead to Duke Health effort to keep COVID-19 caregivers safe
Most of the time, staff members of Duke Health Engineering & Operations are somewhat removed from the front lines of patient care. But in a pair of workshops, a few miles from Duke's main campus, several of these employees are working hard to keep front-line caregivers safe from COVID-19.
Over the past week, Engineering & Operations has taken on the challenge of producing 50,000 protective face shields, which, along with masks that cover the nose and mouth, provide crucial protection for caregivers tending to coronavirus patients.
"We are used to doing things that are out of the ordinary to support the hospital," said Robin Thomas, Engineering & Operations executive director. "But we have never made masks like this before, and nothing in this volume."
The team from Engineering & Operations' instrument and construction shops have been cutting foam and elastic while employees from other areas of Engineering & Operations have worked together – while maintaining appropriate physical distance – in a different workshop assembling and readying them for use by Duke caregivers.
The team produced around 250 shields last Friday, when the effort began. The group made 5,000 shields last weekend. By Wednesday, the output had climbed to 12,000 shields.
"We have painters, electricians, mechanics, office staff and team members from shops across our group all working together," Thomas said. "It will take a combination of everybody to be successful."
Since then, the group of around 25 employees has continued to work toward a goal of 50,000 shields. 
Duke Vice President for Procurement Jane Pleasants said her team has already begun looking for supplies to craft another 50,000 face shields should the need arise.
"If you can use something that you make, that you control, you're much less likely to run out of it." Pleasants said.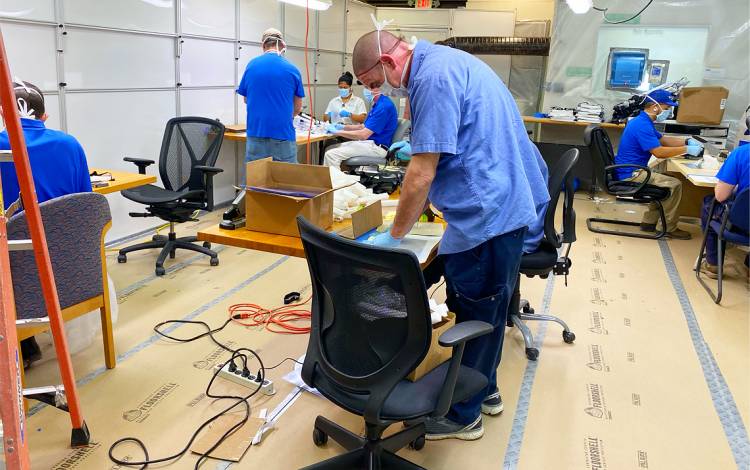 In addition to the shields being prepared by Engineering & Operations, which can be used multiple times before being disposed of, there's a separate collaboration between faculty members from the Pratt School of Engineering and the Duke University School of Nursing to 3-D print face shield components that can be sterilized and reused.
The idea of having Engineering & Operations assemble shields began in mid-March, when health systems elsewhere saw shortages in personal protective equipment and began to assemble some pieces themselves.
Diane Uzarski, chief of staff to Duke University School of Nursing Dean Marion Broome, initially contacted Pleasants to see if Duke could do something similar using volunteer labor.
Over the next week, Pleasants' team found sheets of clear mylar plastic, large layers of foam and elastic bands with which to create the shields. Meanwhile, Uzarski rallied 140 School of Nursing staff and faculty, 50 alumni and a planning team to volunteer to assemble shields.
"Most of our faculty and staff members are nurses who have worked in all kinds of health settings, so they have a keen understanding of the importance of personal protection equipment and what a threat to employee safety it is if they don't have each one of those pieces," Uzarski said.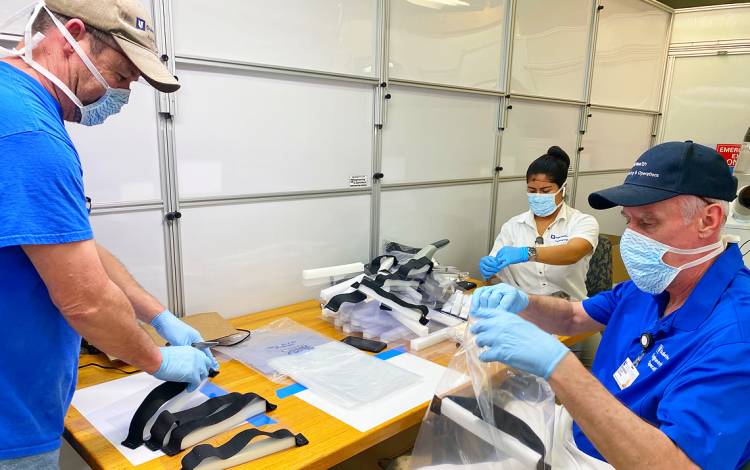 But last week, the idea of enlisting Engineering & Operations staff members, instead of volunteers, to assemble the shields in a fast, efficient and consistent way took shape, a move Uzarski agreed with.
And by Friday, the Engineering & Operations team had begun churning out the face shields, playing its part in protecting those in the thick of the COVID-19 fight.
"Looking at the team members who are putting together the shields, you can tell there is a sense of  pride that they are able to help the hospital in this incredibly meaningful way," Thomas said.
Watch the effort to assemble 50,000 face shields with this video by Duke Health.
We ask for your help to share the proactive and extensive work being done by all Duke community members during the COVID-19 outbreak. Please share ideas, shout-outs and photographs with us here or write us at working@duke.edu.