The Orchestra Must Go On – Virtually
Durham Medical Orchestra records a remote song for the community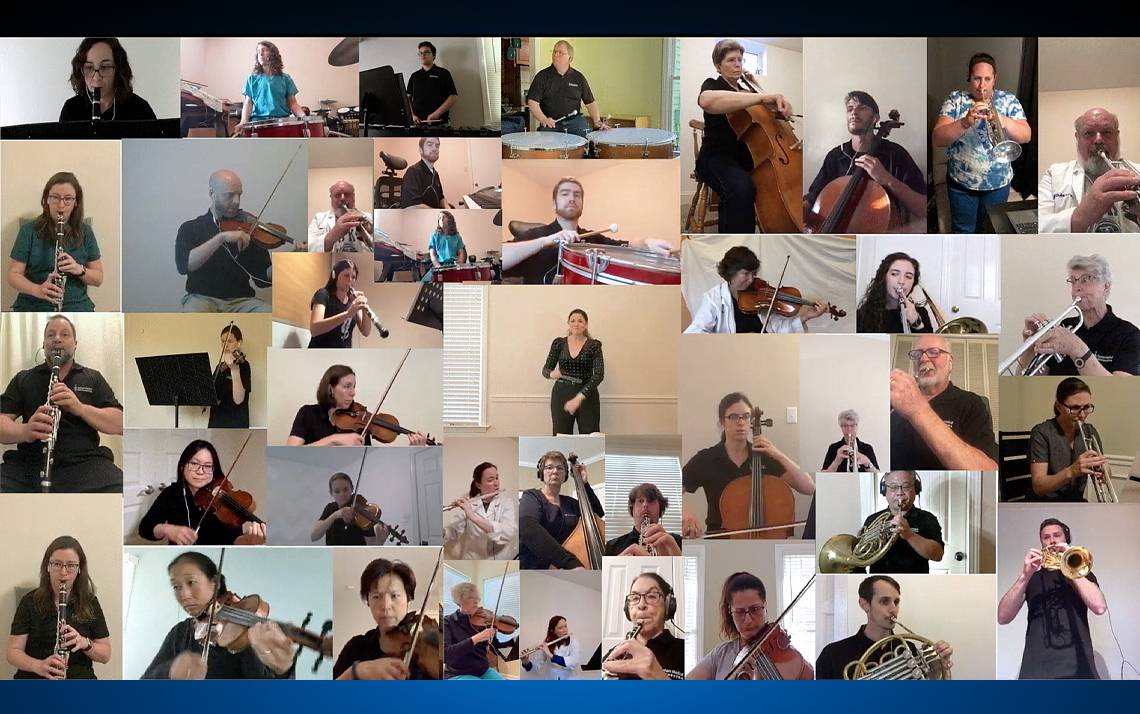 Instead of Baldwin Auditorium, Nicholas Bandarenko picked the best place in his house, a space with no background noise or echoes, to record his clarinet part for the Durham Medical Orchestra: the restroom.
Bandarenko, associate professor of pathology, sat on a chair and captured his clarinet segment on his iPhone to send to Verena Mösenbichler-Bryant, the artistic director and conductor of the orchestra and associate professor of the practice of music at Duke.
Bandarenko was among about 40 members of the Durham Medical Orchestra who collaborated on a virtual premiere performance of a piece by Durham composer Steven Bryant called "The Machine Awakes."
Mösenbichler-Bryant wanted to organize a virtual performance of the work after seeing other music groups perform in a similar way across the country. She envisioned the performance as serving as a replacement for the orchestra's canceled spring concert and an opportunity to bring musicians relief and joy. The orchestra is composed of medical professionals from Duke and around the community.
"A lot of the musicians are working at the forefront of COVID-19," Mösenbichler-Bryant said. "It's so important to find ways to relieve stress and cope with the situation. For our members, performing is the way they decompress."
The recording took about three weeks to create and started with Mösenbichler-Bryant making a recording of herself conducting and creating an audio cue that musicians listen to when performing to stay on the same beat. Orchestra members then juggled listening to the cue, reading their sheet music, watching Mösenbichler-Bryant conduct and recording themselves playing for the five and a half minute "The Machine Awakes."
Bruce Klitzman, associate professor of surgery and biomedical engineering and trumpet player for the Durham Medical Orchestra, recorded his portion of "The Machine Awakes" in a bedroom.
"You're thinking how your performance is going to blend in with other instruments," he said. "You have to use your imagination. It's almost as if you were Michelangelo's assistant, and he asks you to paint one flower on the Sistine Chapel ceiling. Then you see the whole piece and it's just striking."
Mösenbichler-Bryant and her husband Steven Bryant, who composed "The Machine Awakes," worked on compiling the video. Each musician sent in their recorded performance. Bryant then used Digital Performer, an audio-editing software, to edit the sound. Mösenbichler-Bryant used iMovie to combine the videos of each performer to create a video montage that shows every musician performing. They uploaded the final product to the orchestra's YouTube page for all to enjoy.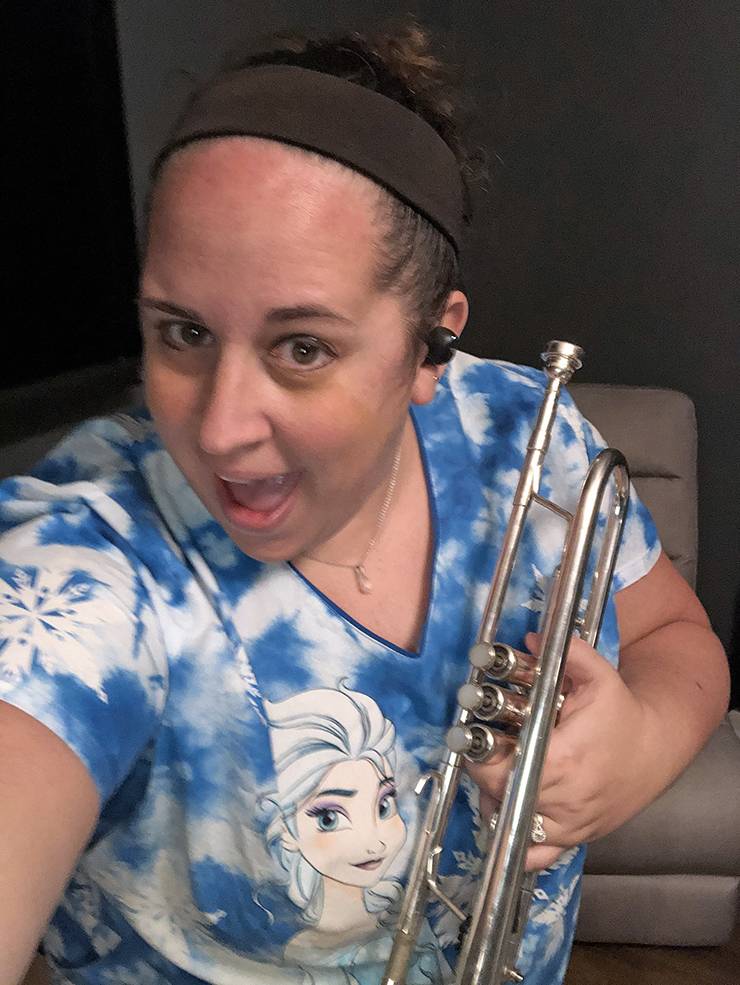 Liz Vaughan, a trumpet player for the orchestra, is a nurse for the Duke Children's Health Center. Since the COVID-19 outbreak, she's worked at one of Duke's COVID-19 testing sites.
Performing and listening to music has been Vaughan's escape when she's home. She hopes the Durham Medical Orchestra's performance can be as much of a stress relief for the people listening as it was for her playing.
"It was a really amazing moment to see the performance come together," Vaughan said. "We're staying focused on our mission to provide music and all of its wonderful benefits to the community."
Watch the performance below.
Help share the proactive and extensive work being done by all Duke community members during the COVID-19 outbreak. Send ideas, shout-outs and photographs here or write us at working@duke.edu