Tales of Working Remotely at Duke
In the first week of virtual access, employees adopt more online tech tools and keep moving forward in light of the spread of COVID-19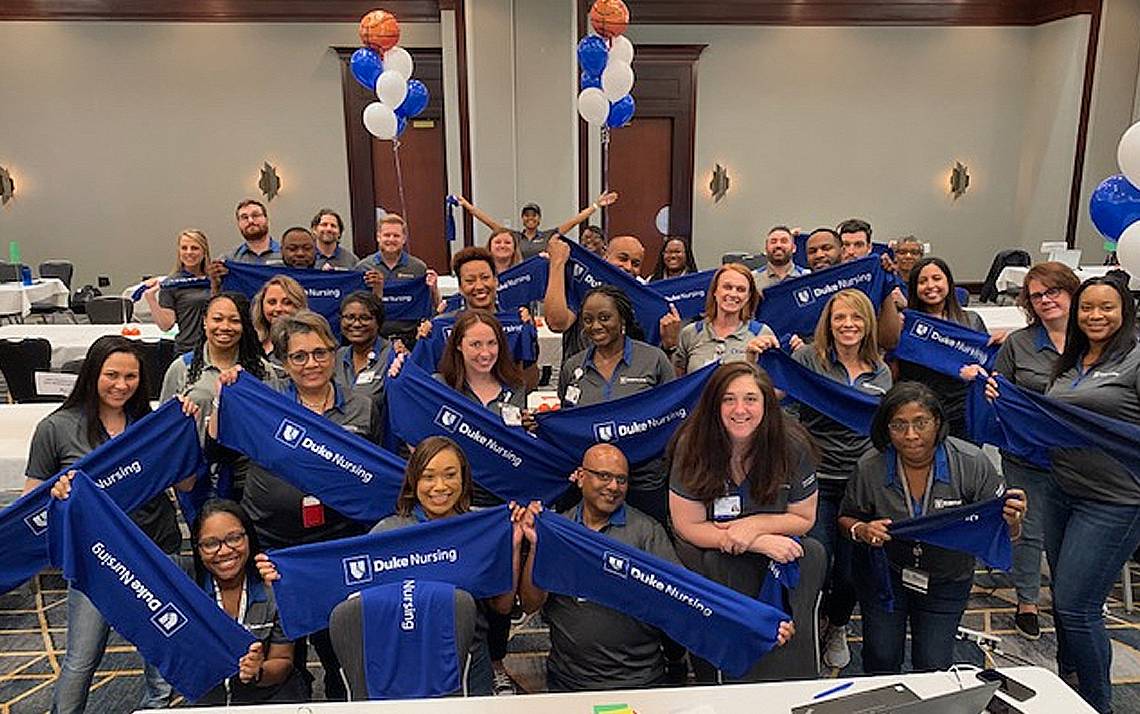 On regular days, Associate Professor of Cell Biology Michel Bagnat's lab in the Nanaline Duke Building is busy with an 11-person team of researchers, and a handful of students, learning about the development of cells in complicated organisms.
But with Duke employees working remotely due to the rapid spread of COVID-19, Bagnat's lab, along with many workplaces across Duke, changed the way it operates. Last week, in accordance with university directives, Bagnat's lab limited on-site work to only what was needed to ensure viability of future research. The rest of Bagnat's team analyzed data on computers at home and collaborated online.
"If you stop the work, this can have negative impacts, not just in the obvious ways, but also in the morale of people," Bagnat said. "Working gives people a way to organize themselves and stay engaged and positive, which is important."
Meanwhile, across Duke's health care system, caregivers continued to meet patient needs and respond to the COVID-19 outbreak.
"For our healthcare colleagues, we thank you for being on the front lines and continuing to work during these unprecedented circumstances," President Vincent E. Price said. "We encourage those who are able, to be mindful of your friends and neighbors who are health care providers and frontline responders, and to do what you can to support them. Helping with childcare, providing a meal, and other small gestures can make a big impact on those working long hours to care for our community."
With most staff and faculty working remotely, the Office of Information Technology hosted virtual workshops about teaching, communication and productivity tools and fielded scores of customer support queries. Over one day – March 18 – 10,000 unique users connected to Duke resources from off-campus without straining the network.
This week, another round of OIT webinars is offered, and today, March 23, undergraduate students resume their learning online.
"It's incredibly gratifying to see how the IT personnel from all around the campus and health system have come together to upgrade and enhance Duke's IT services, support and infrastructure," said Tracy Futhey, vice president and chief information officer. "Duke is as well positioned as any school— and far better than most— to handle such a radical change in how we learn and teach and research, and to be prepared to do it in such a short period of time."
See some ways your colleagues are rising to the challenge of operating in a new, largely virtualized world to continue Duke's mission of research, patient care and learning.
Shifting on the fly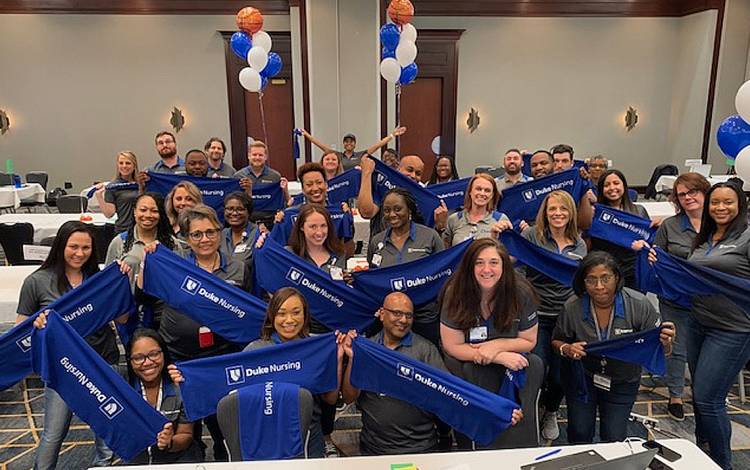 Each spring, Duke University Health System welcomes hundreds of prospective nurses to the "March Madness" recruiting fair. The event, which draws people from across the country to the Sheraton Imperial Hotel in Research Triangle Park, gives Duke recruiters and nurse managers a chance to meet with candidates hoping to fill Duke's constant need for more qualified nurses.
"This is a huge event for us," said Gina Goodson-Allen, director of talent strategies for Duke University Health System. "Typically, we hire 150 to 200 nurses from this event alone."
But a week before this year's event, which was scheduled for March 12, organizers realized that holding the in-person event wouldn't be wise and found a solution: they hosted it using online chats.
On March 12 and 13, a team of recruiters from Duke University Health System and Duke Human Resources, and managers from across the health system, gathered in the Sheraton Imperial ballroom, using laptops to converse with candidates, turning the busy networking event into an entirely virtual affair.
In all, the event drew around 350 participants and roughly 500 chats. Goodson-Allen said more formal candidate interviews will take place over the next few weeks via Zoom video conferencing.
"We are supporting an essential function, so we couldn't afford not to keep our recruitment engine functioning," Goodson-Allen said. "Ultimately that would have an impact on Duke's ability to care for the patients in our community."
Fighting gloom with Zoom

Sonja Likness wasn't unsure how the Wednesday meeting on Zoom, a video communications platform, would turn out. Typically, the group meets each month in person.
Likness, director of social media and content strategy for University Communications, used Zoom for the first time to host a meeting for 45 people as part of "NC MarComm U," a conglomerate of communicators from Duke, the University of North Carolina at Chapel Hill, North Carolina State and North Carolina Central University.
"It was the first big meeting I've done on Zoom," Likness said. "I didn't know how productive it would be or if any technical glitches would prevent it from happening."
In one day last week – March 17 – Duke had 20,500 meeting participants on Zoom.
For Likness, her meeting went on without a major hitch as Likness facilitated a discussion about professional and self-care tools to use while working remotely. She also learned about "Airtable," a spreadsheet and project management software, and how the Metropolitan Opera is streaming free performances every night.
While Likness encountered some learning curves, like paying attention to conversations happening on Zoom's chat function, she found that more people could participate in the NC MarComm U virtual meeting because no travel was necessary.
"Everyone is patient and understanding as we figure out how to adjust to the world," Likness said. "It was lovely to see faces and hear voices because I'm missing the in-person interactions much more than I thought I would."
Creating virtual hangouts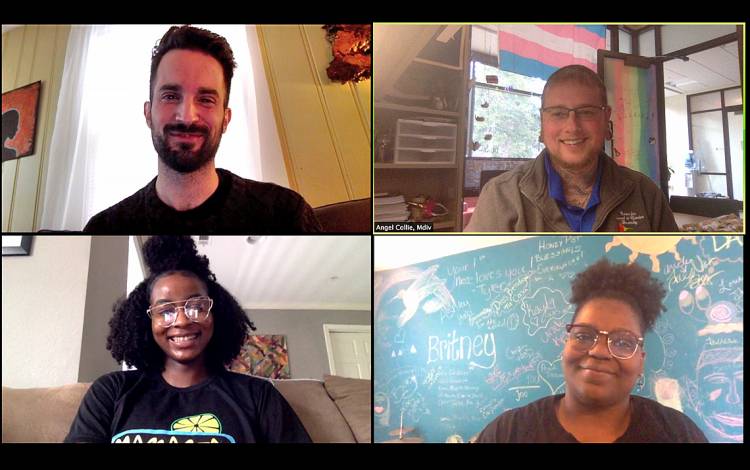 As news of COVID-19 spread and Duke suspended on-campus classes, staff at the Center for Sexual and Gender Diversity (CSGD) discussed how they could continue connecting with students, staff, faculty and allies.
The four-person team decided to host online office hours and activities, like baking and journaling, using Zoom, beginning today, March 23. CSGD staff will provide a link to the virtual office hours and activities weekly on the center's Facebook and Twitter pages. You can also write to the center at csgd@studentaffairs.duke.edu for more information.
Over the past week, Hunter Roberts, student development coordinator for the CSGD, and her colleagues met over Zoom to get acquainted with the technology ahead of beginning the virtual office hours.
"We want to provide some structure for Duke's queer and transgender community," Roberts said. "We want to be creating as many space spaces virtually as we were physically."
CSGD staff will also go online with "Kickback Fridays," a time typically designated for snacks, conversation and games at the center. They are also working on trivia and other games participants can play through Zoom during virtual "Kickback Fridays."
"As a team," said Roberts, "we want to be doing whatever we can to support our students."
Check CSGD's Facebook page for information on virtual programming and schedules.
We ask for your continued help as we work to share the proactive and extensive work being done by all Duke community members during the COVID-19 outbreak. Please share ideas, shout-outs and photographs with us here or write us at working@duke.edu.