Spring Breakthrough 2020 Turns Into a 'Safe Haven'
About 100 undergraduates participated in eight faculty-led mini-courses last week for Duke's fourth annual Spring Breakthrough, a free alternative break designed to delight the intellect without the pressure of grades.
Catherine McMillan, a sophomore who joined Spring Breakthrough for a second year, described the shared campus experience with each other and their professors -- in the midst of the rapidly changing global health crisis — as a "safe haven."
"It was like being in the eye of the hurricane amid this crazy time at Duke, in the country, in the world," McMillan said. "The professors treated us really well. They took care of us like family, educated us like students and laughed with us like friends."
Students explored the academic passions of their professors for four days. Some studied animal behavior and frolicked with puppies under the tutelage of evolutionary anthropologists Brian Hare, an associate professor, and Vanessa Woods, a research scientist.
Others learned from Professors Emily Bernhardt, Justin Wright and Brian Silliman about the biodiversity of coastal ecosystems as they tromped in the marshes at the Duke Marine Lab.
Trinity Dean of Academic Affairs John Blackshear, and Kim Blackshear, assistant director in the Center for Child and Family Policy, taught a course on how forensic psychology is helping juries and courts dispensing justice take into account the psychosocial, behavioral, neurological and socioeconomic aspects of a person's life.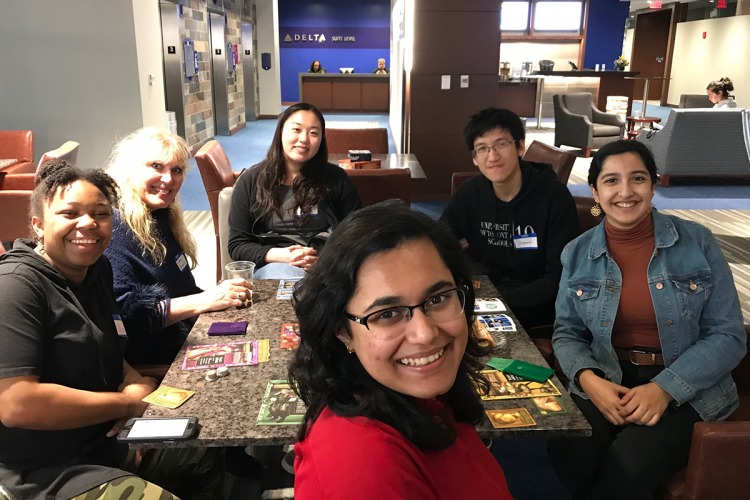 An intimate group engaged with Charmaine Royal, an associate professor in African and African-American Studies, in deep conversations about race and genetics and their impact on the presidential election and the census. They met in the Rubenstein Arts Center with a local artist to translate their impressions into a panel for a moveable mural.
Roy Ziong, a sophomore majoring in computer science, enjoyed his small writing class taught by Misha Angrist, an associate professor of the practice in the Social Science Research Institute, and Barry Yeoman, an instructor in the DeWitt Wallace Center for Media & Democracy. The class wrote poems and produced its own zine called "Downtown," which contains original photos and short essays composed after an afternoon on foot in the heart of Durham.
Instructors conducted their courses with smiles, personal stories, and reassurances – as well as cups of tea, ice cream cones, lunches off campus.
"The professors became like friends," Ziong said. "It was very comforting to be able to talk to them at such an unpredictable time."
The week included down time. A game night in Duke's Blue Devil Tower featured tacos, a photo booth, Jenga blocks and more than 50 popular board games – along with a spectacular view of Wallace Wade Stadium. Sophomore John Markis and some new friends interested in legal careers connected over Scrabble. They had met in Duke Law Professor Neil Siegel's "Law & Ethics in the Movies" class.
Students in the "Introduction to Mobile App Development," taught by Hugh Thomas from the Office of Information Technology, spent an afternoon in an escape room downtown.
Though engaged with the students, professors and organizers were also adapting to the changing landscape caused by COVID-19.
Ingrid Byerly, a senior fellow in the Thompson Writing Program, made the tough decision to avoid exposure to large crowds and canceled her scheduled "Les Miserables" evening at the Durham Performing Arts Center. Her class, "Every Seat a Throne: Life Lessons Not in the Curriculum," provided students with creative ways to craft their personal stories, including acting, writing, public speaking, drawing and karaoke.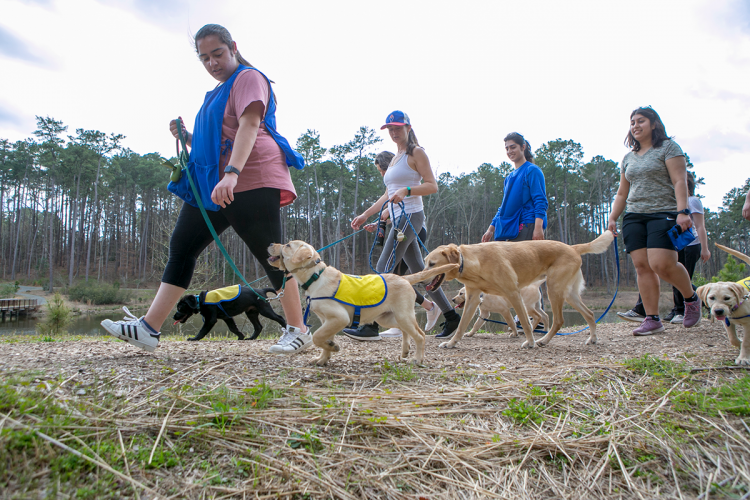 Thomas taught the last two days of his mobile app class virtually, using Zoom. His students last year created a demo mobile app featuring Duke basketball phenom Zion Williamson. This year the class chose to code a virtual environment of favorite spots on campus to make students smile when they were away from Durham.
The traditional final dinner with presentations in Penn Pavilion was turned into a grab 'n 'go meal.
In spite of the shifting situation, at the program's end on March 12, there was one message from the students: They were grateful for the time their professors devoted to them.
"I've taken lots of classes at Duke but this was one of the best," said Autumn Tompkin, a senior who took Byerly's class.
"I'd always heard rumors that Ingrid was one of the best teachers," Tompkin said. "They were true! We wished it could have kept on going."