Leaving a Mark on Campus
The work of the Duke Sign and Graphics Services shop is found across Duke
In the aftermath of Duke's 2015 men's basketball NCAA tournament title, the Duke Sign Shop was presented with a challenge.
A shipment of about 100 new basketballs would arrive on campus two days before the team's annual banquet. In the interim, part of each ball needed to be painted white, emblazoned with the score and date of the title game and be ready for signatures of every team member.
"That was a lot to ask," said Laura Ann Howard, the Duke men's basketball staff assistant who worked with the sign shop.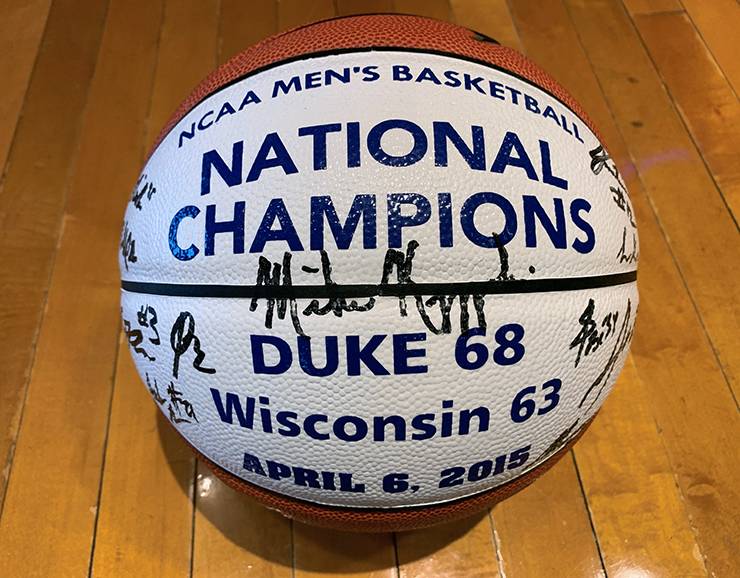 But Brian Backus, supervisor for Sign and Graphic Services, and colleague Juan Silva kicked into action, inflating, painting and lettering each ball in time for the postseason banquet.
Tucked away in a space near the Duke South loading docks, the Duke Sign and Graphic Services Shop is easy to miss. But venture to any part of the university and health system campus and you're bound to encounter the shop's work.
"We're a full-service sign shop," Backus said. "Our work is everywhere."
Work requests come from across Duke and range from occupant identification cards for room signs – the sign shop's most common item – to banners, navigation signs and even brass tags on rocking chairs given as gifts. While signs in new buildings are done by contractors, any sign that needs to be changed – often due to renovation or occupant name changes – is handled by the Duke and Graphic Services Sign Shop.
All told, Backus said that each year, the shop handles several hundred orders – more than 500 in 2019 – for thousands of items.
Backus said one major task in recent years was upgrading all room identification signs in the outlying buildings of Duke's medical campus to meet accessibility standards. Calling for around 1,500 new signs, the project took around four months to complete.
The shop, which has been around since the 1980s, features printers that create photo-quality images on vinyl, which can be applied to walls, vehicles and banners. There are machines that engrave letters and images on plastic and metal. There's also a machine that adds braille type to signs for the visually impaired.
Deanna Szymanski, unit services coordinator for the Emergency Department in Duke University Hospital, requests work from the Duke Sign and Graphic Services Shop on a nearly monthly basis, since most changes in protocol or policy require accompanying tweaks to signage.
She's had the Duke Sign and Graphic Services Shop tackle projects such as updating posters explaining patient rights and applying 26-inch tall letters to the walls of the department's ambulance bay.
"They're always very efficient and fast," Szymanski said. "I give them the basics of what I want, and they come up with the rest. And it's always amazing."
Backus has worked there for 25 years while engraver Juan Silva has been a full-time staff member for 15. That experience helps when customers have questions about colors, designs, logos and concerns about making signs compliant with accessibility regulations.
"They take a lot of pride in their work and take it to heart," said David Edwards, ambulatory manager for Duke Health Engineering and Operations. "Brian and Juan don't want anything they're not totally satisfied with to leave this shop."
Customers within Duke can take advantage of the Duke Sign and Graphic Services Shop for a fee that varies depending on the job by filling out a project request form for a sign. And as the aftermath of Duke's most-recent men's basketball title showed, the shop's staff is ready to tackle just about any job.
"For us, no two days are the same," Backus said. "That's one of the best parts of the job."
Have a story idea or news to share? Share it with Working@Duke.