Blue Devil of the Week: Fueling Duke's Love of Jazz
John V. Brown spreads his passion for jazz to the Duke community
Name: John V. Brown
Title: Director of Jazz Program, Professor of the Practice of Music
Years at Duke: 19
What he does: When he's teaching courses, directing student musicians in Duke's jazz ensembles or performing for or alongside members of the Duke community, Brown works to make jazz a quintessential part of the overall Duke experience.
"My mission at Duke is to make sure that no one comes through these walls without being touched by jazz in some way," Brown said.
He understands that a small dose of jazz can be enough to spark a lifelong passion.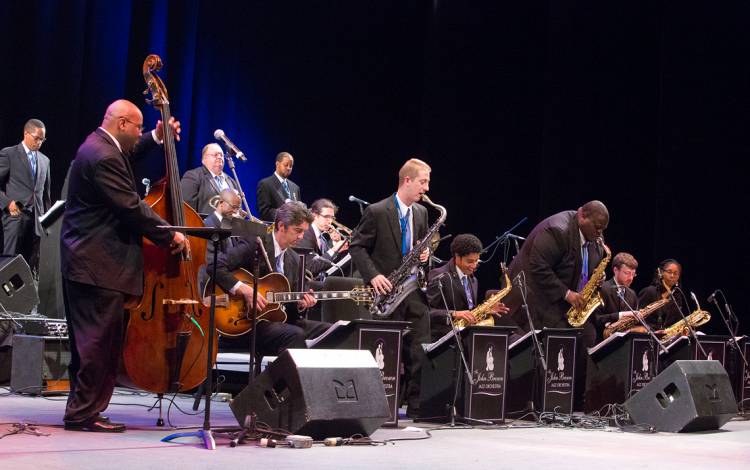 He was inspired to pick up the bass at nine years old after seeing a clip of Duke Ellington's bass player bouncing onstage, plucking pliable gut strings.
In high school and college, professional bass gigs with symphonies and touring groups – including one that took him to Japan – kept music in the forefront. And while in law school at the University of North Carolina, Brown played with, among others, the North Carolina Symphony, John Coltrane's acclaimed drummer Elvin Jones and singer Nnenna Freelon, with whom Brown shares a Grammy nomination."
"The opportunities just kept coming and pulling me to do these amazing things while playing the bass," Brown said. "Once I graduated from law school, I just accepted that this was my calling."
At Duke shares that passion with others by teaching and performing at the weekly Jazz @ The Mary Lou jam sessions, one of many jazz events he organizes each year.
What he loves about Duke: Brown treasure's Duke's contagious atmosphere of ambition.
Brown said an example of Duke's willingness to aim high is the tradition of bringing acclaimed guests such as Herbie Hancock, Dee Dee Bridgewater, Branford Marsalis, Joey DeFrancesco and Nicholas Payton to spend time with Brown's students and perform with Duke's jazz ensembles. Brown said immersive experiences like these aren't found at many universities.
"Duke is a place that prides itself on excellence," Brown said. "I pride myself on being a part of a family where excellence is the expectation, excellence is the norm. It makes me want to bring my 'A' game every time."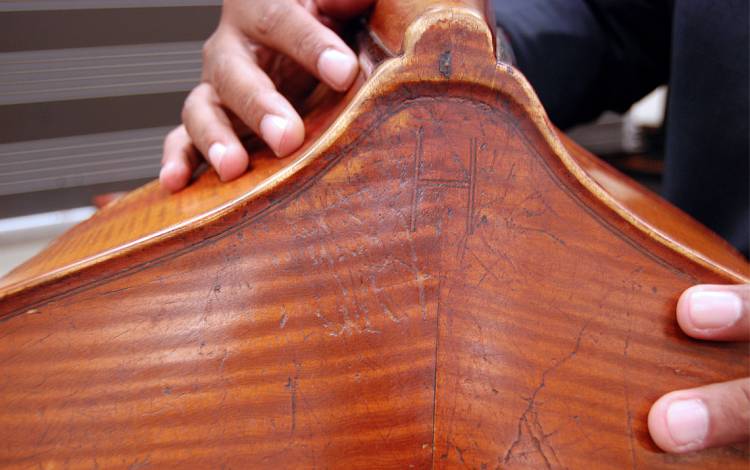 Meaningful object: In 1992, Brown was 22 years old and his career was picking up steam. It was that year when his parents helped him purchase the bass he still plays.
Named "Bea" after his late grandmother, the bass was built by the Hawkes & Sons company in 1929 and previously owned by Charles Dungey, a player Brown cites as an early influence.
Covered with nicks and scratches, the instrument's sound is as warm and true as ever.
"It's a particularly good-sounding bass, but it's also a strong and healthy bass," Brown said.
Memorable day at work: Growing up, Brown would often tag along with his younger sister on trips to Durham for the aspiring cellist to take part in the Duke String School, a training program for young musicians.
Fast forward to 2003, when Brown took over as director of Duke's Jazz Program, his first day was powerful.
"I remember when I got the key to my office and opened the door, it was a moment," Brown said. "I used to spend so much time in this building just hanging out in the lobby, but this was a moment where I felt like I'm at home at Duke."
First ever job: Starting at 13, Brown played with the Fayetteville Symphony, a group of musicians that also included many of his music teachers including the late Susan Ellington, the teacher who started him on bass.
"To me it might as well have been the New York Philharmonic," Brown said. "To play with them was a real honor. It was a very welcoming environment."
Brown continues to experience the thrill of performing with other talented musicians. He has several bands of his own, most notably the 17-piece John Brown Big Band and the funk-oriented John Brown & the Groove Shop Band. Each of the bands features combinations of various local musicians.
Something most people don't know about him: For Brown, just about any recipe for happiness must include saltwater and sand.
Several times a year, Brown makes trips with his family to one of North Carolina's beaches. Beach trips have been a habit since childhood and, as an adult, they're a major part of his wellness equation.
"I love to get to Bald Head Island whenever possible, but if it's a quick trip, I'll scoot down to Wrightsville Beach," Brown said. "I have to go. Just witnessing the natural beauty that is the beach, it's something that calms me and centers me. I have to make it priority. It's my self-care."
Is there a colleague at Duke who has an intriguing job or goes above and beyond to make a difference? Nominate that person for Blue Devil of the Week.