Blue Devil of the Week: A Front-Row Seat to Interdisciplinary Research
Laura Howes oversees Bass Connections and the Rubenstein Fellows Academy
Name: Laura Howes
Title: Director of Bass Connections and the Rubenstein Fellows Academy
Years at Duke: 5
What she does at Duke: In a single day, Laura Howes might review program communications, manage financial processing, connect students and faculty to resources and oversee the selection process for the Bass Connections program.
And as the director of the Rubenstein Fellows Academy, Howes does it all over again the same day.
"I like managing complex programs that have a lot of moving pieces," Howes said. "It keeps the work interesting. I have a lot of windows open on my computer. I keep an updated to-do list and project plan to track our priorities."
Bass Connections is a university-wide interdisciplinary initiative that brings students, faculty and researchers together to solve complex societal challenges ranging from reducing health inequities to developing sustainable energy solutions, ensuring fair elections and countering misinformation.
Working with the faculty leaders and administrators who manage the five themes of Bass Connections, Howes oversees the process for selecting Bass Connections teams and students, manages the distribution of funds, creates resources to support Bass Connections teams, develops mechanisms to integrate the Bass Connections model into the curriculum and surveys students and faculties about their experiences to put together a long-term evaluation of Bass Connections.
For the Rubenstein Fellows Academy, which brings two to four leaders to Duke every academic year to share insight, lead talks and teach courses, Howes helps recruit and onboard new fellows, manages program finances and integrates the fellows into the university during their stay at Duke.
The current fellows are General Martin Dempsey, the former Chairman of the Joint Chiefs of Staff; Dikgang Moseneke, former Deputy Chief Justice of the Republic of South Africa; biotech executive Eric Perakslis; and Sarah Bloom Raskin, former Deputy Secretary of the U.S. Department of the Treasury.
"I get exposed to this wide range of interesting research," Howes said. "I learn about things daily that I never would have thought about. One group last year was looking at how elephants affect forests by measuring seed dispersal through their droppings. Who would have thought?"
What she loves about Duke: A University of North Carolina at Chapel Hill alumna, she puts the college sports rivalry aside to show appreciation for Duke's 40,000 employees.
"All I knew was the Duke-UNC athletics rivalry," Howes said. "I didn't consider how nice everyone at Duke could be. I'm working across units all the time, which involves reaching out to people I don't even know. People are so responsive and kind."
Meaningful object in her workspace: On Howes's desk is a small glass memento that holds a note card-sized poster of an American Flag underneath the words "Annenberg Leadership Institute."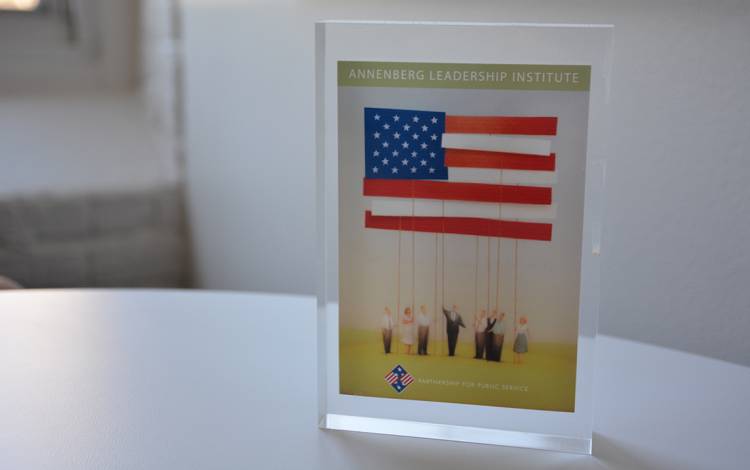 The institute – a year-long leadership program for managers working for federal agencies – was the first program Howes managed while working at the nonprofit Partnership for Public Service in Washington D.C. Participants received the same memento when they graduated from the program.
"I was two years out of college, and it meant a lot to be trusted with managing a new program," Howes said.
Memorable day at work: The Fortin Foundation Bass Connections Showcase, which takes place each April, is one of Howes's favorite days of the year. The showcase started three years ago to give research teams a chance to share their work with the public at the end of the academic year.
"The showcase brings to the life how vibrant Bass Connections is," Howes said. "It's incredible to see how much teams have accomplished and how much the community supports the work."
Best advice received: A former manager, Tom Fox, taught her to always put people first. They worked together for six and a half years at the Partnership for Public Service.
"He really wanted to know how you were doing as a person," Howes said. "You work harder knowing your manager cares about you, and it makes work a lot more fun."
First ever job: Howes worked as a waitress at Hooligan's, a restaurant in Cary that has since closed.
"Everyone should take a turn working in the service industry," she said. "You learn how to treat other people."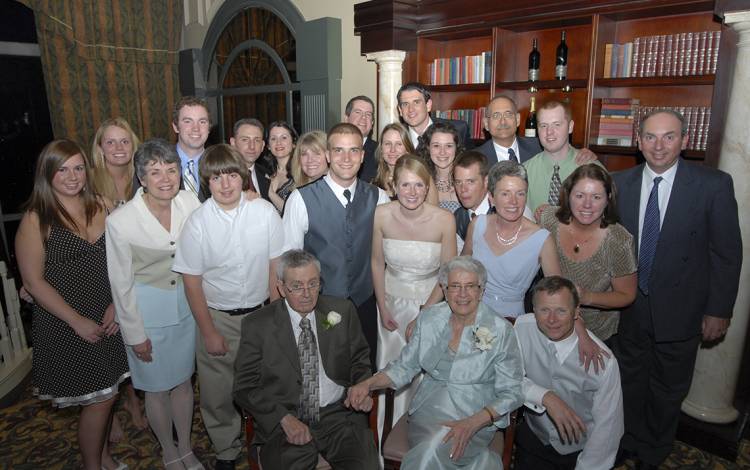 Something most people don't know about her: Howes has 33 cousins. She comes from a big family. Her dad has seven siblings and her mom has five brothers and sisters.
"The family gatherings are always very loud and vibrant," she said. "I love having a big family. It seems like someone always has your back."
Is there a colleague at Duke who has an intriguing job or goes above and beyond to make a difference? Nominate that person for Blue Devil of the Week.