The Many Roads to Duke
Duke draws talent from around the world and 50 states
Stephanie Stephens wears her Philadelphia roots proudly.
She has an unshakable devotion to the Philadelphia Eagles, the city's GPS coordinates tattooed on her leg, and a replica of the LOVE sculpture on her desk. But after two years as an administrative assistant with the Duke Talent Identification Program, Durham feels like home, too.
"I feel blessed that Duke gave me this shot," she said.
Stephens is among the 1,777 staff and faculty who came to Duke in 2018 from outside of North Carolina, now the country's ninth most populated state.
In 2018, Duke's workforce added 5,601 new benefits eligible employees. While most came from nearby – including 1,411 from Durham County – nearly one third came from outside of North Carolina. That group included people from six continents and all 50 states. And the most common roles filled by out-of-state new hires were nurses or medical caregivers, faculty members, or positions in research fields.
A recent report by Glassdoor noted that an organization's culture is more likely to attract out-of-state job seekers than any other factor. Driven by a range of motivations, including a desire for a change of scenery, a better job or to be closer to family, each new employee travels their own, unique path to Duke.
"I think the culture of Duke is one of striving continuously for excellence, be that in patient care, research, education or all of our administrative areas," said Kyle Cavanaugh, Duke's vice president for Administration. "We attract a lot of people that identify with that aspiration. The combination of culture, compensation and benefits make this one of the most attractive places in the nation to work."
For Stephanie Stephens, a fresh start attracted her to Duke. Since college, she worked in the hospitality industry, from front desk to catering sales. But by early 2018, Stephens, then working at Philadelphia's Ritz-Carlton, was ready to see what life offered outside of the city she always called home.
"I just wanted to see what my other opportunities were," said Stephens, 30. "I was ready to go. I just needed someone to give me a shot."
That opportunity came when she applied for the position at Duke's Talent Identification Program (TIP), where she develops onboarding strategies, oversees customer service operations and upgrades the department's database system.
"Duke has given me a chance to show what I'm capable of," Stephens said.
State of Growth
An avid camper, Rebecca Young loved that living in Davis, California, had her a short drive from Yosemite National Park, redwood forests and the Sierra Nevadas. As a vegetarian, she treasured California's year-round availability of fresh produce.
But after a decade, she and her husband, Renny, knew that California's high cost of living meant their future would likely unfold elsewhere.
"For us, the California dream was over, we'd been looking to leave for a long time," said Young, who joined the Duke Department of Pediatrics' Infectious Diseases division as a biostatistician in 2018.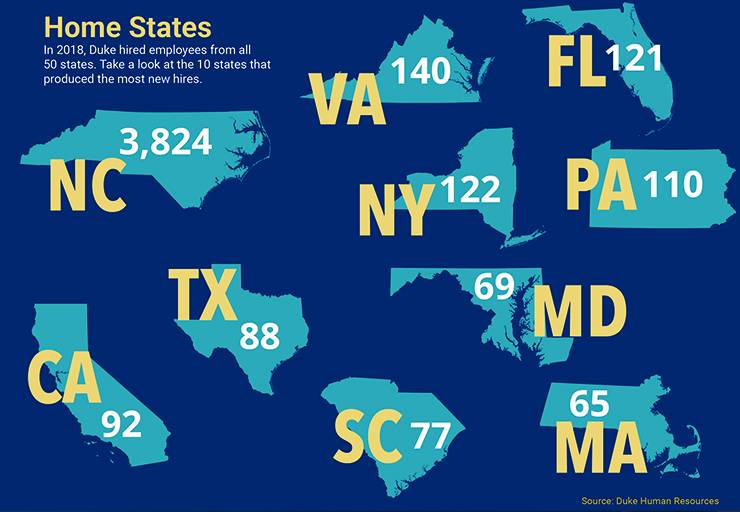 According to the U.S. Census Bureau, North Carolina added 112,820 people in 2018 – including the Youngs – ranking behind Texas, Florida, California and Arizona in the number of new residents. A strong job market is a prime driver of the influx.
The North Carolina Department of Commerce projects that, by 2026, the state will add around 389,000 new jobs.
"With the quality of life, the type of jobs and the type of incomes people can earn, it's not hard to get anyone in the world to move here," said North Carolina Secretary of Commerce Anthony Copeland. "And anybody would be happy to move here and be associated with a place like Duke."
Denise Motley, executive director of Duke Human Resources Recruitment, Staffing and the Career Resource Center, said that Duke's reputation as a world-class research university and health system coupled with robust employee benefits, are major factors in attracting top talent. And Motley, who moved here from Pennsylvania, said that North Carolina is a strong selling point.
"North Carolina has so much to offer," Motley said. "If applicants prefer city life, they can get that feel here. For those who like a more rural environment, that can be realized here, as well. I believe this rich geographic diversity is another reason we successfully attract applicants from all over the United States."
After two years in North Carolina, Rebecca Young, 32, has found plenty to appreciate about her new home.
She enjoys working with Duke's accomplished faculty members, fellows, residents and medical students, showing them how math and coding fuel research breakthroughs.
A more affordable housing market has put home ownership within reach for her. Young's mother, who moved to Asheville from Pennsylvania in 2018, is close by, and Young has made a network of friends in Durham.
"This is where we're planning on being long-term," said Young, who's explored North Carolina's wine country and Outer Banks. "I would never have thought I'd be a North Carolinian. But I like it a lot."
Global Perspective
At first, Can Zhang's fascination with how mathematics intersects with the real world led him to a degree in civil engineering. Then, after developing an interest in how understanding transportation and supply chains can help solve thorny problems, he pursued a Ph. D. in industrial engineering.
"And now, I'm at a business school," said Zhang, assistant professor at the Fuqua School of Business. His research focuses on improving health care and agricultural supply chains in developing countries.
His curiosity also led him halfway around the world. Zhang, a native of China's Hunan province, earned degrees from Beijing's Tsinghua University and Georgia Tech before joining Duke's faculty in 2018.
Together Duke, the university's strategic plan, states that "Faculty with diverse histories, backgrounds, experiences and expertise are necessary for an academic community that values unique perspectives, histories, and ways of thinking about important, complicated questions."
That diversity is reflected in how the faculty grew in 2018. Of the 333 new faculty hires, 38 came from different countries, according to Duke Human Resources.
Zhang, 30, said he's been embraced by his colleagues at Fuqua, who have invited him to social outings and given him a favorable teaching schedule that allows him to have sufficient time to devote to research projects. He's enjoyed working alongside accomplished researchers and teaching operations management courses to students in the Daytime MBA program.
And, after he found a grocery store that sold the Chinese noodles and dumplings he craved, adjusting to life in Durham has been relatively easy, too.
Quipped Zhang, "I live in the United States, but I still have an eastern stomach."
Searching for the Best
Shanna Kramer is still getting used to humid summers, mild winters and the funny looks she gets when she uses words such as pop, instead of soda, or supper, in place of dinner.
"Sometimes my coworkers will say 'Your Midwest is showing,'" said Kramer, an ambulatory care nurse at Duke Women's Health Associates at Patterson Place.
Kramer, 27, moved to Durham from Sioux Falls, South Dakota, in 2018 when her husband, Brent, began an ophthalmology residency at the University of North Carolina at Chapel Hill.
Employing around 8,000 nurses at three hospitals and a network of clinics, Duke is always recruiting for qualified nurses. To find nurses, especially in specialized areas such as cardiothoracic and respiratory care, Duke casts a wide net for the best candidates.
In 2018, nearly 27 percent of Duke's benefits eligible hires were for nursing jobs. Of the 1,506 nursing jobs filled in 2018, nearly 36 percent were by people from outside of North Carolina.
According to North Carolina Department of Commerce projections, North Carolina will add around 93,000 jobs in health care and social assistance by 2026 due in large part to the state's aging population.
"In the past, we met our needs with local talent and our strong reputation, but with our growth, we now frequently recruit nurses from outside of the region," said Sylvia Alston, assistant vice president for nursing recruitment and hospital administrative systems for Duke University Health System.
Duke recruiters are regular visitors to nursing conferences and local and regional colleges and universities, building a network of contacts across the profession to find nurses who embody Duke's goal of innovative, compassionate, expert care.
Alston said the priority Duke places on professional development, whether it's helping nurses gain experience in specialized work areas or providing support for continuing education, attracts ambitious nurses.
"We encourage professional growth and education for our nursing and clinical workforce," Alston said.
Kramer, the ambulatory care nurse, took advantage of those resources when she used a Duke stipend to get certified in electronic fetal heart monitoring.
While she's in a new place, with her career moving forward, Kramer knows she's in the right one.
"I feel like I'm a part of Duke now," Kramer said. "I'm close with the providers and the people on my team. I feel like the people that I work with are proud to work at Duke."
Have a story idea or news to share? Share it with Working@Duke.