Cook Society Honors Lives Led in Service at Duke and in the Community
Cook Awards honors 'Mickey' Michaux and Duke faculty, staff and students for building stronger communities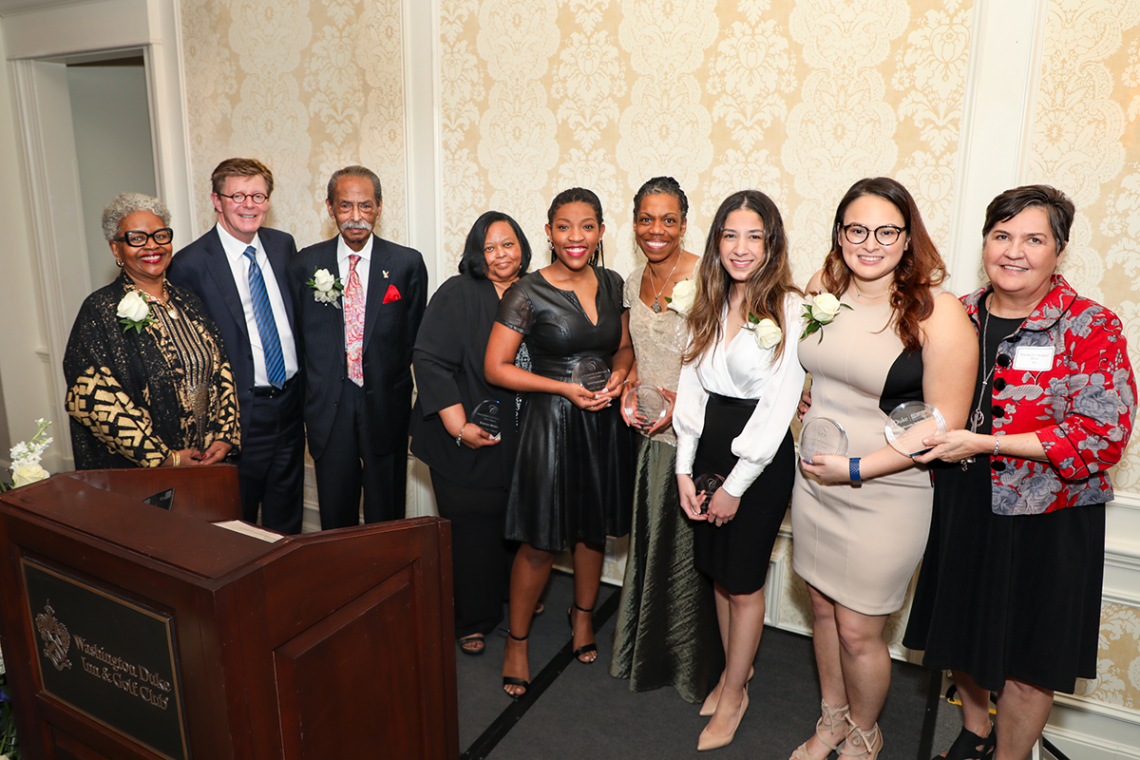 One of the state's leading political figures joined six Duke faculty, staff and students in being honored for their community leadership and activism at the annual Samuel DuBois Cook Society Awards ceremony Feb. 11 at the Washington Duke Inn.
The ceremony was led by Kimberly D. Hewitt, Duke's new vice president of institutional equity. Hewitt succeeds Benjamin Reese, who retired last year and served as emcee for the Cook Society ceremony for more than a decade.  The mission of the Cook Society is to recognize, celebrate, and affirm the presence of African-American students, faculty, and staff at Duke.
The Distinguished Service Award went to state Sen. Henry McKinley "Mickey" Michaux Jr., who for decades has been a pioneering community and civil rights leader for Durham and North Carolina. His work in law, education, community organizations and economic development has been felt across the state.
In his long career, Michaux racked up a number of impressive "firsts," starting in 1977 when President Jimmy Carter appointed him to be the first African-American United States Attorney.
The Durham native is the longest-serving member in the House of Representatives of the North Carolina General Assembly, serving first from 1972 to 1977 and again from 1984-2019. In January 2020, he was appointed to temporarily fill a vacancy in the North Carolina State Senate.
In addition to Michaux, other honorees were:
Zoila Airall, who has served as associate vice president of student affairs for 18 years. Airall has mentored numerous students, particularly in her role as adviser to seven university cultural centers. In addition to her work at Duke, she was recognized for her activism with the National Advisory Council for the National Conference on Race and Ethnicity (NCORE) and for local volunteer work with the Alpha Kappa Alpha Sorority in Chapel Hill and Rotary International in Durham. Airall also won a Presidential Award for university service this year.
Alyson Diaz, a senior public policy major, who was praised by colleagues for being "passionate about increasing traditionally underrepresented communities' access and ability to influence public policy." A Latina first-generation university student, Diaz helps in the local Durham nonprofit, Student Action with Farmworkers. She hopes she inspires farmworker youth to empower them to speak up for their parents who may be facing poor working conditions, and to attend college despite any hardships.
Hala El-Nahal, a Ph.D. candidate in the Pratt School's Department of Biomedical Engineering, who was described as a "servant-leader, scholar, an activist, a role model for aspiring scientists and for university administrators as we continue to search for promising practices in recruiting and retaining diverse talent in the academy." One important way she's serving as a role model for younger scientists: She launched the Duke Research in Engineering Program, a seven-week summer program focused on providing research experience in Pratt School labs to high school students from economically disadvantaged backgrounds and groups that are underrepresented in STEM fields.
Ashleigh Smith, a senior art history major who has worked at Duke to promote social equity and justice through her passion for the arts.  She's been part of the Nasher Museum of Art's Student Executive Board and the Black Student Alliance and has done scholarly work as a Mellon Mays Undergraduate Fellow. "Ashleigh has been a 'muse' for the black community in terms of the way she has shared her love of art and generously sought to educate the community about the work of black artists," said one of her nominators.
Barbara Stokes, director of residential dining for Duke Dining Services, who has worked at Duke for 36 years. Last fall, she earned a B.A. degree in psychology from Duke. Stokes originally enrolled at Pratt in 1980 and worked at her campus job in the dining hall. Workers there became her family and support. She eventually withdrew from Pratt and worked full-time in Dining Services before re-enrolling and completing her B.A. "Ms. Stokes is a transformational leader who leads by example. She is a motivator and provides inspiration to everyone her life touches," said Felicia Tittle, her nominator.
In addition, the Raymond Gavins Distinguished Faculty Award was presented to Charmaine Royal, associate professor in the departments of African & African American Studies, Biology, Global Health, and Family Medicine & Community Health. Royal is also director of the Center on Genomics, Race, Identity, Difference and the Center for Truth, Racial Healing & Transformation. Her major research interest is in addressing root causes and implementing sustainable solutions regarding problems of race and racism in research, health care and society.
At the ceremony, Hewitt also presented honors to the winners of the Equity, Diversity & Inclusion awards, given by the Office of Institutional Equity to individuals who have made significant contributions toward enhancing diversity and inclusion within the Duke community.
The faculty award went to Sherilynn Black, assistant professor of the practice in medical education and associate vice provost for faculty advancement, who was also a 2015 recipient of a Cook Society award. Black was cited as a force for inclusion in recruiting in the sciences and for launching inclusive initiatives for underrepresented Ph.D. students.
The staff award went to Margaret (Margie) Muir, who works in Patient Experience at Duke Regional Hospital.  Muir is a leader in supporting the care of transgender patients and in outreach to underrepresented and underprivileged populations in Durham.
The Samuel DuBois Cook Society was founded in 1997 to honor the first African-American faculty member hired and tenured at Duke University, and to recognize his contributions as a member of the Duke University Board of Trustees.