Blue Devil of the Week: Welcoming Books and People to the Library
Whether a new item or colleague, Antha Marshall knows how to make all feel at home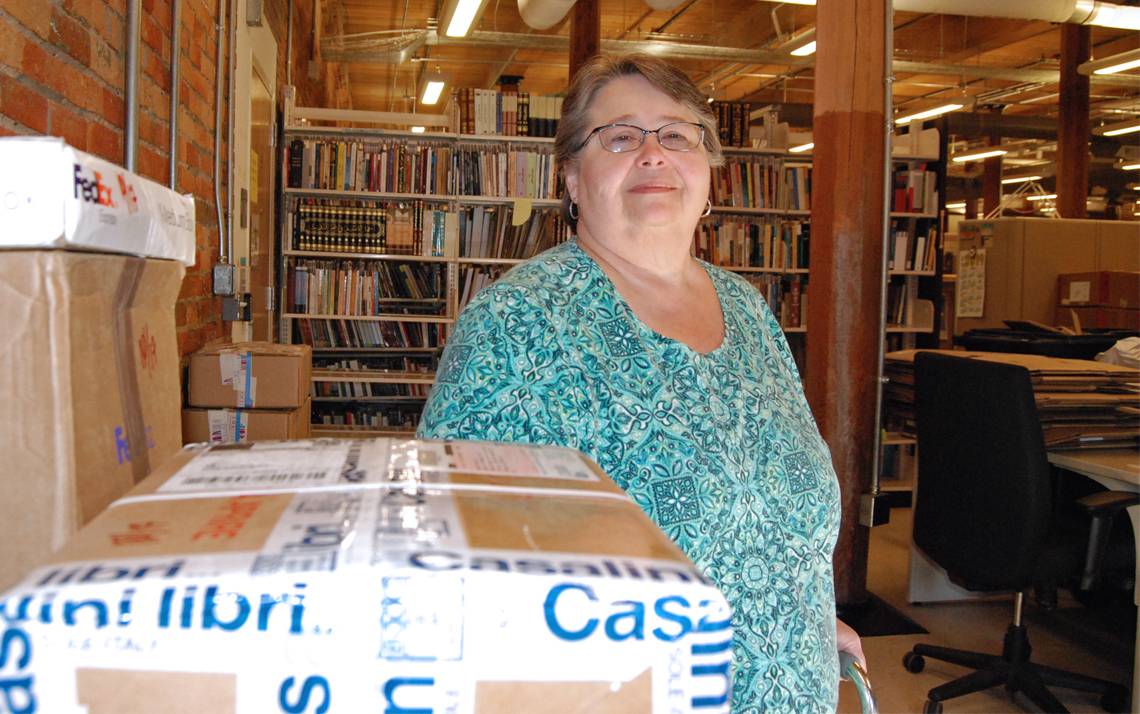 Name: Antha Marshall
Position: Monographic Receipts Management Assistant
Years at Duke: 41
What she does at Duke: Marshall made her own initial arrival to the library in 1978, when she took a job as a typist fresh out of high school. She quickly became familiar with the inner workings of the library and eventually found her home,
Marshall now oversees the flow of many scholarly books added to the Duke Libraries collection. Often parts of set or series, the books Marshall works with are often in languages such as Russian and Ukrainian. The books come into the processing facility at Smith Warehouse and, once removed from boxes, Marshall checks the order and enters the books into the computer system that tracks their movement through Duke's vast library system.
"It's not just unpacking boxes," Marshall said. "It's like you're the first eyes that get to see what's coming in. What's published is often a sign of what's going on in the world, so it's a neat process."
She shares her affection for the library with the five student workers she supervises.
"I want my students to be comfortable," she said. "I always tell them, 'If you ask me something yesterday and you don't remember, ask me again, there's no limit. I won't hold that against you. I want you to come back and ask me as many times as you need."
What she loves about Duke: While Marshall is fascinated by the books that pass through her workspace, she's even more enthralled by all the people she works with.
She's worked with some for several years, while others have been colleagues for a short time. But the one uniting feature is that Marshall befriends them all.
"I love the fact that I get to meet some awesome people from all over the world and from all walks of life," Marshall said. "It is a neat experience. A lot of them, I went to their weddings, their baby showers, I know their parents, it's a lot like a family."
A memorable day at work: In 2018, Marshall was one of 23 Duke employees who earned a Meritorious Service Award. She received the honor at the Presidential Award ceremony in front of several of the colleagues who nominated her due to her encouraging spirit and easy rapport with student workers.
"It was wonderful," Marshall said. "I had a whole bunch of people come from work. It was a wonderful day. I won't ever forget that day."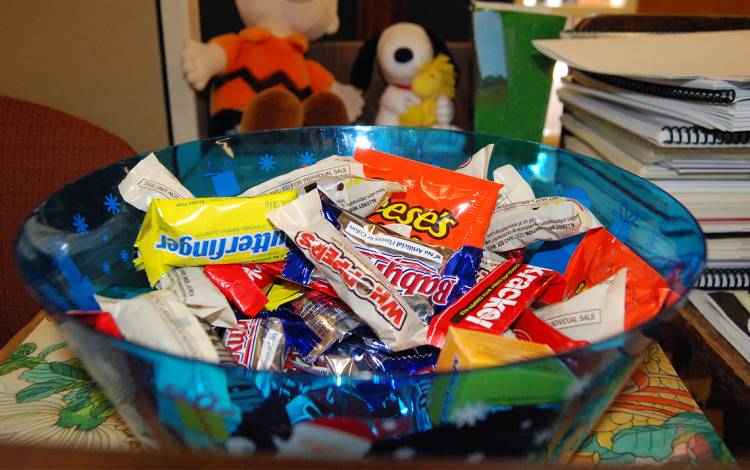 Special object in her workspace: Marshall has a bowl on her desk that she keeps filled with candy. The bowl is famous throughout Marshall's corner of Smith Warehouse and often becomes a community gathering spot.
"I want everyone to feel welcome," Marshall said.
The most popular candies are chocolate bars such as Snickers. But she likes to keep a wide variety of options available. She recalls stocking Sour Patch Kids for a student assistant who didn't like chocolate.
"I wanted her to feel like she had some candy, too," Marshall said.
First ever job: Marshall's first job was as a typist at Perkins Library in 1978. She'd type requests from library patrons on a typewriter and give them to members of the search team, who would venture into the library stacks to retrieve the requested item.
The system for getting books to library customers evolved plenty in the years since Marshall got here. But by seeing how far it's come, Marshall has a unique appreciation for the technological change she's witnessed.
"I just thought it was something else when we got to use a computer," Marshalls said.
Something most people don't know about her: Marshall is part of the "Sunshine Committee" at her church, Grove Park Chapel. The group visits church members who are recovering from illness, in failing health or busy caring for ailing loved ones, often bringing food, companionship and some helping hands.
Before joining the committee, Marshall recalls the group visiting her mother, who died in 2007, when she was dealing with health issues.
"There are little things you can do that you don't always think about but it makes people feel good," Marshall said. "It makes you feel good to know that you filled a need,"
Have a story idea or news to share? Share it with Working@Duke.