How to Welcome New Colleagues to Duke
Steps you can take to help new hires feel at home from day one
Gerald Harris, director of Student Involvement in Student Affairs, began a team meeting by complimenting recently hired staff member Francesqa Santos.
Santos led a group of a dozen students through an all-day retreat to plan exhibits, performances and activities in the Duke Arts Annex, Duke Coffeehouse and Small Town Records, Duke's student-run record label. 
Santos, who joined Duke in November, appreciated the shout-out so early in her position. 
"It makes me feel at ease in my new role," said Santos, assistant director of arts and media for Student Involvement.
Creating a positive experience for newly hired employees is essential, according to Denise Motley, director of Duke staffing and recruitment. 
"Interactive and organic onboarding, coupled with real human engagement, are the keys for retention and reduction of turnover," she said. "You have to start new hires on the right foot to make them feel comfortable, prepared and excited." 
Here are some helpful tips from Duke colleagues to make new employees feel at home at Duke from day one. 
Make a welcome plan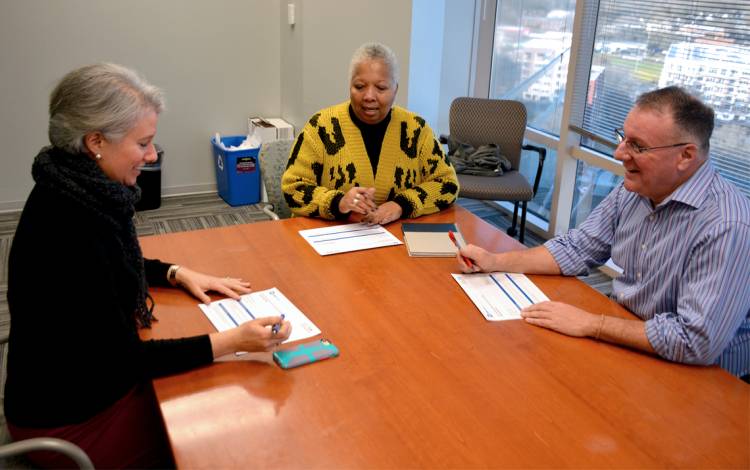 Duke Health Development and Alumni Affairs' Talent Management team works with hiring managers to develop individualized, comprehensive onboarding plans to prepare for new hires. 
Jeff Chitester, executive director of talent management, and Valerie Riddick, administrative manager, created the plan to include a list of tasks such as arranging for a DukeCard; first day activities such as taking the new employee to lunch; and first 90-day activities such as recognizing and rewarding accomplishments. 
Each task lists a staff member in the department who is responsible for carrying out the part of the plan and a space for a completion date. The plan also includes giving the new employee a "fun welcome packet" containing a Duke Health tumbler and other Duke items. 
"There's a lot of information both new employees and their managers have to sort through," Riddick said. "The onboarding plan helps us take care of our new colleagues well before and well after their first day." 
Create a warm atmosphere

Chip Kyles and staff in Duke's Workers Compensation office spruce up a new employee's workspace before the person starts.
They clean desk, keyboard and computer screen and decorate the desk with a plant. Members from Duke's Office of Information Technology  visit to clear the computer's memory and set up the new employee's net ID and password.
"We know someone new is coming, so let's show that we're excited to have them," said Kyles, director of Workers Compensation. 
Kyles also organizes a lunch of pizza or sandwiches for his 12-person team so they can all get to know the new colleague. 
"The little things can add up to make it a positive first day," he said.
Give a tour of campus

Cassondra Lewis visited Duke for the first time on the day of her interview at the Sanford School of Public Policy. Her second trip to campus occurred when she started at Sanford in July 2011.
"I had no experience at Duke," said Lewis, administrative assistant at Sanford.
Her manager at the time, Pam Ladd, who has since retired, gave Lewis a few moments to settle in on her first day before taking her on a tour of campus. Among the sights, Lewis visited Cameron Indoor Stadium, Abele Quad and inside Duke University Chapel.
After the tour, Ladd introduced Lewis to employees in Sanford and provided a brief history of the school.
Lewis is now working to replicate her experience with Sanford's Staff Advancement Committee. She created a buddy system for current employees to help new colleagues find their way across campus, meet coworkers and learn about Duke.
"That tour gave me a sense of pride for where I work starting that first day," Lewis said. "When we had someone join our team in April, I did the same thing Pam did for me. I want everyone to have as great of an experience as did on their first day."
Have a story idea or news to share? Share it with Working@Duke.