Andrew Gillum Champions Voting Rights at Duke's MLK Commemoration
Former mayor continues King's legacy in fighting for political rights for the disenfranchised
Former Tallahassee Mayor and 2018 Democratic Florida gubernatorial nominee Andrew Gillum told a rapt Duke Chapel audience Sunday that the strongest tribute to Martin Luther King Jr.'s legacy may be the ballot itself.
"We are the future of electoral justice," he said, praising the activist spirit he sees in North Carolina and calling for an intensified struggle against voter suppression tactics.
In March 2019, Gillum launched the voter outreach organization Bring It Home Florida and vowed to register one million new voters in Florida before this year's presidential election. Gillum, who lost the gubernatorial race to Gov. Ron DeSantis by less than a half a point, is now a CNN contributor.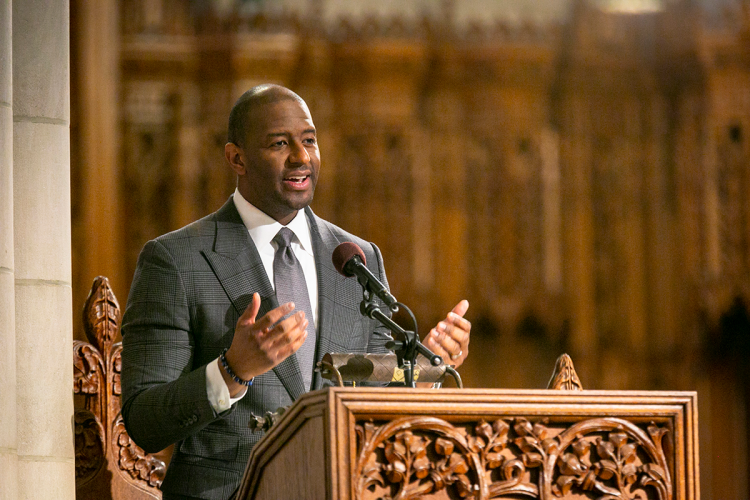 Noting research that finds the best predictor of voting is a nudge from family or friends, Gillum called on the audience of about 1,200 people to dedicate themselves to registering more voters and urging friends and neighbors to vote on election days.
"We should value the ballot as much as we value the stone monuments in Washington, D.C., the street names in cities all across America and the fire that burns for (King) in Atlanta, Georgia," Gillum said.
In his address, Gillum provided a road map for making political change and expanding voting rights, including for ex-felons.
Before and after the event, at the invitation of the campus commemoration committee, North Carolina Asian Americans Together (NCAAT) and DukeVotes set up tables in front of the chapel for a voter registration drive.
Gillum said King was in many ways a futurist, citing his 1957 speech advocating voting rights for African-Americans "This future was seen in Dr. King's words on the steps of the Lincoln Memorial titled 'Give Us the Ballot.' Extending the franchise was what was left."
In the same 2018 election in which he narrowly lost to DeSantis – one in which a record-shattering two million new midterm voters turned out – Florida voters also decided to re-enfranchise 1.3 million former felons whose voices, Gillum said, will be heard in November of this year.
"'Give us the ballot' is a history lesson but also a call to action," Gillum said in his keynote speech at Duke's annual King commemoration service, whose theme was "the power of the people."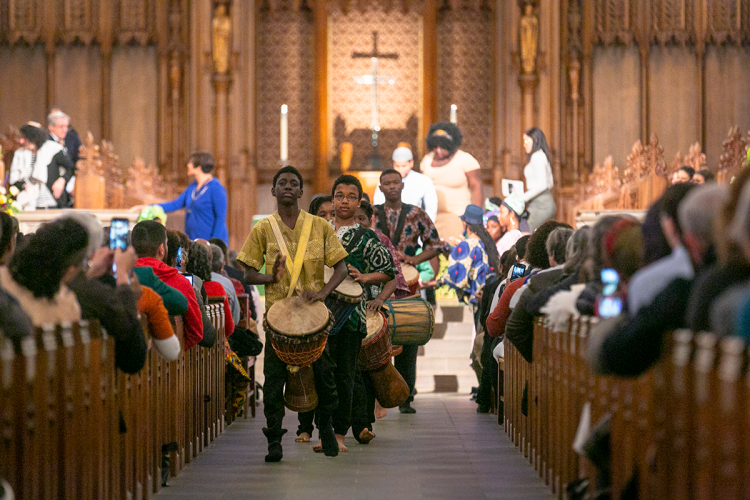 Gillum shared stories of growing up as the fifth of seven children. His mother was a school bus driver and his father worked in construction. He said his grandmother, who often helped him get off to school, would tell him "to bring that education home" for the benefit of his parents, his younger brother and even a neighborhood friend who needed his good example. He was the first in his family to graduate from high school and college.
"I think of men like my father who built doorways that they themselves could not enter," Gillum said. "I was told that I would need to open doors, too, for others after me."
He said his story is testament to the fact that the chains of intergenerational poverty and despair can be broken with access to a good education. Applause came from a crowd that included a large contingent of local alumni of his alma mater, Florida A&M University. At one point, Gillum recognized the presence of former university president Elmira Mangum, a North Carolina native and the first woman to permanently hold the position of president of the school.\
"Let's build dikes of courage to hold back the flood of fear," Gillum said. We are living in fearful times, but King "gave us a recipe for leaning into our most courageous selves."
This wasn't Gillum's first visit to Duke. In 2009, he spoke at the Hart Leadership Program's Connect2Politics program. At the time, Gillum was a young Tallahassee city commissioner, having been elected at age 23. He later served a term as the city's 126th mayor.
Gillum was introduced Sunday by his niece, Duke junior Adrianna Williams from Tallahassee, who is majoring in neuroscience. She said she cast a vote for her uncle in the first gubernatorial election in which she was eligible to vote.
Duke President Vincent E. Price, in remarks opening the service, called on the audience "to take stock of our continuing progress and occasional setbacks" as we strive, in King's phrase, to bend the arc of the universe toward justice. He said Duke scholarship offers opportunities "to open up new worlds of possibility" for bringing to life King's legacy.
Also during the service, Durham Mayor Steve Schewel reflected on the city's response to the relocation of nearly 200 residents of McDougald Terrace, Durham's oldest public housing community, over safety concerns. He said the crisis has been 40 years in the making, but now is the time for the city to rise to the "moral crisis" and do what the federal government hasn't done to properly maintain the 66-year-old complex. He said the city is allotting $15 million for renovations so "our most vulnerable neighbors" can live in excellent housing.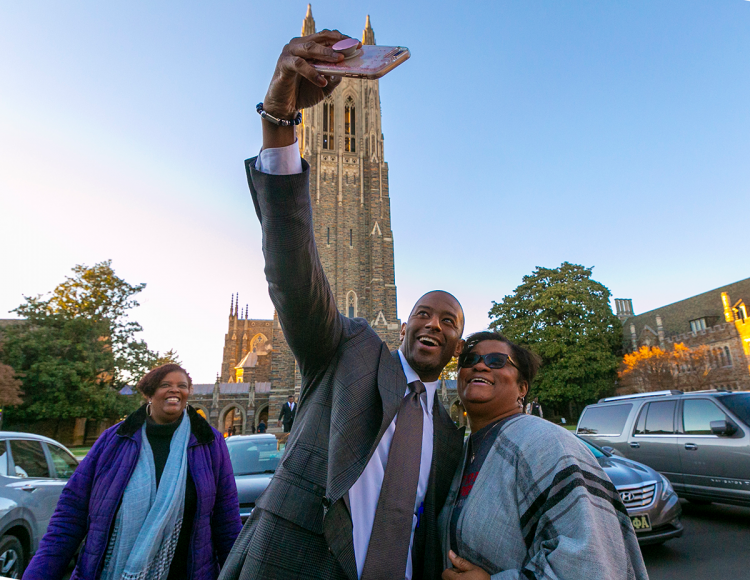 Dr. A. Eugene Washington, president of Duke University Health System, cited King's statement that injustice in health is the "most shocking and inhumane" of all. The 91st anniversary of King's birthday offers a chance to reflect on how we can embrace the values he praised, Washington said. "On days like today we're also remembering one of the nation's most effective champions of health and well-being for all."
Other highlights of the program included performances by the Duke Amandla Chorus, John Brown Quartet and The Collage Dance Company, as well as greetings from Duke Black Student Alliance Vice President De'Ja Wood and poetry by Duke junior Resilience Williamson of Duke Spoken Verb.
The chapel service, archived at chapel.duke.edu, is part of a multi-week commemoration that also includes an event today to package 100,000 meals for the Inter-Faith Food Shuttle; a program on Tuesday at the Sanford School for Public Policy with Dikgang Moseneke, former deputy chief justice of South Africa and a Rubenstein Fellow at Duke this semester; and performances next week of a one-man play, "From Myth to Man: Martin Luther King, An Interpretation," featuring actor John Ivey as the civil rights leader. The play was created and will be presented by Duke Division of Student Affairs staff member Ira Knight at the Rubenstein Arts Center Jan. 30-31.
READ MORE
Learn more about this year's commemoration at http://mlk.duke.edu.
During his address, Andrew Gillum cited the SNCC Archives, which are located at Duke. See some of the material on the collections website here.