Duke Flags Lowered: Remembering Writer, Scholar and Teacher Joe Ashby Porter
The acclaimed fiction writer and Shakespeare scholar taught at Duke for almost 40 years.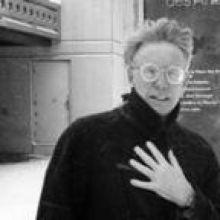 Joseph A. Porter, who taught at Duke for nearly four decades and received acclaim for the fiction he wrote under the name Joe Ashby Porter, died on Saturday at his home in Durham. He was 77.
Porter arrived at Duke in 1980, teaching generations of Duke students before his retirement in the spring of 2019. He taught in the English and Theater Studies departments and became a particularly important part of the university's creative writing program.
"Joe was a vital part of both our undergraduate and graduate programs, and helped teach and inspire many, many students," English Department Chair Rob Mitchell said in a note to colleagues. "Joe's literary legacy is ensured not simply through his own fiction, but also through his impact on multiple generations of creative writers who refined their skills in our department."
Porter was born in Kentucky, where his father worked as a machinist and coal miner. He studied at Harvard and the University of California at Berkeley and taught at the University of Virginia and other institutions before arriving at Duke. He authored four short story collections and three novels, "Eelgrass," "Resident Aliens" and "The Near Future." His fictional works received wide recognition, including two Pulitzer Prize nominations and a 2004 Academy Award in Literature from the American Academy of Arts and Letters (since renamed as the Arts and Letters Award in Literature).
A noted Shakespeare scholar, Porter published two books about Shakespeare and edited many collections. He also loved France and French literature and served as a visiting professor at the Université François-Rabelais in Tours, France.
In a review of his 2006 novel "The Near Future," a New York Times critic lauded Porter's inventive fiction: "Sweet and fey, Joe Ashby Porter's new novel describes a world many readers contemplating their twilight years will want to inhabit. Porter's narrative style is vaguely cubist, with words often turned at slight angles to one another. But what the occasional sentence loses in textbook syntax it gains in color and sheer playfulness."
Porter passed away after suffering for several months from an aggressive form of cancer. He is survived by his husband of 50 years, Yves Orvoen.