New Christmas Program at Duke Chapel To Get National Broadcast
The Marvel of this Night: Christmas at Duke University Chapel to air on Christmas Eve
Christmas came to Duke Chapel a bit early this year.
On the Sunday before Thanksgiving, the Chapel was full of students, faculty, staff and community members who took part in a Christmas service that will air as an hour-long program on national television on Christmas Eve.
The program, titled "The Marvel of this Night," was directed by Zebulon Highben, director of Chapel Music, and the Rev. Bruce Puckett, assistant dean of the Chapel, with the participation of colleagues from across the university and health system, the Chapel congregation and the local community. CBS Television selected the Chapel for its national Christmas broadcast this year.
"The Marvel of This Night" takes its name from a hymn by Jaroslav Vajda, written in 1981, that exhorts angels to proclaim the birth of Jesus to the world. The music and readings in the program are inspired by the traditional lessons and carols service held at Duke Chapel for more than 50 years.
"The Chapel is truly Duke's front door—a symbol of our community and a spiritual home for so many in the region," said Duke President Vincent E. Price, who introduced the program. "This broadcast allows us to welcome the world to our campus, delivering a message of hope and joy through words and music."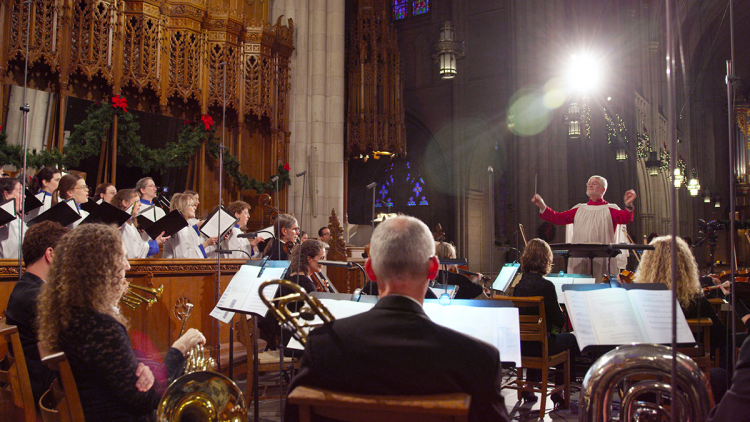 While it followed a familiar format and included several traditional carols, the program also featured Christmas music from Sweden, Cameroon and China, and African American spirituals. The music also included an arrangement commissioned by the Duke Chapel for this program.
Three of the Chapel's organs and the carillon were part of the program, along with the Duke Chapel Choir, Evensong Singers and Vespers Ensemble and local musical groups Amalgam Brass and Mallarmé Chamber Players. Jordyn Blake, one of the soloists, is an undergraduate studying neuroscience; she was accompanied on the piano by Angie Hong, a Divinity School graduate student, and the Rev. Joshua Lazard, the Chapel's C. Eric Lincoln Minister for Student Engagement.
Other members of the Duke community also contributed to the service by reading the lessons from the Old and New Testaments, which tell the story of the birth of Christ. The readers included staff from Duke Athletics and the Divinity School, graduate and undergraduate students and administrators from the health system and Trinity College.
In the program, the Rev. Luke A. Powery, dean of the Chapel, offered a Christmas reflection and read a poem "It's Midnight, Lord" about the birth of Jesus.
"We spend so much of our time striving to reach this goal or that height," Powery said. "On Christmas Eve, let's simply slow down, open our hearts and receive the grace and glory of God in the human flesh of baby Jesus. Isn't that the marvel of this night?"
For more information about the Christmas season in Duke Chapel, visit the Chapel website.