Keeping the Beat over Winter Break
Duke Alumni Band brings grads, employees and community members together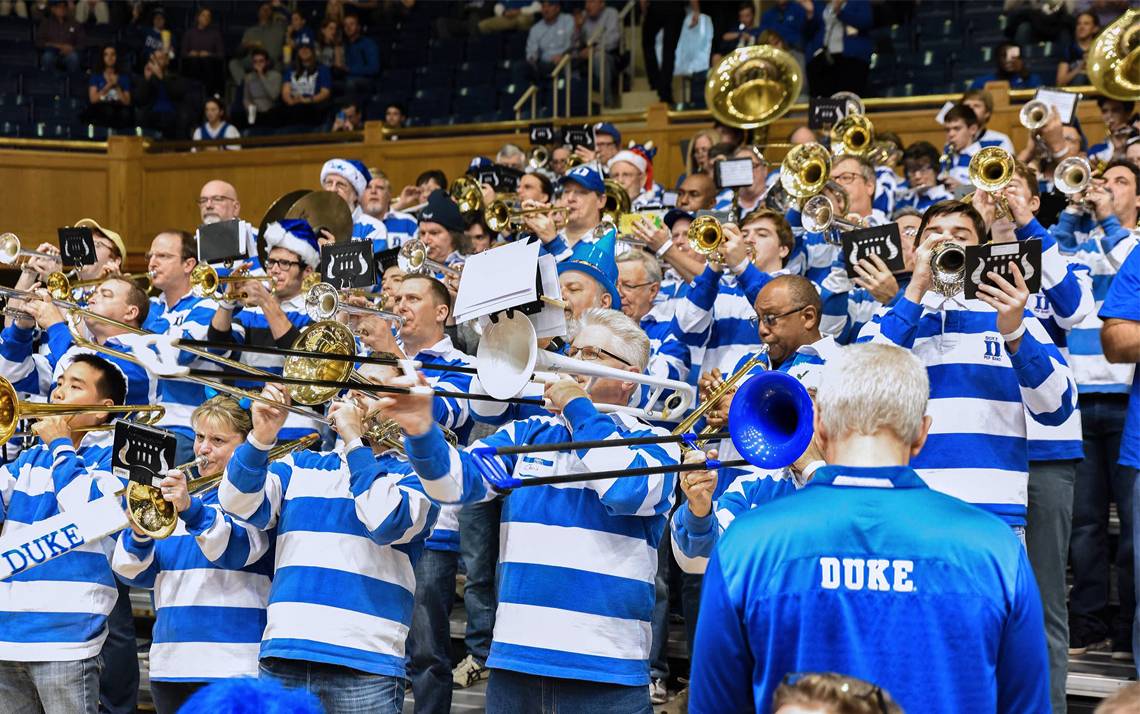 As a Duke senior in the early 1990s, Mark Hill's heavy academic load led him to giving up his spot as a drummer in Duke's pep band. At the time, he likely thought he was finished making memories playing music during Blue Devils basketball games.
But fast forward nearly a quarter century and Hill, senior director of admissions for Duke Law School, can still occasionally be found behind the drums along the baseline of Duke's iconic old arena, making new memories.
"It feels the same in a lot of ways," said Hill, one of the many Duke employees in the Duke Alumni Band. "I'd spent a lot of time playing in that end zone, so getting back there, it was just like stepping back in time."
While campus mostly clears out between mid-December until spring semester classes resume in early January, the men's and women's basketball teams keep going. And with few members of the Duke pep band sticking around, the Duke Alumni Band has stepped in for the past 16 years to keep the music and energy going on game days.
The alumni band, which is made up of Duke graduates, Duke employees and volunteer musicians from around the area, will often play at around a dozen Duke basketball games either at home during breaks in the academic calendars or often follow the Blue Devils to games at neutral sites – such as New York or Chicago – where the student band is unable to attend.
This year, the band played twice at Madison Square Garden during the men's team's appearance in November's 2K Empire Classic, and eight men's and women's basketball games at home. During the next few weeks, the Duke Alumni Band will play at Duke men's basketball games against Wofford (Dec. 19), Brown (Dec. 28) and Boston College (Dec. 31) and the Duke Women's basketball game against Wake Forest (Jan. 2).
"It's a really diverse crowd that makes up the group," said Jeff Au, Duke's director of athletic bands. "It's fun to see people have the opportunity to play for a game in Cameron. Just knowing that it's so special for so many people makes it a really fun thing."
The roots of the alumni band can be traced back to the 2003 NCAA Tournament in Anaheim, California. It was there, while watching the Blue Devils' Sweet 16 loss from the Duke band's courtside seats that then-senior trombone player Nick Superina began grappling with the finality of the moment.
"I'd played in the band all four years and I never wanted this experience to end," said Superina, who works in the venture capital industry in the Washington D.C. area. "So, I thought to myself, it can't end here."
Not long after the loss, Superina, with help from the Duke Alumni Association, sent a mass email to former band members trying to gauge the interest in forming an alumni band. The response from many was an enthusiastic yes.
Superina and fellow Duke graduate and current Duke Alumni Band President Mike Rosen worked out details with Duke's athletics department and came up with a system of rounding up volunteers to play at men's and women's basketball games when the regular student band was unavailable.
"The exciting thing is that we've had a ton of demand since day one," Superina said. "Some of our first games were in New York City and New Jersey, and we started filling about 50-60 seats per game. We had waiting lists. I think we all knew we were on to something."
Au said that there are normally around 50 Duke Alumni Band members that play at most home games. While around 80 percent of those musicians are people who play in the alumni band with some regularity, Au said he only plays about half of the music the regular band plays in order to make sure players of all skill levels can have a good time.
"I love it," said Duke Associate Professor of Surgery Bruce Klitzman, a trumpeter for the Duke Alumni Band. "I have season tickets for both men's and women's games, so I'd be there anyway. But this is a real pleasure to add my trumpeting to the festive atmosphere."
Last season, Klitzman got his brother Jack, an accomplished saxophone player who lives in Washington state, to join the ensemble as the featured soloist, playing as the halftime entertainment a Duke game.
Mark Hill has also had a chance to make some priceless memories playing alongside family. In his case, Hill brought his teenage son, Thomas, along to play trombone.
"It's been fun to have him come along and get a taste of what that's like," Hill said. "That was really cool."
Have a story idea or news to share? Share it with Working@Duke.