Duke Regional Hospital Appoints New Chief Medical Officer
Dr. Adia Ross comes from Duke Raleigh Hospital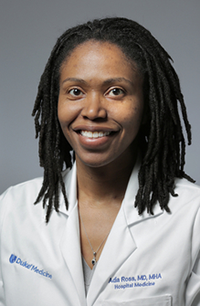 Dr. Adia K. Ross, the medical director for Duke Raleigh Hospital Medicine, has been named Duke Regional Hospital's new chief medical officer.
Ross, a trained hospital medicine physician who currently manages a team of more than 45 hospitalists, will begin her new role at Duke Regional on January 1.
"We interviewed a number of exceptional candidates for this position, and we are delighted to warmly welcome Adia to the Duke Regional family," said Katie Galbraith, president of Duke Regional Hospital. "Adia has the clinical, administrative and leadership experience to support us in our vision of becoming the best community hospital."
Duke Regional's chief medical officer will help oversee quality and clinical program priorities for the 369-bed community hospital as well as manage medical staff partnerships. This leader works alongside Duke University Health System leadership in setting performance targets and metrics as well as measuring and improving clinical outcomes.
Ross will work with Duke Regional's Medical Staff leadership and medical directors as well as several clinical and operational departments, which include Medical Staff Services, Pharmacy, Nutrition Services, Advanced Practice, Emergency Medicine, Diabetes Management, Infection Prevention, Hospital Medicine, Case Management, Performance Services, Performance Excellence and Palliative Care.
In addition to serving as Duke Raleigh's medical director for Hospital Medicine, Ross has served as medical director for the Duke University Health System Transfer Center and assistant medical officer of quality for Duke University Hospital. She completed her internal medicine residency as well as an administrative fellowship at Duke in 2013 and received her Doctor of Medicine degree from the University of North Carolina at Chapel Hill School of Medicine in 2009.
"I am very excited to have the opportunity to continue the legacy that former Duke Regional Hospital Chief Medical Officer Dr. Barbara Griffith and others have laid forth at this five-star community hospital," Ross said. "I look forward to partnering with hospital team members to continue to provide the very best care for our patients, their loved ones and each other."