Blue Devil of the Week: Powering a Love of Science
Engineering professor Nico Hotz relishes chance to work alongside inspired students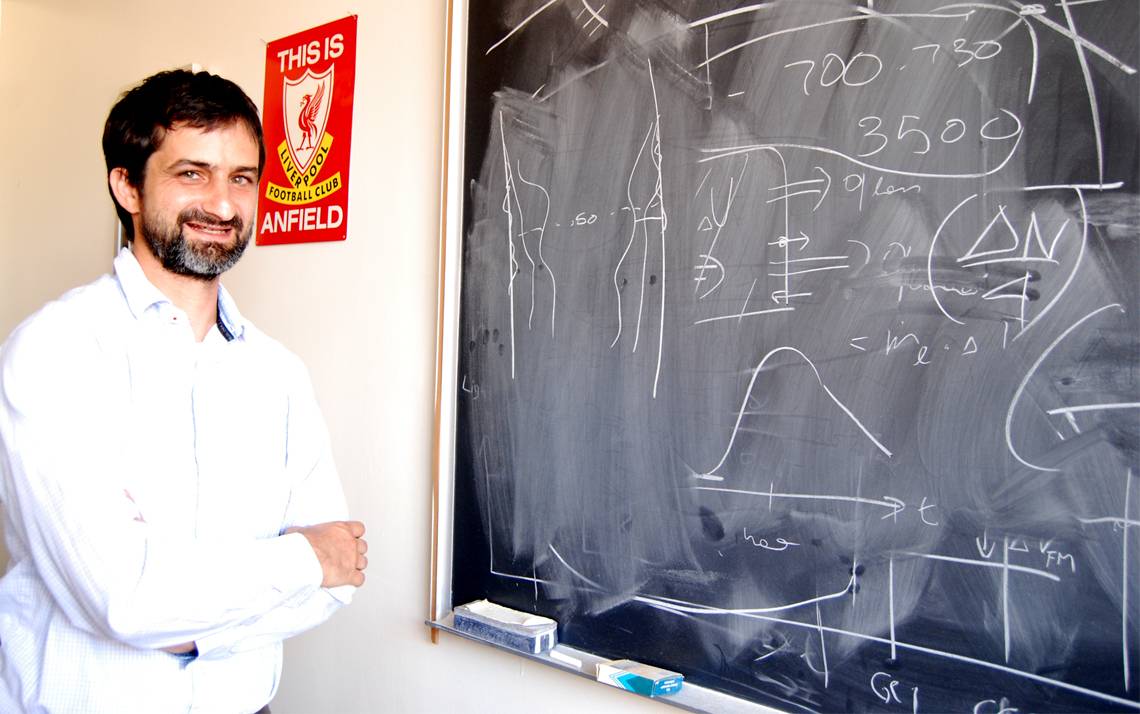 Name: Nico Hotz
Position: Associate Professor of the Practice, Mechanical Engineering and Material Science
Years at Duke: 10
What he does at Duke: In addition to research, Hotz teaches both ends of the student spectrum. He leads high-level graduate courses on heat transfer, thermodynamics and renewable energy and gives first-year students an opportunity to see the outer reaches of the discipline through the Duke Focus Program, which uses a small dose of accelerated subject matter to inspire young students.
"It's the opposite of most introductory classes," Hotz said. "We try to show them interesting things, some of the tricky complex fascinating things, but in a way that you don't need to solve any differential equations."
As the department's associate director of Undergraduate Studies, he helps update curriculum requirements, approve independent study projects and advise students.
"A lot of what I do day-to-day is meet with students," Hotz said. "I try to be one of multiple people for students to come to if they have any issues with a class or have feedback on how to improve things."
What he loves about Duke: Alongside his other roles, Hotz serves as faculty adviser for the Duke Electric Vehicle Club, which gives students the chance to build high-efficiency cars. He's grateful for Duke allowing him to have such varied roles.
"Nobody has ever told me 'No you can't do that,'" Hotz said. "I teach a lot of classes and I can do research whenever I have time. I can be involved in the Focus Program and have full freedom to work with student teams. I really appreciate the opportunity to do that."
A memorable day at work: Three years into his time at Duke, Hotz found himself getting emotional at an undergraduate commencement. He was there to see members of the Pratt Research Fellows Program graduate. These particular fellows had spent three semesters and one summer working in his lab.
"You work with those students a lot," Hotz said. "I saw them at the commencement and they had all these great career prospects and I knew they would go and do amazing things. I felt like I helped them in some way. I felt like I made a difference."
A special object/memorabilia in my workspace: On his office wall, there's a plaque commemorating the Duke Electric Vehicle Club's Guinness World Record for electric vehicle efficiency. The team built a car that ran at 27,482 miles per gallon of gasoline equivalent.
"Basically, with a handful of fuel, you could drive from here to California," Hotz said. "It's not a comfortable ride, and it's a slow ride, but the number is incredible."
As the club's faculty adviser for two years, Hotz is quick to point out that his involvement with the feat was minimal. He offers occasional advice and handles some paperwork.
He joined the team on a world record attempt at Galot Motorsports Park in Benson earlier this year. While it failed, Hotz left impressed with the group's dedication and organization.
Later, when the group set the record, Guinness sent out several plaques, one of which ended up with Hotz.
First ever job: As a teenager in Austria, Hotz volunteered to be a lifeguard. In Austria, a lifeguard is a cross between a pool lifeguard and an emergency medical technician. Always on call, he kept a beeper and rescue gear with him constantly.
"If you called 911, and it was something related to water, they would call us," Hotz said.
Something most people don't know about him: While his accent is a giveaway that Hotz didn't grow up in the United States, when people find out he's from Austria, it occasionally comes as a surprise.
"I studied in Switzerland, so people often think I'm Swiss," Hotz said. "Many people recognize my accent as German, which is my native language. But I'm not German, either. I'm Austrian. Austrians tend to hide."
Is there a colleague at Duke who has an intriguing job or goes above and beyond to make a difference? Nominate that person for Blue Devil of the Week.