The Winners of the 2019 Blue Devil Halloween Photo Contest Are …
Staff and faculty share 101 photos in this year's contest
This year's Blue Devil Halloween Photo Contest was a nail biter. 
Two teams battled it out through Facebook likes until the final moments of the competition to claim victory in a contest that drew 101 Halloween photos. 
Here are the 2019 winners. 
Team: Duke Primary Care Butner-Creedmoor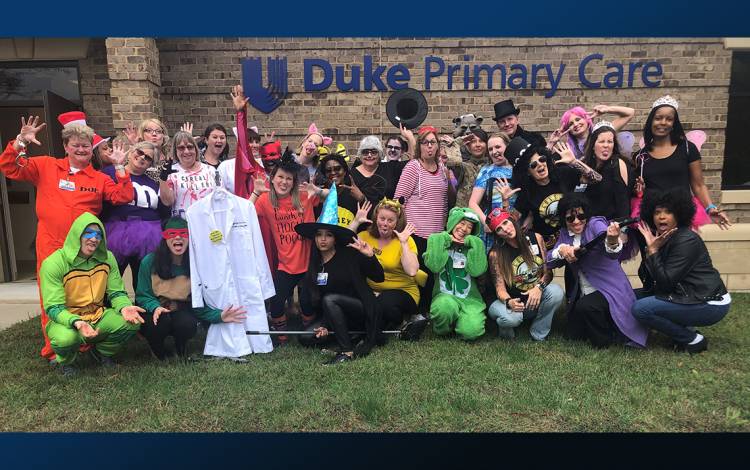 The employees at Duke Primary Care Butner-Creedmoor didn't need a customary phone call from Working@Duke to inform them of their win.
"We know," said Melanie Cangas, the facility's health center administrator, when this writer called Monday afternoon. "We've been monitoring it all morning. We're all so excited!" 
All 34 employees at the Duke Primary Care facility dressed up for Halloween. Cangas dressed as singer Axl Rose while others wore Teenage Mutant Ninja Turtle, fairy, bumblebee, and Prince costumes.  
Missing was Dr. Corey Coles. His coworkers grabbed his white coat and fashioned it to resemble a ghost in the photo. 
Duke Primary Care Butner-Creedmoor received 254 votes by the 12 p.m. deadline Monday. The team was neck and neck until late Monday morning with Duke Orthopaedic Surgery, which ended the contest with 205 votes.  
"Everybody is committed to dressing up and having fun together," Cangas said. "Our patients love it. We love it. It's just a great time." 
Duke Primary Care Butner-Creedmoor employees receive coffee mugs decorated with their winning photo. 
Individual: Tyler Lee

Tyler Lee will soon have enough accolades to match the hallowed halls of fame. 
Lee, program coordinator for the Duke Institute for Brain Sciences, for the most votes (108) for an individual photo for her committed portrayal of Mrs. Doubtfire, played by Robin Williams in the 1993 movie. Lee, a cosplayer, took home the most creative award in the 2017 Blue Devil Halloween Photo Contest as the "Mad Max" film's Imperator Furiosa and won a "Proud to be Working@Duke" T-shirt for her flapper costume last year.
Lee penciled on eyebrows and used a temporary dye to turn her hair gray. She posted a series of three photos mimicking Mrs. Doubtfire rocking out with a broom and replicating other scenes from the movie. Yimin Wei, a project manager for the Duke Institute for Brain Sciences, took the photos. 
"I usually start thinking about my costume in February," Lee said. "Robin Williams is someone I've always admired. He brings people joy. Everybody cracks a smile when they see Mrs. Doubtfire." 
Lee will receive a coffee mug with her winning photo.  
Working@Duke Judges Award for Spookiest: Cas Laskowski

Cas Laskowski, technology and research services librarian at the Goodson Law Library at the Duke University School of Law, haunts the stacks in her spooky costume.
Laskowski dressed as Ghost Rider, a stunt motorcyclist who became the Devil's bounty hunter after selling his soul to save his father. Laskowski painted her face to appear as Ghost Rider's famous flaming skull and posed with the antihero's chain whip. 
"Do not stand in the way of vengeance," she wrote in her caption.
Laskowski will receive a bag of chocolate candy. 
Working@Duke Judges Award for Most Creative: Office of the Provost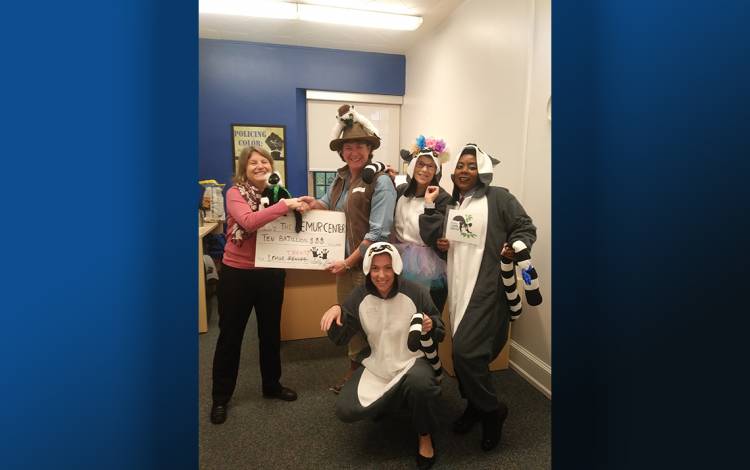 The Office of the Provost had a case of mistaken identity on Halloween. 
Five employees, including Provost Sally Kornbluth, dressed up as lemurs and as a Duke Lemur Center caretaker. In the photo, Provost Kornbluth hands the caretaker a check for "ten bajillion" dollars. 
The lemurs made one slight edit to the check. They replaced the word "fences" on the check so it can fund "treats" instead.
"The Provost gives the lemurs a check for better fences, but they have other ideas," wrote Janee Wallace, administrative assistant in the Office of the Provost, in the photo caption. 
The Office of the Provost will receive a few bags of chocolate. 
"Proud to be Working@Duke" T-shirt Winners: Lauren Howard and Heather Jacobson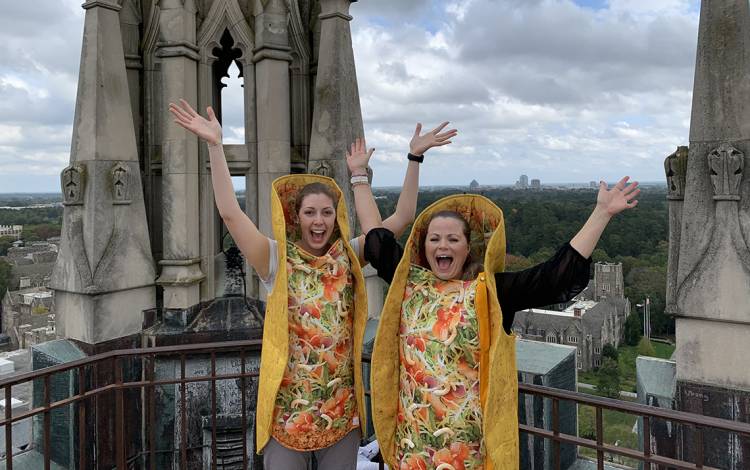 The only thing better than the views from Duke University Chapel is enjoying the sights with two tacos. 
Lauren Howard, left, a biostatistician for the Duke Cancer Institute, and Heather Jacobson, right, senior planning and strategic services analyst for Duke Population Health Management, climbed the 239 steps to the top of Duke University Chapel in their taco costumes. They will each receive a "Proud to be Working@Duke" T-shirt. 
"It was a nice break from the busy workday and a great way to burn off some Halloween candy," Howard said. 
View all 2019 submissions below.