PUBLISHED
Said@Duke: Bringing Military Insights to Campus
On Veterans Day, Duke Today presents a brief review of recent campus speakers addressing topics related to the military and national security. Below are some of those speakers and notable excerpts from their talks.
For more Said@Duke, click here.
Protecting the Constitution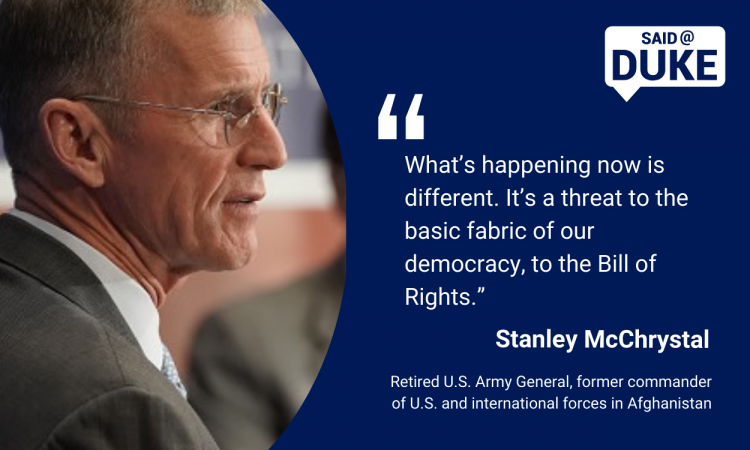 Retired U.S. Army Gen. Stanley McChrystal, who commanded U.S. and International Security Assistance Forces in Afghanistan, spoke at Duke in January 2019. His leadership of the Joint Special Operations Command is credited with the capture of Saddam Hussein in 2003, and the death of the Iraqi Al-Qaeda leader Abu Musab al-Zarqawi in 2006.
Ballistic Missile Policy
General Lori J. Robinson, commander of the North American Aerospace Defense Command (NORAD) and U.S. Northern Command (USNORTHCOM), spoke on Feb. 12. With a military career of 26 years of decorated service, Gen. Robinson is the first-ever female combatant commander.
On NATO
In October 2019, Timothy Sayle, assistant professor of history and director of the International Relations Program at the University of Toronto, spoke about the history of NATO and the postwar global order.
National Security and Technology
In April 2019, Lisa Disbrow, former undersecretary of the U.S. Air Force, spoke about her experience working in the Pentagon as a civilian.
On Leadership
Michèle Flournoy, former undersecretary of defense for policy, spoke in April 2019 on the importance of mission, passion and public service while offering career advice to students.
The Value of Military History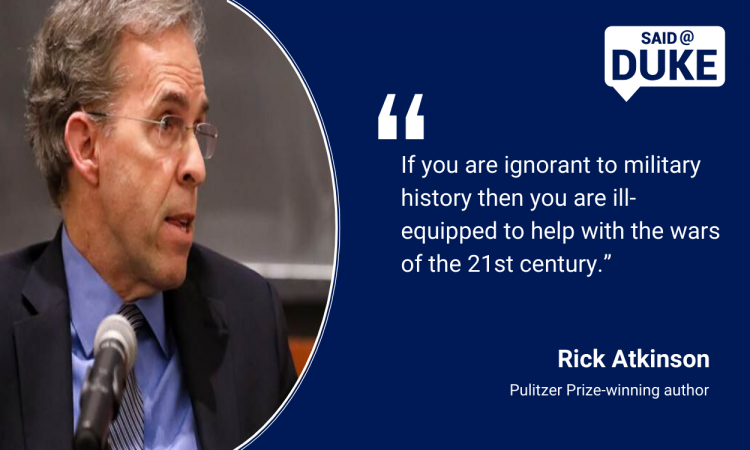 Pulitzer Prize-winning author Rick Atkinson spoke to an audience at the Sanford School on Tuesday evening about how World War II shaped US character and the importance of military history.
Military, Congress & Valor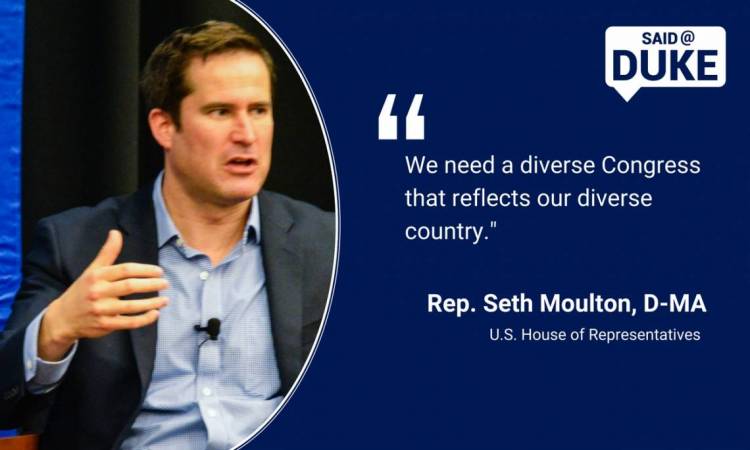 U.S. Congressman and decorated Marine Corps veteran Seth Moulton (D-MA) spoke on Feb. 22, 2018, about the country's future. Before his election to the House in 2014, he served with distinction in the U.S. military, completing four tours in Iraq and receiving both the Bronze Star and the Navy and Marine Corps Commendation Medal for valor.