History Department Exhibit Presents the Stories Behind Housing Inequality in Durham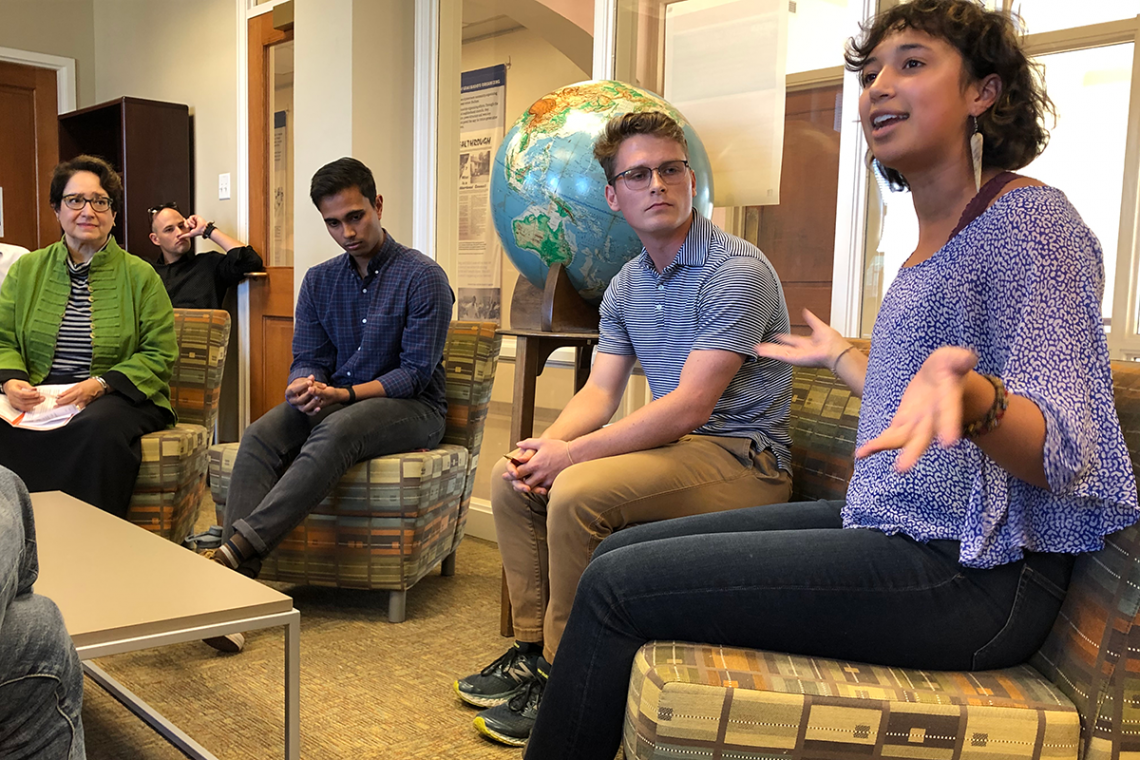 The opening of an exhibit exploring the foundations of housing inequality in Durham was celebrated Oct. 28 in the Classroom Building on East Campus.
"Uneven Ground" – a series of informational hanging panels rich with photos and archival data originally curated as part of the Bull City 150 project – will be hosted by the Franklin Gallery @ History throughout this academic year.
The exhibit panels span the first and second floors and are available to the campus community and the public during working hours.
The Franklin Gallery @ History is an initiative of the History Department led by Associate Professor Sucheta Mazumdar. Launched in 2016, it celebrates the legacy of John Hope Franklin and provides a forum for exploring the centrality of history and historical studies in public life, linking the local with the global. "Uneven Ground" is its fourth exhibition.
"We have hosted several exhibitions with national and international themes, and it is fitting that we are now showcasing our own city and neighborhood," said Sumathi Ramaswamy, department chair and James B. Duke Professor of History.
"The current exhibit…allows us to connect with President Price's commitment to forge what he refers to as 'purposeful partnerships' with the city and the Carolinas, allowing us in the department to bring the necessary historical dimension to the stated goals of advancing our knowledge of our city's economic development, community health, housing and public education."

The opening reception began with a panel of three students whose majors range from economics and statistics to public policy and history. They discussed how and why they got involved in housing justice in Durham, their perception of Duke's role in the community, and how important it is for resources like "Uneven Ground" to be available to students.
One student remarked that "institutional memory is so short when there is turnover (of the undergraduate student body) every four years."
"This kind of public education is really important for Durham right now…but especially for new arrivals," said Mayor Pro Tempore Jillian Johnson during remarks at the opening. "This is a global issue, and here in Durham, knowing the history is really critical."
Also in attendance was Ruebe Holmes, a 2013 Duke graduate who is now a community development coordinator with the City of Durham. She described housing inequality as "inherent and orchestrated by the past – and the present," sharing personal stories of her family's own struggle with finding affordable housing.
Robert Korstad, professor of public policy and history, reflected on a number of ongoing projects in which faculty, staff and students have connected with and served the Durham community – collaborations he hopes will continue.
"We've really used our knowledge to build a more equitable future for this city we call home," he said.
"The past exhibits on China, Russia and the U.S., and now this year's exhibit focused on land and housing inequality in Durham continue adding to local and global dimensions of research and education at Duke," said Duke Provost Sally Kornbluth. "It has been an amazing team effort and exciting to see the development of the Franklin Gallery @ History since 2016."
Financial support for the exhibit was provided by Duke's History Department and other partners including the Sanford School of Public Policy, the Samuel Dubiois Cook Center on Social Equity, and MDC Inc.