Divinity Dean Greg Jones' Term Extended Through 2023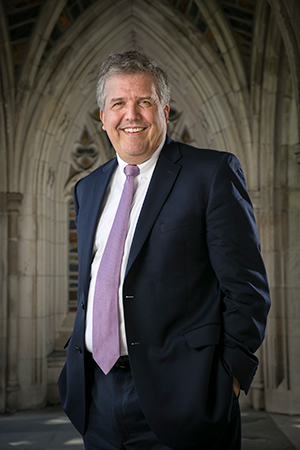 L. Gregory Jones, who is currently serving a three-year term as dean of the Divinity School, has had his term as dean extended for a full five years through 2023, President Vincent E. Price and Provost Sally Kornbluth announced on Monday.
Jones was named Divinity dean in 2018 when then-Dean Elaine Heath stepped down. Jones, who earned M.Div and Ph.D. degrees from Duke, was previously dean of Duke Divinity from 1997-2010. In addition, he served as Duke's vice president and vice provost for global strategy and programs and created the Office of Global Strategy and Programs. At the time he replaced Heath, Jones was on the Divinity School faculty as the Ruth W. and A. Morris Williams Jr. Distinguished Professor of Theology and Christian Ministry.
"We have been extremely impressed by Greg's leadership and commitment to the school," Kornbluth said in a message sent to school faculty. "After discussion with various stakeholders, we have come to the conclusion that it would be a great benefit to the school to extend Dean Jones' term." Jones has agreed to serve for this full-term.
Kornbluth said that toward the end of Jones' term, the university will begin a search for Jones' successor. "I believe that this approach will give us the greatest possible chance of securing a stable future for the Divinity School and strong leadership into the future," she said.
Jones is widely recognized as a scholar and church leader on such issues as forgiveness and reconciliation, Christian vocation, leadership, and strengthening the church and its ministry. He is known for teaching that fosters students' imaginations in connecting Christian faith to everyday life, for research that promotes interdisciplinary conversation, and for theological thinking that fosters transformative leadership, traditioned innovation, and vibrant institutions.
One of his major initiatives is the Faith & Leadership program, which opens learning resources from the Divinity School's leadership education to Christian church leaders and their institutions. He remains a senior fellow at the program.
Since his return to the deanship, Jones has been focused on strengthening and diversifying the faculty and staff, improving the culture of the school, and addressing financial challenges. He and his colleagues at the school are developing a vision and trajectory for the Divinity School's long-term flourishing.
The author or editor of 17 books, he has also published more than 200 articles and essays. His most recent book is "Christian Social Innovation: Renewing Wesleyan Witness" (Abingdon Press, May 2016). He coauthored the book "Forgiving as We've Been Forgiven" with Celestin Musekura and another book with Kevin R. Armstrong, "Resurrecting Excellence: Shaping Faithful Christian Ministry." He is perhaps best known for his internationally-acclaimed "Embodying Forgiveness," published in 1995.