Denis Simon to Step Down as Executive Vice Chancellor of Duke Kunshan University
Simon will take on a new role as senior adviser on China to Duke President Vincent E. Price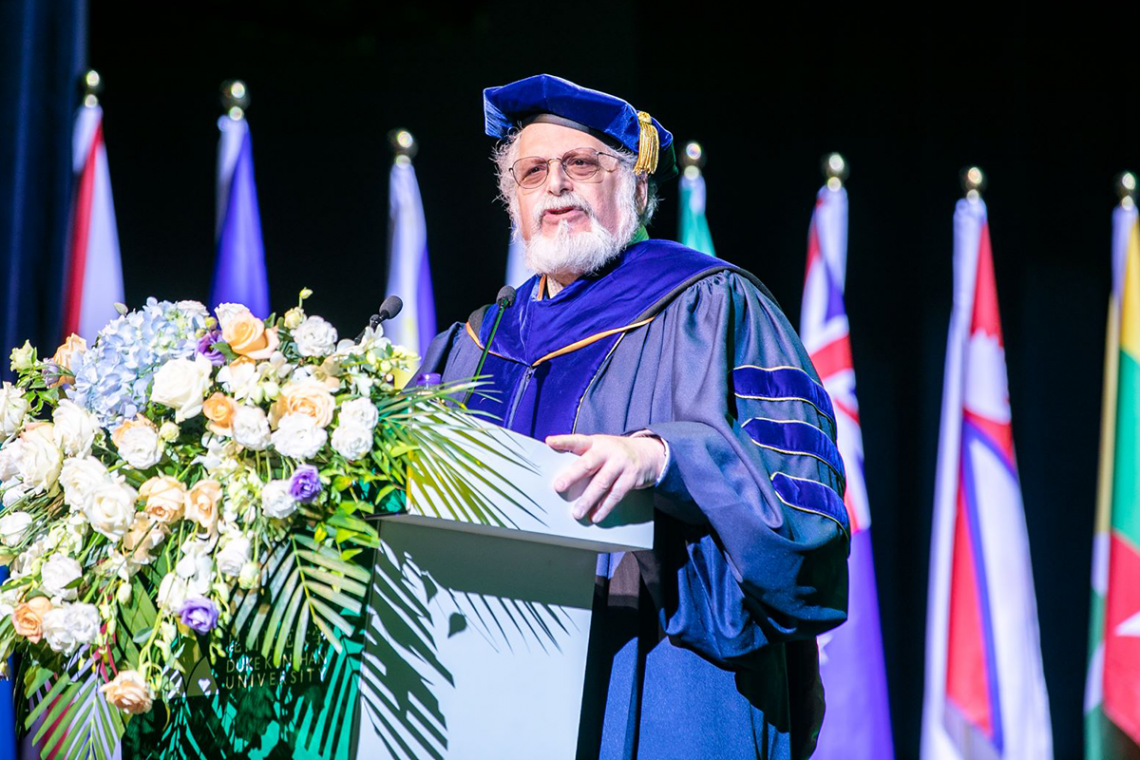 Denis Simon, the executive vice chancellor of Duke Kunshan University (DKU) since 2015 who oversaw both the completion of the campus and the launch of the undergraduate program, will step down from that position on June 30, 2020, at the end of his five-year term, Duke Provost Sally A. Kornbluth said Tuesday.
Simon will take on a new role as senior adviser on China to Duke President Vincent E. Price.
"Denis has led DKU from an experiment to the forefront of global higher education," said Kornbluth, who also chairs the DKU Board of Trustees. "He guided the completion of the first phase of the campus that is now on the way to doubling in size and was the catalyst for the recruitment of world-class students, faculty and administrators. Denis has been a very effective advocate for Duke Kunshan during this crucial start-up period and he has positioned the university for great success going forward."
Added DKU Chancellor Feng Youmei: "Denis has brought great energy, enthusiasm and a deep knowledge about Chinese culture and society to his work at DKU. His understanding of the DKU missions has helped our young university steer effectively through the assorted challenges facing us these last several years."
As DKU's principal academic and administrative officer, Simon has overseen the creation of a global enrollment team, the completion of the first phase of the 200-acre campus and, in partnership with Duke faculty leaders, the development of an innovative curriculum and the hiring of a more than 80 faculty members from around the world. He has also represented DKU to Chinese and U.S. government officials, donors, employers and higher education leaders.
"My five years as EVC has been one of the most rewarding experiences throughout my professional career," said Simon. "I frequently was called upon to utilize the full array of the China knowledge I have accumulated since my first trip in 1981. I am extremely pleased with all that we have achieved so far and look forward to continuing the depth and breadth of Duke's connections in China."
In his new role, Simon will work with Duke schools and departments to foster the development of collaborations across greater China. "Denis has unique expertise in forging and managing effective partnerships in China," said Price. "He will provide valuable counsel to our faculty and leadership in identifying and implementing new relationships across industry, academia and government."
DKU is a joint venture between Duke, Wuhan University and the City of Kunshan. The university opened in 2014 with graduate programs in business and global health and admitted its first undergraduate students in 2018. DKU now enrolls more than 600 undergraduates from 40-plus countries in its first two classes, as well as master's degree students in management studies, global health, electrical and computer engineering, medical physics and environmental policy. The university is also home to several interdisciplinary research centers that engage faculty from DKU, Duke and scholars around the world.
A search committee of Duke and DKU faculty, administrators, students and trustees chaired by Edmund Malesky, a Duke political science professor, has been created to advise Kornbluth and the DKU Board of Trustees on the selection of Simon's successor as executive vice chancellor.