Class Project Takes Duke Student to New Heights
In Duke's Hacking4Defense class, teams of students work with the military to solve real-world problems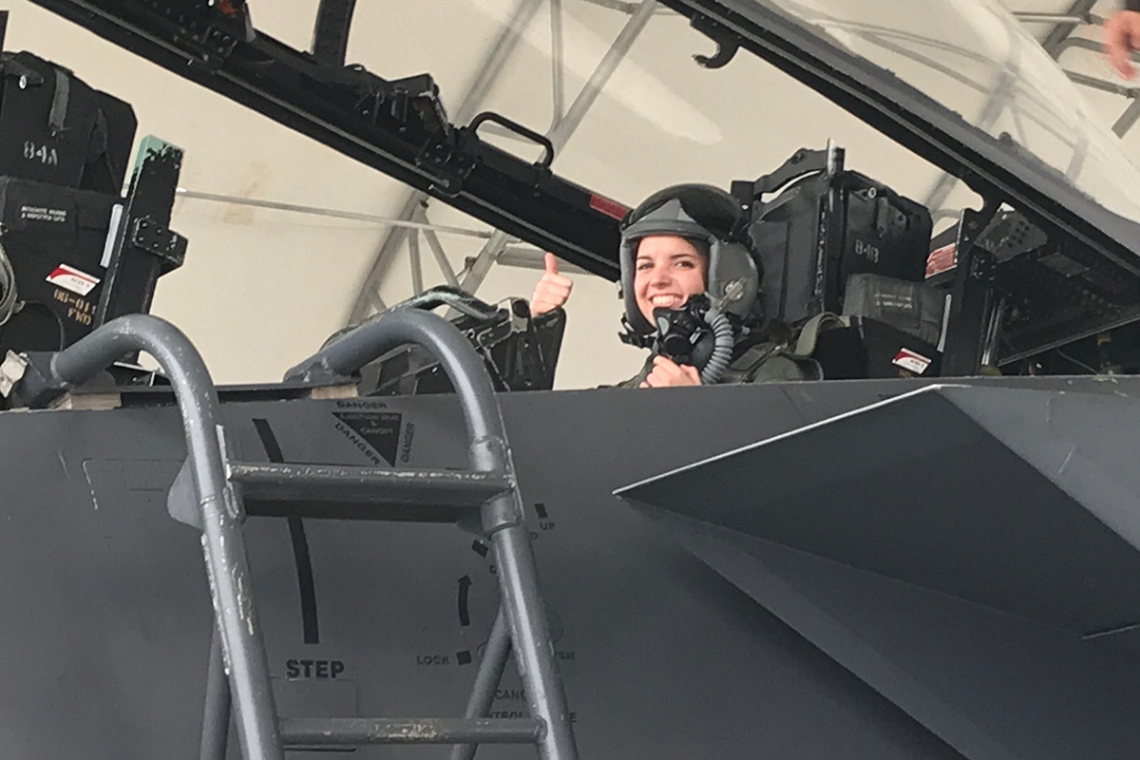 At the start of this fall's Hacking 4 Defense (H4D) class at Duke, military representatives outlined projects at their respective North Carolina bases where student help would be highly valued.
Each representative detailed the specific problems they hoped teams of students with diverse interests -- ranging from engineering and computer science to pre-med and public policy -- could help solve.
But then Col. Donn C. Yates from Seymour Johnson Air Force Base in Goldsboro upped the ante when he offered a ride in an F-15 fighter jet as a reward to at least one student from a team that helped solve a communication problem.
"When I heard this, I thought, 'OK, it's on,'" recalled Joy Duer, a senior biology major whose future plans include medical school.
"It was such a rush to feel the G-force, although I definitely had to use the exercises they taught me to keep from passing out from the strain."
-- Joy Duer
Duer and classmates Mary Gooneratne and Linda Zhang were charged with figuring out what to do if communication networks were knocked out during battle through jamming or some other manner. Their solution -- which involves the use of drones and lasers -- is still being worked on, but their ideas impressed the Seymour Johnson brass to the point that they made good on the colonel's promise.
That is how Duer, who will graduate next month, wound up last week in the back of an F-15 piloted by Lt. Col. Boar as it went on a low-altitude (1,000 feet) training run at speeds reaching 600 miles per hour across the North Carolina and Virginia mountains.
"The most memorable moment of the flight was when we got to do some of the Air Force/fighter jet maneuvers," said Duer. "It was such a rush to feel the G-force, although I definitely had to use the exercises they taught me to keep from passing out from the strain.
"It exceeded every expectation I had -- I had not really spent a lot of time thinking about exactly what was going to happen but the whole thing was so surreal and fun. It was the perfect way to end my college career."
While Duer was in flight, Gooneratne and Zhang toured the base, including a trip to the ironically named Hush House where enormous Pratt & Whitney engines are tested.
H4D was developed at Stanford by professors with entrepreneurial and military backgrounds and is now a program of the Department of Defense's National Security Innovation Network. It was brought to Duke last year by Steve McClelland, a 1995 Duke graduate and former lead for product at Twitter, and Tommy Sowers, a 1998 Duke graduate who was a member of the university's Army ROTC program, a Green Beret and who later taught at West Point before founding his own venture-backed tech company.
"Each week, the students conduct interviews with airmen to gather facts for the study," Sowers said. "They don't just come up with these topics on their own, they're given a real problem from leaders that need an answer quicker, faster and better, and they are prepared for it."
During the semester, each team must communicate regularly with the military to get a better sense of the problem they are trying to solve, what's been tried previously, and myriad other questions. On average, each team interviews 10 military customers per week alongside building prototypes to solve their problem, Sowers said.
Maj. Taylor Francis of Seymour Johnson said they have "benefited greatly from having intelligent individuals come inside of our walls for an in-depth analysis of our processes for improvements. The Air Force and the DoD as a whole improves when we open our doors to build partnerships."
Duer said through the class and her work with "outstanding" project-mates Gooneratne and Zhang, she's learned teamwork, the value of "radical candor" and the skills necessary to stand up in front of a group of people and quickly and effectively communicate what needs to be said.
"By working with the 4th Fighter Wing, I have gained a greater understanding of what the Armed Forces do and it has deepened my appreciation for them," Duer added. "I think what was most important about working with the Air Force was the element of human service. By speaking with a number of airmen, I got to develop a greater understanding of the military as an organization, but I also got to put human faces, experiences, and personalities to the broad generalization of 'service members.'
"My work with them has reminded me of why I came to Duke, why I want to pursue my own career in human service. There's something incredible about going to work every day with the mindset that I am not there for myself, I am there because someone else needs me to be at my best for them."