Blue Devil of the Week: Hand Transplant Pioneer
Linda Cendales performed North Carolina's first bilateral hand transplant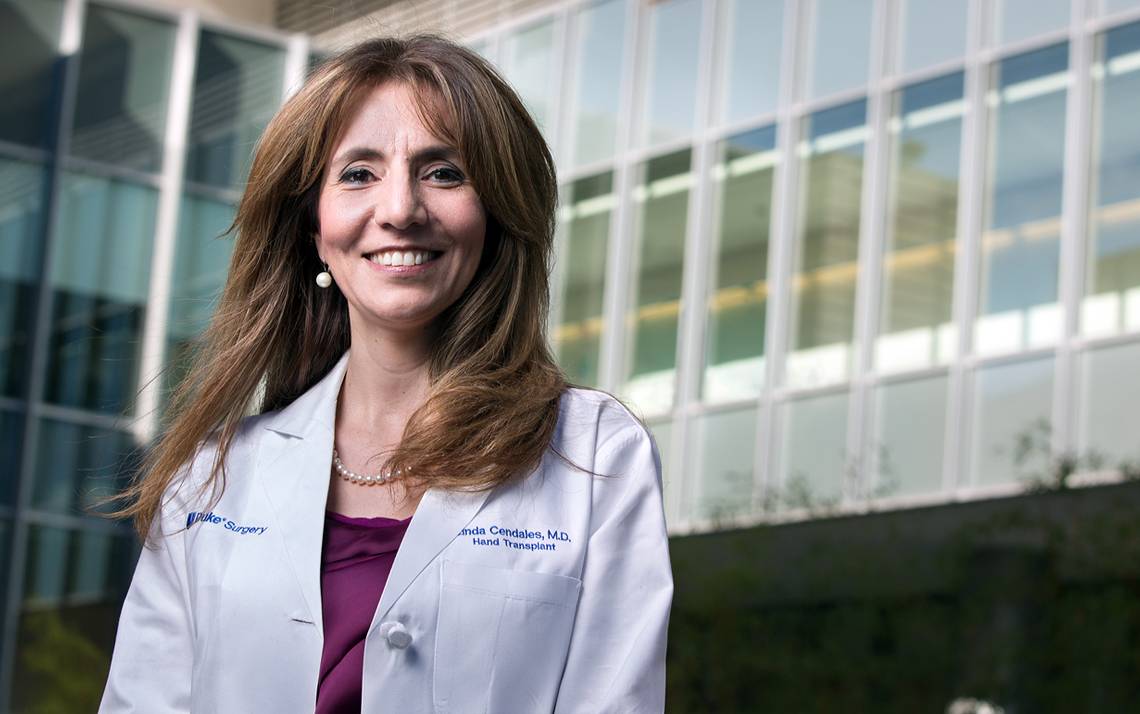 Name: Linda Carime Cendales
Position: Director of the Duke Vascularized Composite Allotransplantation Program, Associate Professor of Surgery and Orthopaedic Surgery, Duke Health Scholar
Years at Duke: 5
What she does at Duke: Cendales arrived at Duke in 2014 to establish and to lead the Vascularized Composite Allotransplantation Program, which refers to transplanting multiple tissues – skin, muscle, tendon, nerve and bone – as a functional unit for large defects that cannot be reconstructed with the person's own tissue. An example is a hand.
Two years after joining Duke, Cendales led the Duke Health team that performed the first hand transplant in North Carolina. Next, she headed the state's first bilateral hand transplant, a surgery in which both hands were transplanted simultaneously on Thanksgiving Day in 2018. The surgery took 14 hours and about 40 medical personnel, with teams rotating in and out to perform the transplantation.
Cendales led a third hand transplant on Father's Day in 2019.
"The hand is very personal," Cendales said. "People express and communicate with their hands in ways that are explicit and implicit."
Cendales is a published author, with academic articles on vascularized composite allotransplantation and hand transplantation.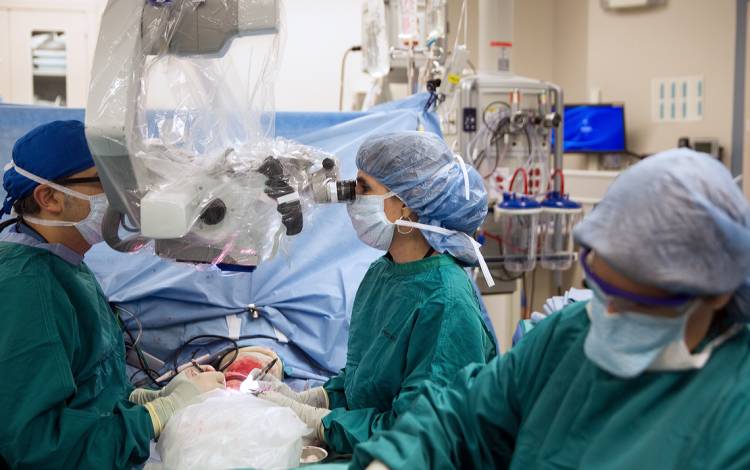 She currently serves as an associate editor of the American Journal of Transplantation, is the co-chair elect of the American Transplant Congress, is the chairwoman of the Organ Procurement and Transplant Network/United Network for Organ Sharing Vascularized Composite Allotransplant Committee and the chairwoman of the Vascular Composite Allotransplant Advisory Council.
"It's a privilege to take care of our patients," Cendales said. "We're defining this field and are working in the policy for its safe implementation in the United States."
What she loves about Duke: Cendales loves the collaborative nature of Duke.
About 50 surgeons, anesthesiologists, nurses, research coordinators, operating room staff and technicians are all part of the hand transplant surgery, which can take nearly 15 hours.
"The hand transplant team is very interdisciplinary," Cendales said. "Duke is one of the few places where there is combined expertise available to do such a case. The technical aspect is unique, but the other aspects, immune management, occupational therapy, neuropsychology, anesthesiology, social work and the transplant and research infrastructures are as important."
A memorable day at work: Cendales remembers every hand transplant. The surgery is difficult. Bone, blood vessels, muscle, nerve, tendons and skin all have to be connected.
"Going through the decision to put yourself through the rigorous surgery and recovery is a very personal and intimate decision," she said. "I never lose sight of that when I'm working with my patients."
Special object in her workspace: Artist Steve Panella, a friend, painted an image of a hand for Cendales after she assisted with the first hand transplant in the United States while doing her first medical fellowship in Louisville, Kentucky.
"It is a very special painting," she said.
Best advice received: Allan Douglas Kirk, chair of the Duke Department of Surgery, told Cendales during her second fellowship at the National Institutes of Health, "Be true to yourself."
Cendales harkens back to that advice during long days and late nights developing a new specialty.
"People didn't even know how to call this field. There wasn't a common language to report what we were seeing," Cendales said. "Through consensus, we now have a scoring system for reporting."
First ever job: Before medical school, Cendales taught English as a second language to students from the Universidad Externado de Colombia in Bogota, Colombia.
"It was my first job in an academic environment," she said.
Something most people don't know about her: Cendales won a scholarship and traveled to Mbabane, Swaziland. While there, she volunteered in a government hospital's neurology ward. She learned sign language to communicate with the children who were hard of hearing.
"I wanted to communicate with them and to learn about them. So I learned their language," she said.
Is there a colleague at Duke who has an intriguing job or goes above and beyond to make a difference? Nominate that person for Blue Devil of the Week.