A Tunnel Beneath Your Feet
Dating to 1925, the campus tunnel contains an intricate utility system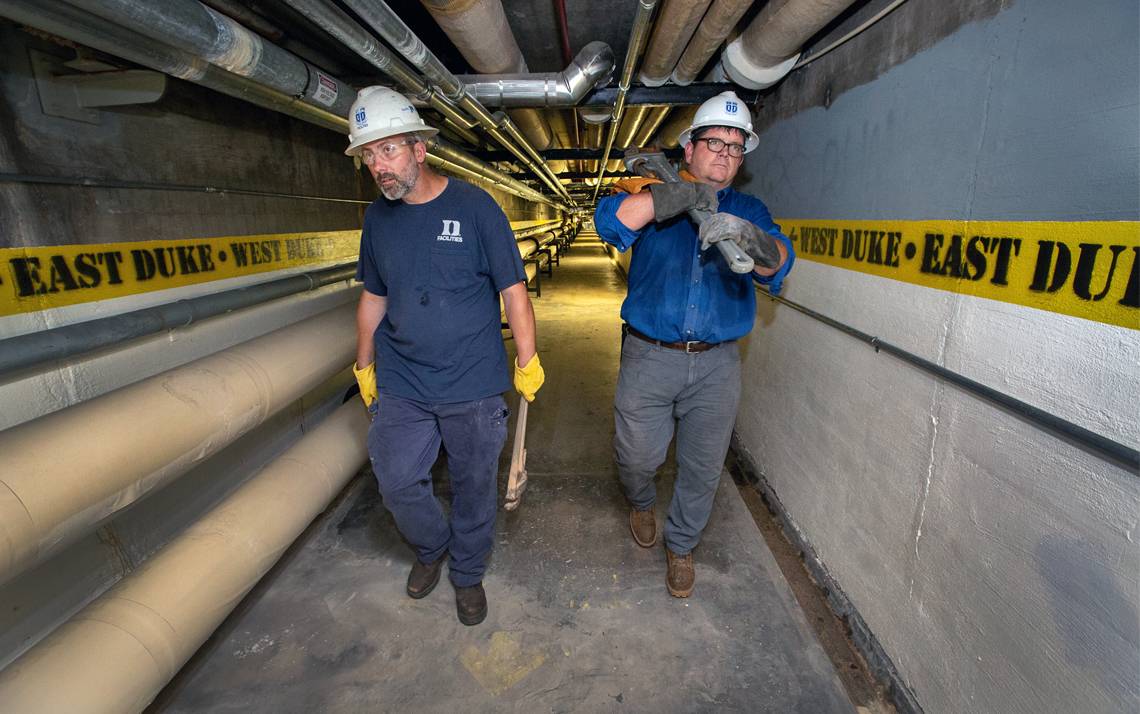 Sweat drips down Yancey Leonard's face as he leans over a steam trap, a device that removes condensation from steam pipes.
With a leather-gloved hand, Leonard rubs a crayon-tipped plastic stick against the trap. Part of the orange crayon melts in seconds, leaving a trail of wax running down a 3-inch wide steel pipe. That's a sign that the system is running correctly.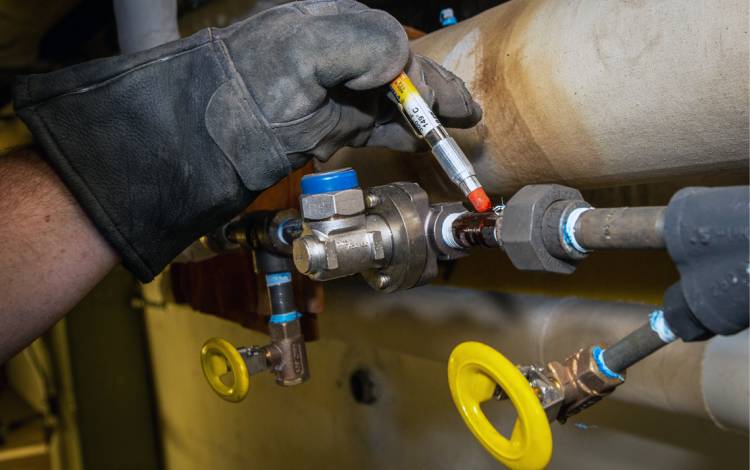 "The crayon is made to melt at 300 degrees Fahrenheit, which is how hot the steam should be," said Leonard, operations coordinator for Duke's Facilities Management Department. "That's exactly what we need to see down here."
Down here is the mile-long tunnel that was excavated and built under East Campus between 1925-1927 to provide heating, water, electricity and a protected walkway to buildings. During excavation, the unique underground tunnel was billed as a passageway that would connect 11 new buildings planned for East Campus.
"In cold or muddy weather it will be possible for students to do all of their day's work without putting on an overcoat or slicker in order to go from building to building," states a front page article in The Chronicle on Sept. 23, 1925.
What the tunnel now holds is a secure and intricate system of pipes and wiring that provide steam, hot and cold water, high voltage electricity and teledata to 13 residence halls, the Marketplace, Lilly Library and Baldwin Auditorium on East Campus.
The tunnel: a solution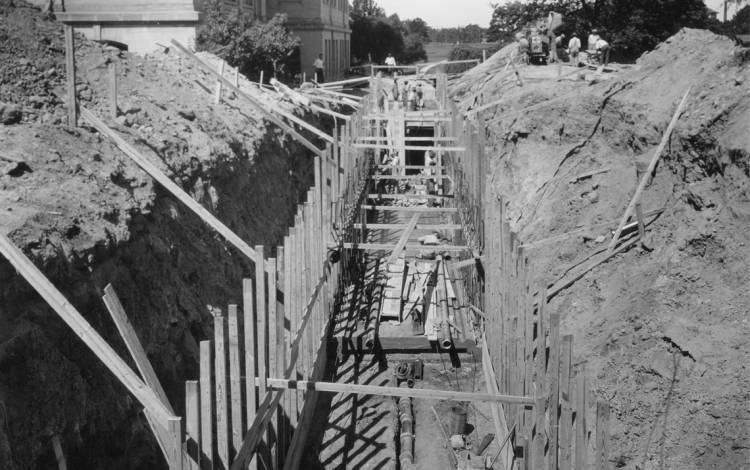 On March 12, 1925, Frank Clyde Brown, an English professor and chief financial officer for Duke University, wrote a five-page letter to Horace Trumbauer, the Philadelphia architect who led the firm that designed Duke's campuses.
Brown detailed a dozen changes to blueprints of future residence halls on East Campus. He notes a need for a tunnel with a two-fold purpose: a passage for students to travel from building to building and a place to house heating and water pipes, telephone lines and electric cables. 
The utilities were a bonus for Brown, who was mainly concerned about students walking around campus during inclement weather.
"We feel sure that, if tunnels are used, this is the solution to our problem both from an economical and from a practical point of view," Brown wrote in the 1925 letter. 
In 1926, construction was underway with plans to connect to a new heating and power plant, now the East Campus Steam Plant, near the entrance to campus. Work continued through the next year with regular correspondence about the project between Brown, Trumbauer and B.M. Hall, Trumbauer's construction superintendent. 
"The work is progressing very well at the Power House and in the tunnels," Hall wrote in an Aug. 2, 1926 letter. "The tunnel foundation wall through Jarvis is poured." 
The tunnel and heating plant were completed in October of 1927, according to an Oct. 5, 1927, report in The Chronicle. Since opening, the tunnel has served as a main artery providing heat, water and electricity to East Campus buildings. 
Amy McDonald, assistant university archivist at Duke University Archives, said the tunnel system illustrates the scale of construction on East Campus during the 1920s. 
"It was a complete re-imagining of the campus, down to below the ground," she said.  "The tunnel is a reminder of the unseen labor that was and continues to be carried out on campus today."
Easier access for maintenance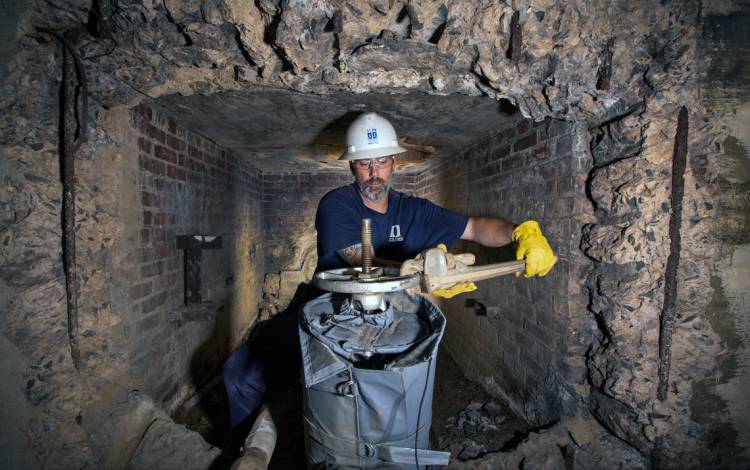 On a 92-degree day this summer, Tim Duggan and Yancey Leonard walk into the tunnel wearing hard hats and safety glasses and carrying wrenches. 
The two men walk the mile-long stretch looking left to right, up and down. They look for signs of water leaks; they check steam traps; and replace burned out light fixtures. 
"We're trying to get a jump start on identifying any issues," said Duggan, a steamfitter for the Facilities Management Department. 
Preventive maintenance is a key benefit of the tunnel, according to Russell Thompson, director of utilities and engineering for Facilities. 
The tunnel makes it easier for staff to access pipes and electric cables to make repairs. Without the tunnel, the infrastructure would be buried, resulting in excavation to troubleshoot and road or sidewalk closures. 
"If our waterlines or steam pipes were in the ground, we would have to start digging and hope we could find the root of the problem," Thompson said.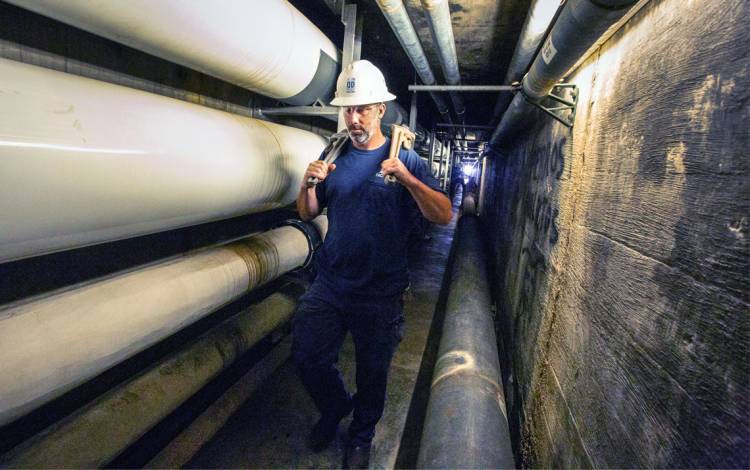 In the past decade, Facilities has updated the tunnel with new lighting, fire doors, ventilation, and more. For years, furniture, luggage and other miscellaneous items were stored in the passageway. But crews cleared the tunnel and reduced the number of entrances, which are all secure. Only approved staff who have completed tunnel safety training and have DukeCard authorization can access the tunnel, which is closed to the public for safety reasons. Rarely, the Facilities Management conducts department-authorized tours of the tunnel. During 12 different tours in April, about 200 students visited the tunnel in collaboration with Student Affairs' Senior Giving Challenge.
"The tunnel is a hidden piece to keeping campus operational," Leonard said. "It's amazing the people building Duke had the foresight to include this." 
Have a story idea or news to share? Share it with Working@Duke.