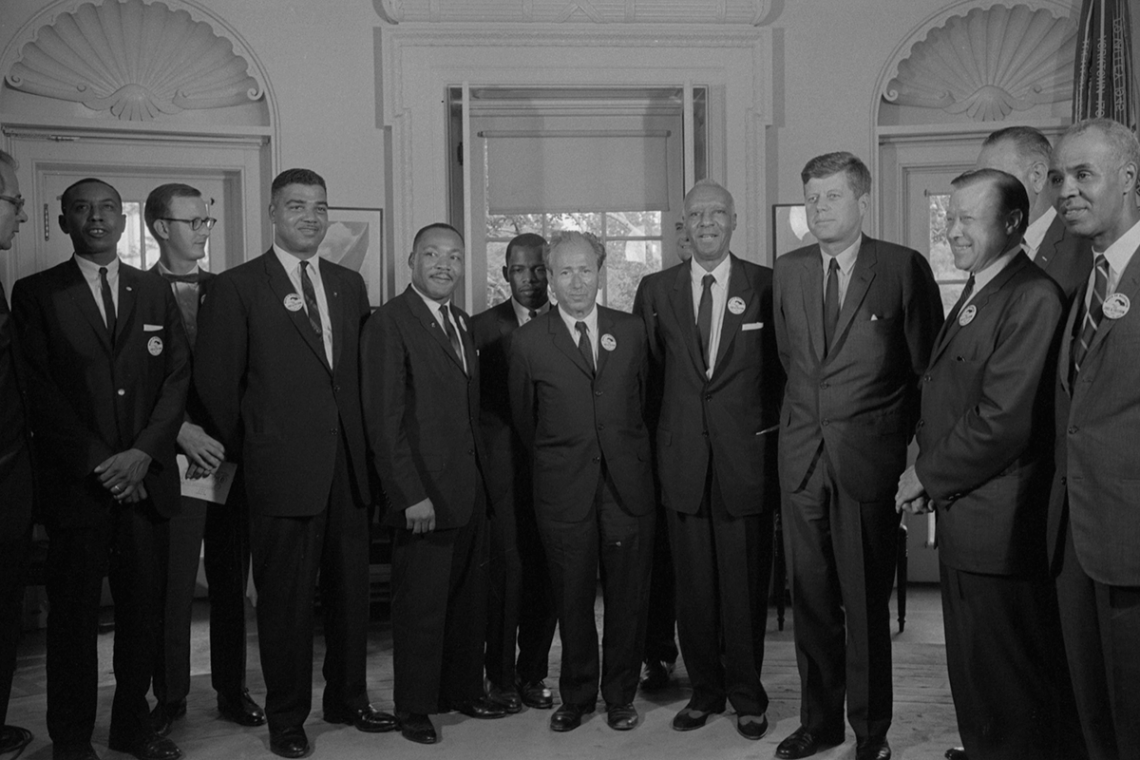 Next summer, 30 middle- and high-school teachers from across the US will spend three weeks at Duke learning how to better teach the civil rights movement by exploring it in more depth and revealing more about the critical figures than is often covered.
The residency is produced by Duke's Center for Documentary Studies and its two partners, the SNCC Legacy Project and Teaching for Change. Participants will receive a bottom-up history of the civil rights movement along with resources to teach it at a far broader and deeper level than most American public school curriculums currently offer.
One key resource will be the SNCC Digital Gateway, a website filled with biographies, first-person accounts and reams of other civil rights movement information.
Called "The Civil Rights Movement: Grassroots Perspective," the three-week institute is funded through an award from the National Endowment on the Humanities. It builds on a six-year-old collaboration between the SNCC Legacy Project, the Center for Documentary Studies, Duke University Libraries, and Teaching for Change.
Here, CDS Director Wesley Hogan and SNCC's Judy Richardson, the project's co-directors, discuss the project with Duke Today. (The pair collaborated on the answers to these questions)
Q: Why is a program to help teachers better teach about civil rights necessary? (And what's the 9-word problem?)
HOGAN & RICHARDSON: The Nine Word Problem is straight forward: What almost everyone who has graduated from US high school in the last 40 years knows about the movement can be reduced to nine words: "Rosa Parks, Martin Luther King, I Have a Dream."  That's it. Nine words.
Classroom teachers make informed citizens out of our young people. If children and young adults do not learn why it is important to participate in the democratic process in the social studies classroom, then students are left to their own devices. If they think that you have to be as brave as Rosa Parks, or as charismatic and eloquent as Martin Luther King, they will not "see" themselves in the basic story of the country.
Instead, the core story that SNCC wants to pass on encompasses three central ideas. First, young people and women were among the key leaders and troops in the civil rights movement – even though we hardly ever teach K-12 history in that way. Second, the movement was a primary force for democracy and self-determination for all Americans. SNCC workers, together with youth and elders in local communities, worked to build leaders at the base of society to demand a say in their own lives. SNCC called this "building the 'demand' side'" of democracy. Third, for 50 years journalists and scholars perpetuated destructive myths about the origins and development of "Black Power," a call that came initially from SNCC organizers in 1966.
The SNCC Legacy Project wanted to set the record straight. Black Power encompassed the right to define oneself, as well as one's history and culture; the power to control one's communities politically, and the power to use electoral politics to enhance the Black community's economic and educational resources. Black Power meant having a say in the national political dialogue from a perspective of power and not victimization.
Q: What role can a university play in all of this that a public school district may be either unable to do or, for political reasons, be reluctant to do?
HOGAN & RICHARDSON: Nationwide, school boards, school administrators, and teachers are being asked to carry a very heavy load today. Schools are struggling for adequate funding, improved scholastic outcomes, healthy emotional climates for learning, and basic safety. We know that in the midst of those necessary priorities, it is hard to add "innovative social studies curriculum" to already over-flowing plates and over-extended teachers.
Making sure that teachers are supported in teaching this civics curriculum, have time to do it, and are part of a nationwide network of others also teaching this way is vital. Universities can serve unique roles as "conveners" of K12 teachers in the summer and as "knowledge-builders" – we are set up to get grants and build knowledge, with large bureaucracies to process research grants, faculty who are content-knowledge experts, and huge research library staff to digitize new materials and help build complex digital humanities websites like the SNCC Digital Gateway. We have graduate and undergraduate students who work alongside us to build such websites, and above all, we have a platform to host the SNCC activist-scholars who bring a powerful knowledge-base to the creation of sites like this – they are the ones who made the history in the first place!
Finally, politically, some topics are too controversial for many K-12 schools to build knowledge around. The history of grassroots campaigns for voting rights and Black Power are controversial in some communities. The university thus provides an umbrella under which an open, thoughtful, and factually grounded discussion of these historically important events and ideas can take place without directly involving school boards and school leaders in local political imbroglios.
Q: Are there particular themes or moments in civil rights-era education that are most often overlooked or misinterpreted?
HOGAN & RICHARDSON: Yes! Rosa Parks and Dr. King are indeed heroic fighters for equality. Young students should also know about 14-year-old June Johnson from Greenwood, Mississippi.  Johnson inspired thousands of people to interrupt their day to day lives and fight for equality and equal voting rights. Thousands of teenagers like Johnson made the movement "move." We want young people today to know this. Older people had mortgages, full time jobs, they were parents. Though older activists often provided the grounding and guidance for the young organizers of SNCC, it was the younger people in a community who could take risks to join a march or canvass a neighborhood or lobby their legislators.
Freedom and equality are not something that come in hermetically sealed bags from Costco and Target, as Duke PhD and historian Charles McKinney recently noted. It was, and is, a freedom struggle. It goes on today. If we want a "one person, one vote" democracy, we are not there yet, and we, like those in the 1960s, are going to have to keep fighting to make that a reality. As older activists in the movement often reminded their younger counterparts: we older folks might never see the change we're fighting for, but if we do nothing, nothing changes… at least not for the better. The movement song tells it best: "We who believe in freedom cannot rest."