From Janet Jackson to Dean Smith, Famous Names of Duke Employees
Colleagues share stories of basking in coincidental fame
Duke's Janet Jackson is used to heads turning when someone calls her name.
No matter at a doctor's office or a restaurant, Jackson gets stares and hears a bit of muttering as people look to see if the legendary singer is present.
"When I was younger, I would just melt in my seat. I was so embarrassed at the attention," said Jackson, health information management specialist for Duke's Patient Revenue Management Organization. "I would think 'I can't wait to get married and change my name.'"
Jackson got married in 2006 but decided not to change her last name. She learned to enjoy sharing a name with one of her favorite entertainers.
"I had to call someone at work once, and they said they almost didn't answer because they saw the name and thought it was a prank," Jackson said.
Jackson is joined by colleagues Alice Cooper, Dean Smith and Duke University President Vincent E. Price in sharing a name with a famous individual. Here are a few stories of how some handle the coincidental fame.
Dean Smith
Director, Duke University Press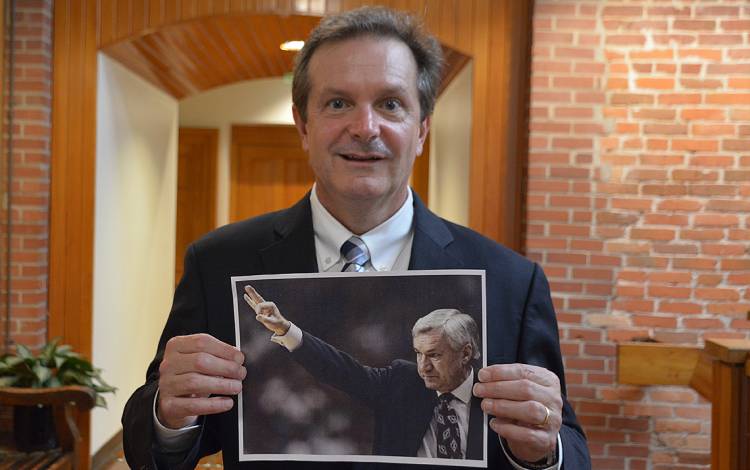 Dean Smith was well aware of the basketball history when he started at Duke University Press in July.
Smith was born before Dean Smith, the Hall of Fame head basketball coach at the University of North Carolina, became a household name. The name turned out to be serendipitous. Duke's Smith played basketball through high school, and his dad coached the sport at the University of Maryland Baltimore County, Virginia Commonwealth University and John Hopkins University.
"Having the name is a lesson in humility," Smith said. "I went to UVA and once got invited to shoot free throws during halftime of a basketball game. People started booing once the announcer said my name."
Since starting at Duke, Smith has enjoyed the reaction his name gets from both UNC and Duke fans. He said he wants to introduce himself to head basketball coach Mike Krzyzewski.
"I'm hoping it will get a laugh out of him," Smith said. "My name is a good ice breaker, even more so in an area where basketball is so important."
Alice Cooper
Clinical Associate, Department of Obstetrics and Gynecology
Medical Director, Women's Ambulatory Services and the Duke Perinatal Clinic

Alice Cooper met some resistance the first time she called a pharmacy.
"The pharmacist thought I was playing a prank," Cooper said. "He said, 'Yeah, right you're Alice Cooper.' It took some convincing on my part."
Cooper, formerly Alice Van Hoose, married William Cooper 25 years ago. Her husband likes to joke that he made his wife a celebrity by giving her the name of the musician.
The name has been a gift for Cooper at work. It's an icebreaker to make patients in the Duke Perinatal Clinic feel more comfortable. She often points out that she has better makeup than the rock icon, who's known for black hair, black eyeliner and black leather gloves.
"The best care you can provide to people is based on their ability to trust you," she said. "My name often makes patients and their families laugh. It helps us relate."
Samuel Jackson
Benefits Specialist, Human Resources

The 1994 film "Pulp Fiction" brought noticeable differences to Samuel S. Jackson's life.
People gave Jackson double-takes when he paid for something with his credit card or introduced himself. He constantly heard the joke, "You look different in person."
That different person? Samuel L. Jackson, who earned an Oscar nomination for his performance in "Pulp Fiction."
"People always smile when I tell them my name," Jackson said. "I love the interplay it provides. I was at the doctor's recently, and a technician came in. He made the joke about me looking different in person. We both cracked up."
Jackson's name has resulted in luxurious benefits. On a trip to Paris in 2007, the employee checking them into a hotel thought he was the actor. The clerk upgraded Jackson and his wife to a suite.
"I didn't convince him otherwise," Jackson said.
Christie Brinkley
Clinical Research Analyst, Duke Office of Clinical Research

Model Christie Brinkley had just landed on the cover of Sports Illustrated for the third year in a row in 1981.
That's when Duke's Christie Brinkley was opening her eyes after being born that year.
As she grew up, Brinkley people joked, asking her how Billy Joel was doing. The musician and model were married from 1985-94. Nowadays, Brinkley mainly encounters vague forms of recognition when people hear her name.
"People can't recall why they think they know me," she said.
Brinkley had her shot at meeting her namesake in 2012. She was working part-time as an event staff member at the Durham Performing Arts Center, where the model was scheduled to perform in the musical "Chicago." Duke's Brinkley was set to meet the other Brinkley at the cast party. Unfortunately, the performer got sick and canceled.
"I was pretty bummed," Brinkley said. "That was the moment. I even had the Sports Illustrated for her to sign."
Do you have a famous name? Add to our story on Facebook:
Have a story idea or news to share? Share it with Working@Duke.