Employee Volunteers Needed for Duke-Durham School Days
Guide visiting Durham eight graders around campus on Nov. 8
The Duke-Durham Neighborhood Partnership invites Duke staff and faculty to volunteer as guides for Durham middle school students visiting campus for part of the day on Nov. 8.
"Duke-Durham School Days," an annual event now in its 19th year, brings 300 eighth graders from Durham Public Schools to Duke's campus. The goal is to encourage and prepare students to become the first in their families to attend a college or university.
"Watching first-generation eighth graders visit Duke is a little like taking a child to the ocean for the first time," said David Stein, School Days director for the Duke-Durham Neighborhood Partnership. "They've heard about it and seen it in movies, but it is an eye-opener to experience it firsthand. You can see it change their expectations for what is possible in the future."
On Nov. 8, volunteers start at 8:30 a.m. and close the day at 1:15 p.m. with information on getting into and paying for college and a performance by DefMo, a Duke student dance group.
Duke staff, faculty and students help escort small groups of eighth graders around campus to various activities. Volunteers receive breakfast, lunch and a commemorative T-shirt. Newcomers to School Days will be matched with a program veteran. You can also arrange to be paired with a friend.
Activities include visits to the Mary Lou Williams Center for Black Culture, Duke University Chapel, Perkins Library and the Technology Engagement Center. Eighth graders will also get to meet students working with Duke Motorsports, a competition that involves designing, building and racing a single-seat car.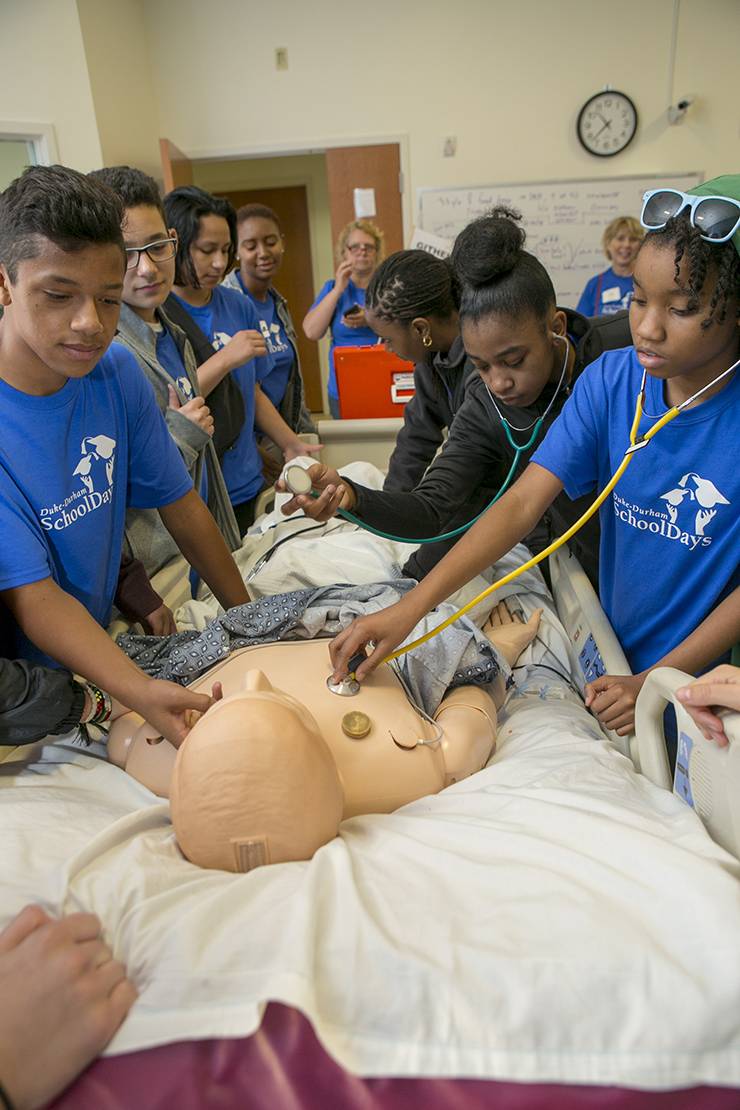 The keynote speaker for School Days is Treniyyah Anderson, a senior at Duke and first-generation college student.
Katryna Robinson, executive assistant to Duke's Rita DiGiallonardo Holloway University Librarian & Vice Provost for Library Affairs, has volunteered for the past two years. Seeing Duke from the fresh eyes of the eighth graders revitalizes her love of school.
"Over the course of the day, you see kids start to believe that they can and should go to college," Robinson said. "It's profound. I love seeing them realize how many amazing things are available if they pursue higher education."
Employee volunteers are invited to join Stein for an optional training session, followed by a walking tour and pizza lunch on Oct. 31.
Sign up to volunteer here.
Have a story idea or news to share? Share it with Working@Duke.