Duke Wired! Lab Celebrates 10 Years
Researchers combine art history and technologies to explore the past
Visitors stepping into Perkins Library are transported in time to Venice during the 18th century.
Using a large interactive screen and projection, the "Senses of Venice" exhibit allows guests to follow four real-life characters through a 1729 map of Venice. Kristin Huffman, Lecturing Fellow in the Department of Art, Art History & Visual Studies, and her team of undergraduate students created the exhibit by conducting research over two years and translating this content into digital stories, stitching together the map in the Rubenstein Library collection and taking 360-degree photographs in Venice.
"Venice has always captured the public's imagination," Huffman said. "We designed this exhibit to be a place of respite. You can forget about your studies or work and transport yourself back hundreds of years."
"Sense of Venice" is the digital humanities experience that involves collaboration with Wired! Lab for Digital Art History & Visual Culture, which is celebrating its 10 year anniversary.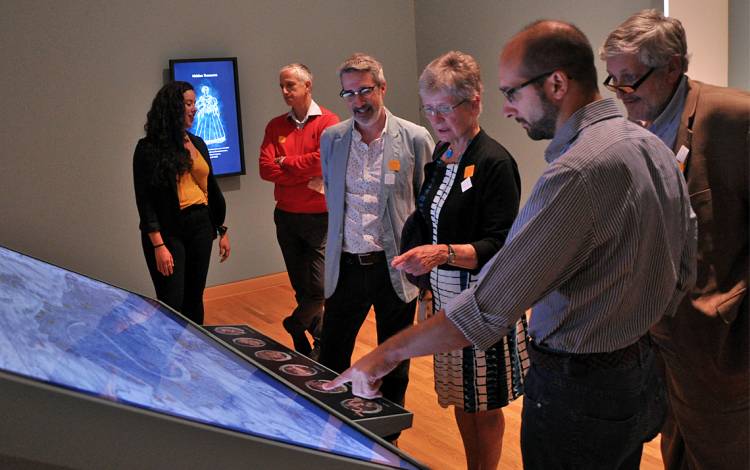 Caroline Bruzelius, Duke's Anne Murnick Cogan Professor Emerita of Art and Art History, started the Wired! Lab in 2009 to engage the students in digital visualization technologies and Art History. Faculty with Wired! introduced a series of new Art History courses for first-year students that integrated technology with traditional historical topics and involved them in multi-year hands-on research initiatives.
Over 10 years, Wired! Lab faculty have taught 46 new courses at Duke and, among other things, produced a database and map of ancient Athens to show archaeological remains in the city, among other projects. They also produced interactive displays in the Nasher Museum of Art that virtually painted sculptured, created 3D models and animations of destroyed structures and mapped networks of trade in the ancient world.
"Visualization technology pushed us to ask new questions about historical evidence and engaged students in hands-on research," Bruzelius said. "How can we map, for example, what is known about the transportation of ivory from Sub-Saharan Africa to Northern Europe? How can we show that to the public rather than explain it in a paper? After our first experiments with digital technologies in 2009, we could never go back teaching art history the way we used to."
Community members are invited to celebrate the Wired! Lab's anniversary on Oct. 17 and 18 at "Centering Art History & Visual Culture in the Digital Humanities: A Symposium Celebrating 10 Years of the Wired! Lab at Duke." The symposium includes discussions and sessions on digital architecture, Michelangelo and visualizing lost landscapes.
Here's a sampling of three of the lab's many on-going projects over the years.
Visualizing Venice

Venice, Italy has always been a gem for art historians like Caroline Bruzelius and Kristin Huffman.
With the city's heavy tourism and rising sea levels affecting the infrastructure, it became a perfect example for the art historians to study how cities evolve.
"Venice is particularly interesting because if you're going to expand the city, then you need to make land out of water," Bruzelius said. "It's going to take significant change. The city isn't going to look how it did 300 years ago."
The "Visualizing Venice" project began in 2010 to map and model growth and change in Venice based on archival and documentary sources. Huffman assisted colleagues from Università Iuav di Venezia and the University of Padua to create an exhibition of their research that premiered in 2015. "Water and Food in Venice. Stories of the Lagoon and the City" opened the Doge's Palace in Venice. It explored how the city has supplied its communities with freshwater and food.
Huffman is continuing work on "Visualizing Venice," including her exhibition on Jacopo de' Barbari's View of Venice that will now become an installation at the Civic Museums of Venice. She has teamed up with engineers, architects and data analysts to examine light laser scans of the original wooden blocks in an effort to identify 16th -century carving techniques for monumental woodcuts .
"Venice was an important case study as it showed how the collaboration of art historians, visual and media experts and architects could visualize the complexities of built and natural environments," Huffman said.
Statues Speak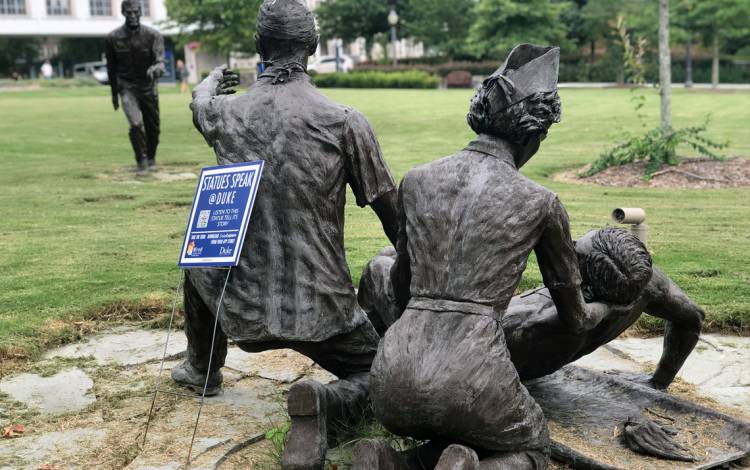 James Buchanan Duke, Washington Duke and Benjamin Duke statues were constant companions for Elizabeth Baltes during her eight years at Duke.
Rain, sleet or shine, the Dukes watched over Baltes, a former Duke Ph.D. student and now assistant professor of art history at Coastal Carolina University, as she walked on East and West campuses.
"Statues are all around us, but we often overlook them because they blend in with the rest of the surroundings," she said. "But, statues have a lot to say."
Duke's statues certainly have a lot to say, thanks to Baltes. Beginning in 2015, she led the Wired! Lab project "Statues Speak," a walking tour of campus statues that uses the "Duke Explore" app to see and hear the history of each statue. You can also take a virtual tour.
The six statues that are part of the tour are The Scientist and Nature, James B. Duke, 65th Commemorative Statue Group, Benjamin Duke, The Sower and Washington Duke. The former Robert E. Lee statue at Duke University Chapel and a segment on making a bronze statue are included on the virtual tour.
Signs next to the statues are marked with a QR code. Scanning the code with a smartphone will lead you to the "Statues Speak" website to listen to audio recordings about the works of art. Users of "Duke Explore" can also use the app to read more about each statue and listen to the audio recordings.
President Vincent E. Price, Provost Sally Kornbluth, former Duke President Richard H. Brodhead and other Duke and Durham community members narrate each audio recording.
"Having Duke leaders share these stories makes for an instant connection to anyone listening," Baltes said. "It's vibrant storytelling."
Digital Public Buildings in North Carolina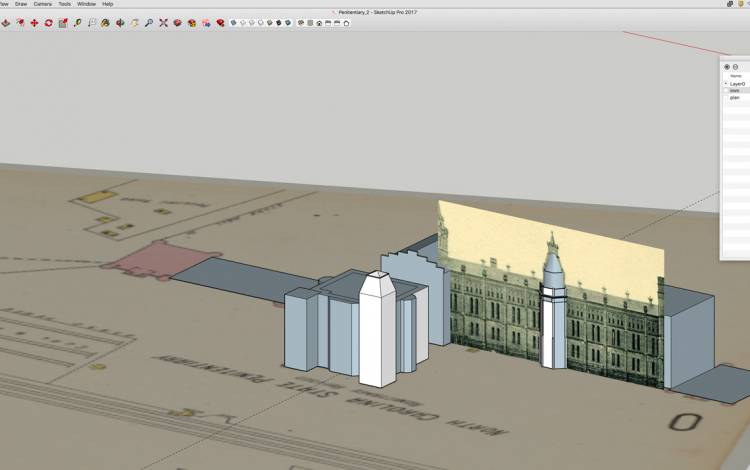 Paul Jaskot started "Digital Public Buildings in North Carolina" for admittedly selfish reasons.
He moved from Chicago to Durham three years ago and wanted to know more about North Carolina's architecture. Rather than look at notable structures like the American Tobacco Campus, the Biltmore Estate and downtown Charlotte skyscrapers, Jaskot focused his research on prisons and courthouses.
"Prisons and courthouses are often linchpins to the community," he said. "They have political ramifications. This project was a way for students and me to learn about architectural history, the state and politics."
Jaskot began working with three students in 2017 to research the locations of prison and courthouses throughout North Carolina history. They look through old maps, newspaper articles and directories to find information such as where prisons were built, how many people worked at prisons, when prisons were opened and what kind of work inmates did.
Jaskot's goal is to use the information to produce an interactive digital map anyone can use to search for general patterns in the political history of public buildings, like what the poverty rate was before and after the prisons were built in communities.
Future research topics for "Digital Publics Buildings" include schools, museums and city halls.
"Architecture is not just about the Empire State Building or the United States Capitol. It's about thinking of how all architecture intersects with everyday lives," Jaskot said. "How does the social, economic and political environment change when a major building gets added to the landscape?
To see these projects, visit dukewired.org.
Have a story idea or news to share? Share it with Working@Duke.