Blue Devil of the Week: Working to Put Duke Athletes in the Spotlight
For two decades, Lindy Brown has made sure Duke athletes' stories get told
Name: Lindy Brown
Position: Senior Associate Sports Information Director
Years at Duke: 20
What he does at Duke: Duke's women's basketball program is a perennial Atlantic Coast Conference contender and Duke's women's golf program – which claimed its seventh national title in June – is a national power.
Part of Duke's Sports Information Department for two decades, Lindy Brown links those Duke student-athletes with the fans and media outlets that follow what they do.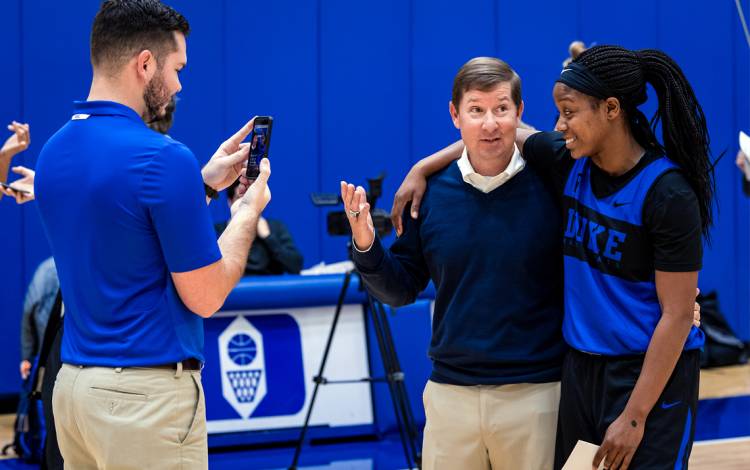 "What I love about it is that every day is different," Brown said.
When Brown arrived at Duke, the Sports Information Department consisted of four people. It was up to him to handle seven sports.
Fast forward 20 years and the department features nine full-time staff members. And while Brown now only handles two sports, the evolution of the sports information profession means his responsibilities have grown.
In addition to creating press releases and media guides, Brown updates GoDuke.com, helps with teams' social media accounts and works with local and national media and Duke's own content producers – such as the Blue Devil Network – to create new and fun ways to tell his teams' stories.
"We always want new stuff out there," Brown said.
What he loves about Duke: Brown said he's constantly impressed with the how gracious and helpful the busy student-athletes and coaches he works with are. Working with a generous and steady group is something he doesn't take for granted.
"We work with the most top-notch student athletes the country has to offer," he said. "It makes our job so much easier."
Memorable day: In 2002, Brown was along for the ride as Duke claimed its second NCAA title in women's golf. But it was the first time Brown had been a part of a national championship story.
"It was just incredible," said Brown, who has gone on to witness Duke win five more national championships in women's golf and tag along for three Final Four trips by the women's basketball squad. "To see all the hard work that had gone into everything come to fruition with a title was really special."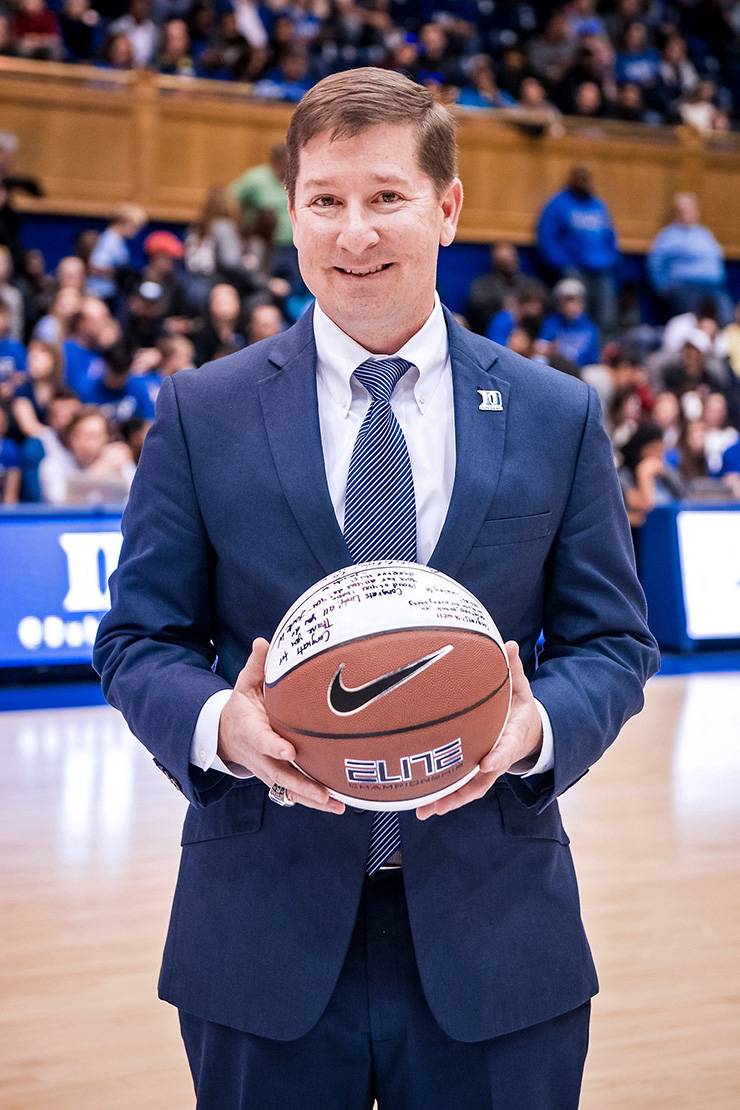 Meaningful object: Brown is used to being the middle man in awards that are given to Duke athletes and coaches, but in February, he found himself in a different role.
The College Sports Information Directors of America (CoSIDA) honored Brown in 2019 with an Achievement Award, which sits on a shelf in his office, for his two decades of outstanding work in the field.
While Brown said he's been thrilled with colleagues from Duke and beyond who've congratulated him, the attention, which included being honored at halftime of the Duke women's basketball game against rival North Carolina, is a departure.
"In this business, we're behind the scenes, setting things up for everybody else," he said. "I was out of my element. But it was very special."
First job: As the son of a teacher, who had summers off, Brown and his family spent several weeks each summer at Emerald Isle's Holiday Trav-L-Park.
Brown was such a regular there, he was able to get a job at the resort cleaning the pool.
"I'd get paid 25-30 bucks, Brown said. "That became game-room money."
Something most people don't know about him: Well before fantasy baseball became a fairly common hobby, Brown developed a passion for it.
In high school, Brown began playing a variation of the stats-based game with a group of baseball buffs scattered across the U.S. and Canada.
"Back then, we didn't have the internet, so we'd mail our lineups and instructions on our team to the other managers and wait to see how you did when they sent your results back," Brown said.
Over the years, Browns fellow league members grew to be friends and would often meet up in different cities once a summer to catch a baseball game.
"I kept doing it until I had kids," Brown said. "But I still keep in touch with a lot of the guys today."
Is there a colleague at Duke who has an intriguing job or goes above and beyond to make a difference? Nominate that person for Blue Devil of the Week.