Blue Devil of the Week: Searching for Answers in the Genetic Code
By studying small signs in yeast, Sue Jinks-Robertson's work can fuel big breakthroughs
Name: Sue Jinks-Robertson
Position: Professor, Vice Chair and Director of the Cell and Molecular Biology Program
Years at Duke: 13
What she does at Duke: Jinks-Robertson has many duties in the Department of Molecular Genetics and Microbiology. She oversees the Cell and Molecular Biology Training Program which features around 100 graduate students and involves around 130 faculty members. She also co-directs the Cancer Genetics and Genomics program at Duke Cancer Institute.
But Jinks-Robertson is most at home in her lab, where she studies the genetic makeup of yeast.
Her team examines yeast DNA, looking for the factors behind mutations or changes in sequence. This research is important is because the DNA of yeast is essentially the same that found in many other organisms, including humans.
"If we understand how this works in yeast, we can get information about what can go wrong in humans," Jinks-Robertson said.
The research is of great value in the fight against cancer, since it can occur when cells with genetic flaws multiply. Therapies that help identify and repair these flaws can be critical in battling the disease.
"The basis for the therapies comes from the very basic work done in the trenches with an organism like yeast," Jinks-Robertson said.
What she loves about Duke: When she arrived at Duke after two decades on the faculty at Emory University, Jinks-Robertson was struck by the affection and loyalty her new colleagues – both staff and faculty – had for the university.
Soon, she too came to have a similar relationship with the university. She said it's hard to pin down one specific reason for her connection with Duke, but she knows it's there.
"I don't know if it's some of the physical structures around, like the Gardens, the Chapel, there's a central focus, of course there's basketball, it's hard to put your finger on what it is," Jinks-Robertson said. "It's just a very nice place to work. You feel connected to something bigger than yourself."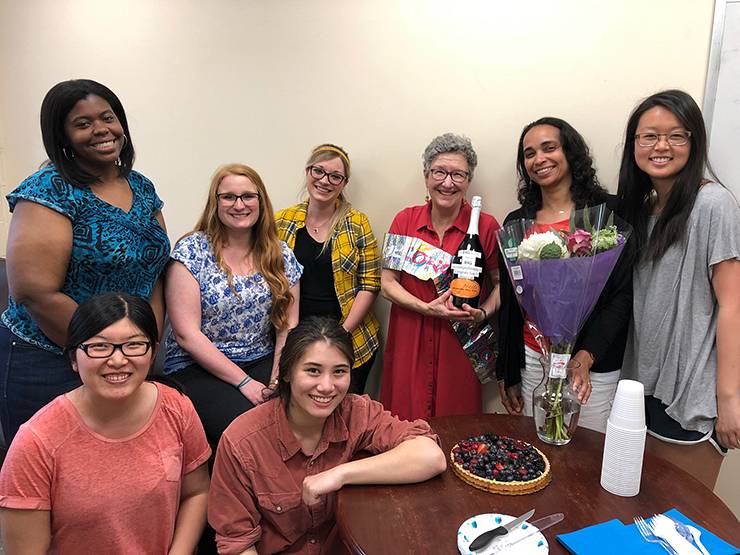 A memorable day at work: This spring, Jinks-Robertson was preparing for a major grant application when she got a call from colleague Thomas Petes with exciting news.
Petes, the Minnie Gellar Professor of Molecular Genetics and Microbiology, told her that she'd been elected to the National Academy of Sciences, a 156-year old organization comprised of the nation's top scientific minds.
"It was a big surprise," Jinks-Robertson said. "If you're a scientist, at least in this country, it's a great recognition."
Jinks-Robertson was one of two Duke scientists elected to the 2019 class. Susan Alberts, the Robert F. Durden Professor of Biology, also earned election to the academy.
"The nicest part of it was that I was hit with a flood of emails and phone calls, it was really wonderful," Jinks-Robertson said.
Special object/memorabilia in her workspace: On a shelf in her office, Jinks-Robertson has a collection of gifts given to her by former students who came to Duke from other countries. There's a statue of Saraswati, the Hindu goddess of learning, which was given to her by a student from India. There's also a vase from Russia, a screen from China and small house from the Philippines.
"I like to think it shows I was successful in training the next generation," Jinks-Robertson said.
First ever job: A native of Panama City, Florida, Jinks-Robertson grew up around the water. As a child, she swam and water skied often. After she graduated from high school, she spent the next two summers working as a "mermaid" at Gulf World Marine Park, a popular attraction in Panama City.
"We didn't have tails, but we had on scuba tanks and dove in saltwater tanks and fed the fish as people watched," Jinks-Robertson said of the mermaid role, which also had her swimming with dolphins and sea lions. "It was fun."
Best advice received: In 1986, when she was finishing up her time as a post-doctoral researcher at the University of Chicago working with Thomas Petes, who many years later helped bring her to Duke, Jinks-Robertson began looking for faculty positions.
"I was pregnant with my first child and I was concerned about that," Jinks-Robinson said. "His advice was, 'If it's a problem, it's not a place you want to be.' He really put me at ease and told me I shouldn't worry about that. He's always been very supportive of women in science."
Something most people don't know about her: Much of Jinks-Robertson's work is done with a sleeping labradoodle at her feet. With soft, curly light brown hair, Gracie is Jinks-Robertson's constant companion, often accompanying her to work.
"It's calming," Jinks-Robertson said. "I walk her every day, so it gets me moving and out of my chair. She's good company."
Is there a colleague at Duke who has an intriguing job or goes above and beyond to make a difference? Nominate that person for Blue Devil of the Week.