PUBLISHED
Blessings For Our Four-Legged Friends Oct. 6
The Blessing of the Animals service is free and open to the public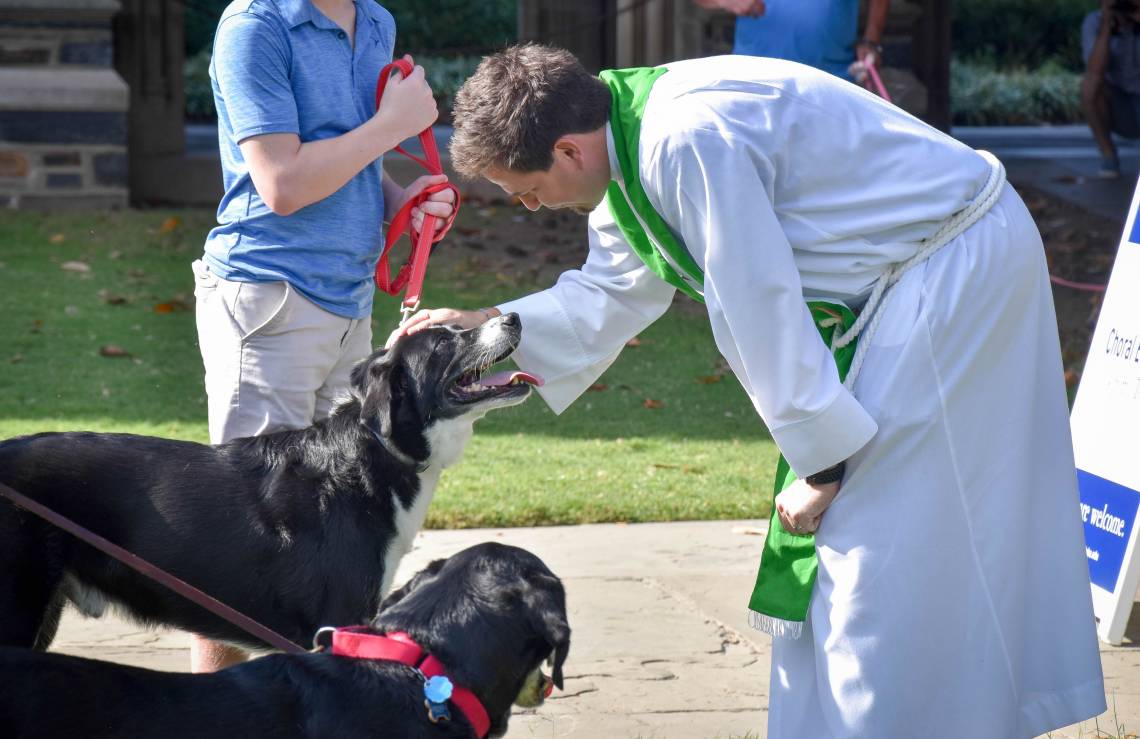 DURHAM, N.C. -- Pets and their owners will receive a blessing from ministers during the annual Blessing of the Animals worship service at Duke University Chapel at 3 p.m. Sunday, Oct. 6.
The service, which is free and open to the public, is held outside in front of the chapel. Free parking will be available in the Bryan Center parking garage. The rain date for the event is 3 p.m. Sunday, Oct. 13.
Pet owners are welcome to bring their animals to receive a blessing as part of the service, but only if the pets will be safe around children and other animals.
The 30-minute service includes Scripture readings, a sermon and music from the Durham Children's Choir. Last year cats, dogs, ponies, rabbits and iguanas -- along with their owners -- attended the service.
The chapel's annual Blessing of the Animals service is inspired by St. Francis of Assisi, a 13th century Italian Catholic friar who lived a life of voluntary poverty and is known for his love of animals. Francis is credited with the words to the popular hymn that begins "All creatures of our God and King, lift up your voice and with us sing."
"In this service we celebrate and bless the pets that bring us joy and comfort," said the Rev. Bruce Puckett, assistant dean of Duke Chapel. "We also hear the challenge of St. Francis to live a life in imitation of Jesus that embraces poverty and service to the poor."
Offering educational materials at the event will be such animal welfare groups as the Carolina Tiger Rescue, Green Iguana Society and Piedmont Farm Animal Refuge.
Choral Evensong, a mostly sung traditional service with Scripture readings and prayer, will immediately follow the service at 4 p.m. inside the chapel.