The Bells of Duke
Across campus, bells large and small contribute to Duke's charm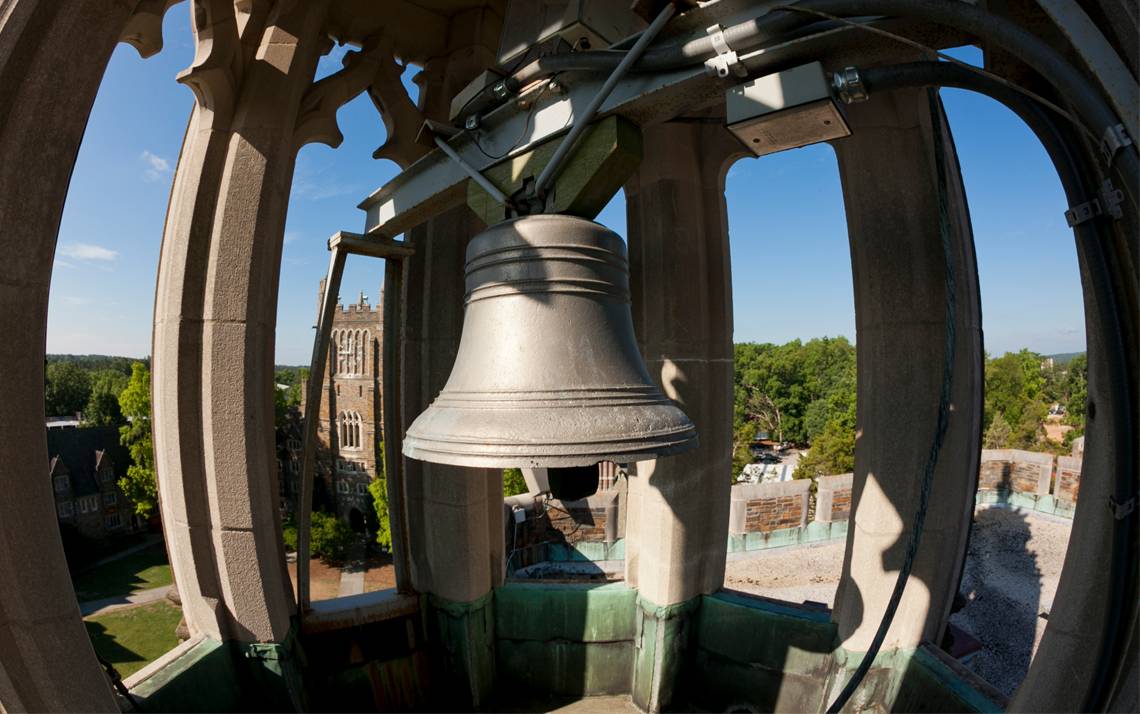 Rising above its red-brick neighbors on the southwest corner of East Campus, the modern Bell Tower Residence Hall is hard to miss. The building gets its name from the tower that contains a 6,400-pound bell that's been a fixture on campus for more than a century.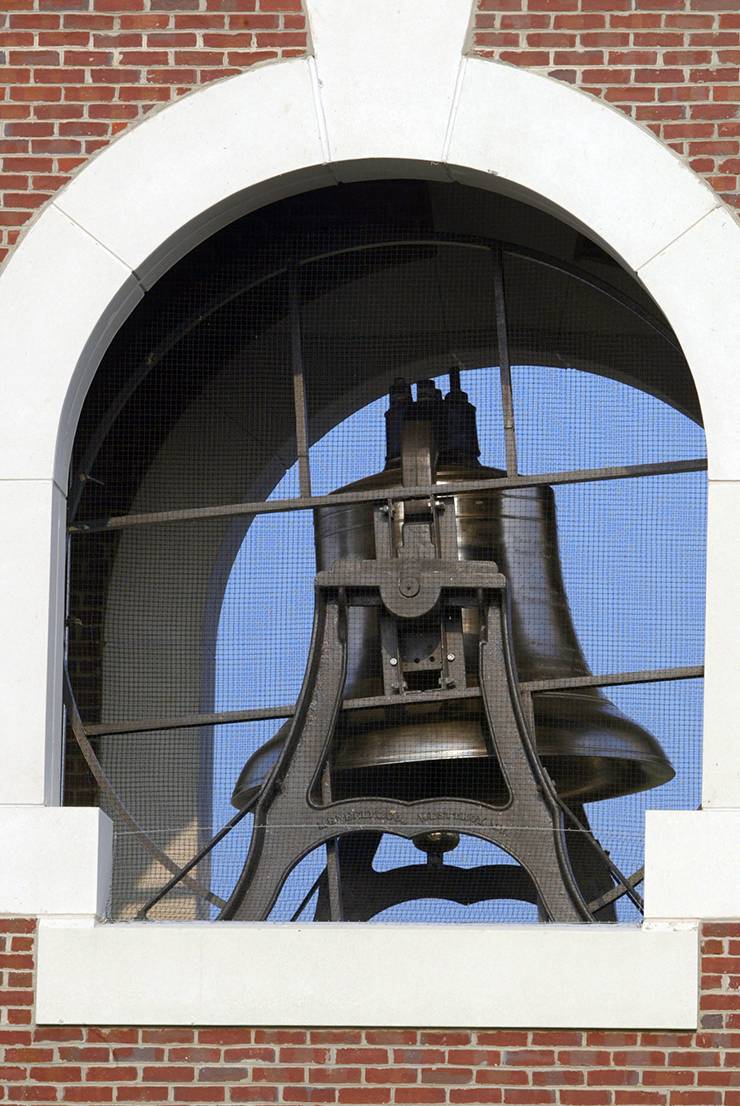 The "Trinity Bell," the third of its kind, came to campus in 1911 after wear and tear sidelined the first one and fire destroyed the second. Sitting atop a simple tower, it signaled class changes and campus celebrations. But after years of declining usage and neighbors' complaints about students ringing it at all hours, its clapper was removed, rendering it silent.
But, in 2005, the bell – complete with clapper – was resurrected as the centerpiece of the new Bell Tower Residence Hall.
"It was very cool to take something that had been all but forgotten and repurpose it into being a focal point of campus," said Ray Walker, staff architect with Duke Facilities Management Department.
Each bell at Duke has its own fascinating history and role in campus life.
The Soundtrack of Duke
Most afternoons, Joey Fala makes his way about two-thirds up the tower of Duke University Chapel and takes a seat in a small room in front of a collection of wooden keys and pedals. Above him are 50 bells ranging from 10 pounds and just over six inches in diameter to 11,200 pounds and the size of a small car.
Since 1932, Duke Chapel's carillon has been the most powerful musical instrument on campus, with a range of more than a mile. Each day at 5 p.m., when Fala tolls a large bell five times and plays around 15 minutes of music, the carillon becomes the soundtrack of campus.
"It's funny because it's in some ways a really public instrument, but it's also the most anonymous instrument because nobody knows you're up here," Fala said.
Keys and pedals connect to metal wires which activate clappers mounted a few inches from the lip of each bell. For larger ones, with clappers that can weigh around 200 pounds, Fala must press hard on large pedals.
"There are no electronics, no pneumatics, so everything relies on your body weight," said Fala, a staff specialist for Chapel Music who has played the bells since University Carrillonneur Emeritus Sam Hammond retired after 53 years in 2018.
Aside from playing the alma mater on Fridays, Fala - who shares the playing duties with Paul Bumbalough, a senior advisor with Duke Visa Services who plays on Wednesdays - has leeway with what he can play. Recently, Fala mixed in the whimsical theme to Forrest Gump to ease the stress of midterms for students walking below.
"I like to think this might put a smile on someone's face," Fala said.
The Blue Devils' Prize
The Victory Bell's current home is on the first floor of the Yoh Football Center. The training room is to its right, the weight room is to its left, the locker room is down the hall and meetings rooms are just upstairs.
"This is the main thoroughfare for everything Duke Football, this is the Times Square of Duke Football," said former player and Director of Blue Devil Network Dave Harding. "No matter what you're doing, you're passing by this."
And passers-by regularly turn the crank and ring the bell, unleashing a wave of noise that bounces off cinderblock walls and into seemingly every space in the building.
"The sound travels up the elevator shaft and you can hear it pretty clearly in the coaches' offices on the fourth floor," Harding said. "It kind of reverberates throughout the whole building."
Since 1948, when cheerleaders from Duke and North Carolina came up with the idea of having a trophy for the team that won each year's football showdown, the bell, salvaged from a train engine, has been precious property.
The Blue Devils – who face North Carolina on October 26 – have won five out of the last seven meetings with the Tar Heels, including the last three, meaning the bell has been a prized fixture in the Yoh Center.
"I think everybody here has some part of the ownership in this," Harding said. "It takes so many people to get the program working at the level it needs to be to have the bell."
A Campus Quirk
In 2009, while investigating cracks in a belfry on the roof of Kilgo Quadrangle, Ray Walker, staff architect with Duke Facilities, noticed a small, weathered bell.
"I didn't know a thing about it," said Walker, who's worked at Duke for 45 years. "It didn't stand out from a distance. It was so small, and it was virtually the same color as the limestone around it."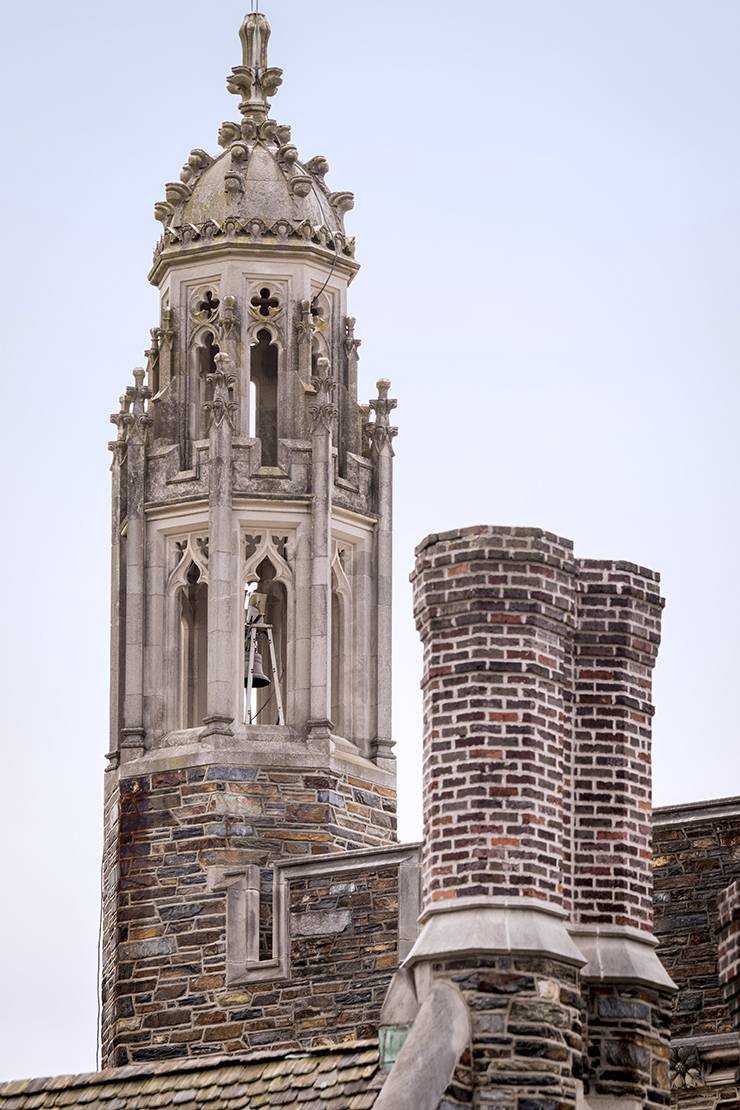 Puzzled, Walker turned to staff in Duke University Archives for the bell's backstory.
The bell, which is about 15 inches in diameter and was at one time painted red, was purchased by a Duke student studying in Oxford, England, from an antique dealer in 1929. The student was told that the bell was part of a set that hung in a priory that pre-dated the protestant reformation.
"Part of the story is really only folklore," Walker said.
Once on Duke's campus, it came under the control of the Order of the Red Friars, a secret society that existed at Duke for decades. In 1950, the bell, which had taken on the name "Charley," was mounted atop Kilgo Quad.
With the Red Friars disbanding in 1971, Charley became an afterthought.
But in 2009, Walker was asked to oversee Charley's restoration. The bell was sent to experts at the Verdin Company in Ohio to be refurbished and, perhaps, studied for clues about its origin.
The Verdin Company fixed the bell but wasn't able to figure out much about its past. Walker was told that it's not tuned to a specific note, meaning it's not likely part of a set. There are also no foundry markings on it, either.
The bell still hangs above Kilgo Quad. It can be rung remotely. But like other parts of its story, the people who can ring it, and the occasions that they'd do it, remain a mystery.
Have a story idea or news to share? Share it with Working@Duke.