Sharing the Joy of Music
Over 54 years, Duke's Ciompi Quartet has become an artistic and educational institution; enjoy a free lunch time performance Oct. 10
After filling a Biddle Music Building classroom with around 20 minutes of beautiful sound, the members of the Ciompi Quartet, who were guests in Professor Tom Brothers' "Meet the Beatles and the 1960s" course, took questions from the class.
One student, after watching the musicians' bodies sway with the music, asked how they developed the confidence to play with such expressive movements.
Viola player Jonathan Bagg explained that, while it may look as though the movement is merely a result of being swept up into the performance, it actually has a pragmatic purpose. With no conductor, the four musicians often use the motion of their bodies as a method of wordless communication, ensuring performances weave together seamlessly.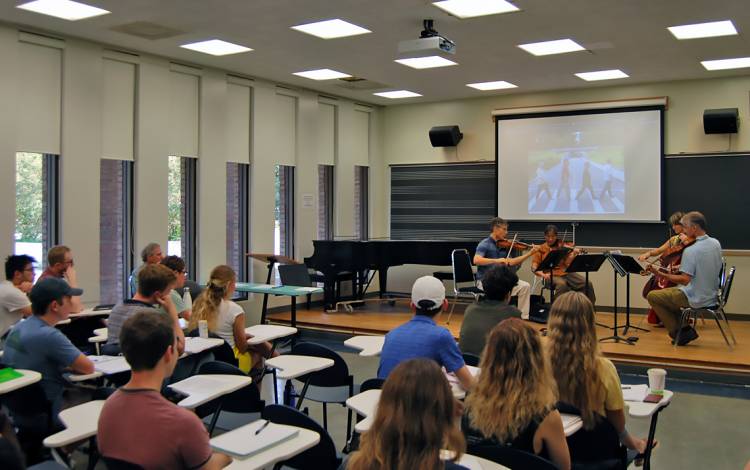 "There's certainly the kind of movement where we're just enjoying ourselves," cellist Caroline Stinson said. "Then there's the more deliberate movement, where you're trying to make sure you're communicating with each other. When those two can blend imperceptibly, that's the idea."
It's not often that you're in the presence of world-class musicians. And it's an even rarer occurrence to have them offer glimpses into how they do what they do.
The Ciompi Quartet will present one of their periodic free "Lunchtime Classics" performances at noon on October 10 in the Holsti-Anderson Room in Rubenstein Library. On the evening of October 12, in the Nelson Music Room on East Campus, the quartet will perform works by Claude Debussy, Toru Takemitsu and Igor Stravinsky in a show entitled "Trois Modernes."
Since 1965, the Ciompi Quartet – which features a current lineup of Bagg, Stinson and violinists Eric Pritchard and Hsiao-Mei Ku – has provided an invaluable learning tool for students of music while also serving as Duke's musical gift to the wider community.
"We have two sides, the performance and the teaching," said Ku, a member of the Ciompi Quartet since 1990. "So the beauty is that we can bring our first-hand experience on stage directly to our students in our teaching."
Considering their artistic and educational value, it's not unusual for universities to have their own string quartet. The Ciompi Quartet's history goes back 54 years to when it was founded by Italian violinist and Duke faculty member Giorgio Ciompi.
"It's a tried and true model, but there are only a handful of quartets with a history this long," said violinist Eric Pritchard, who's been a member of the quartet since 1995.
With recent performances across the United States and in countries such as France, China, Taiwan and, later this month, Italy, the Ciompi Quartet has an international reach. But it's their work in the classrooms and rehearsal spaces of the Biddle Music Building where the Ciompi Quartet's value to Duke comes into focus.
Here, the four members – who serve as professors in the Duke Music Department – work with students on an individual basis and when they play together in one of the many student music ensembles.
They also spread the beauty of chamber music in small performances in residence halls and music classes. It's in these encounters where fans of music and those who may be new to it get up-close looks at world-class musicians at work, world-class musicians who are there just for them.
"It's much more satisfying to have the complete spectrum of being a musician in the world rather than one narrow slice," Bagg said.
For more performances, see the Ciompi Quartet's schedule.
Have a story idea or news to share? Share it with Working@Duke.