Ride Duke's Free Downtown Shuttle
Shuttle connects West Campus and Health System with downtown Durham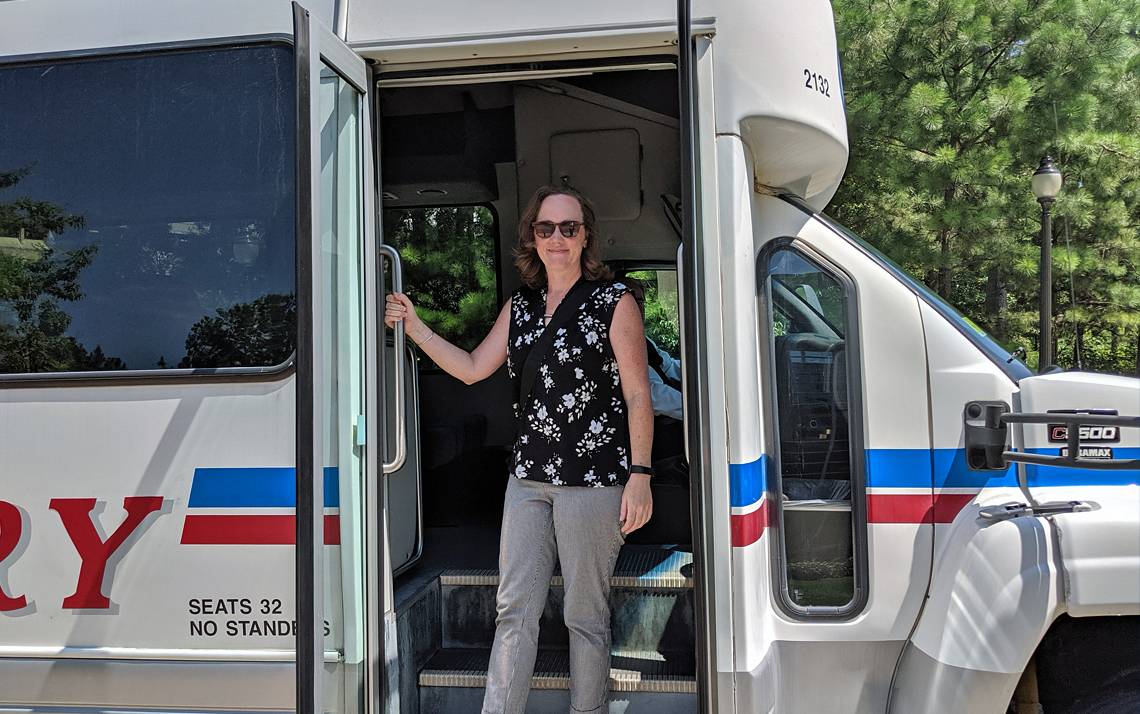 Once or twice a week, Katie Kilroy needs to get to West Campus from her office in downtown Durham's American Tobacco Campus.
Sometimes, her office parking passes that allow her access to campus parking areas are in use. Now, Kilroy, a senior IT analyst for the Office of Information Technology, has a contingency plan: Duke's downtown shuttle.
"The shuttle was perfect," said Kilroy, who also rides the shuttle to visit the Duke Farmers Market on the medical campus. "If I time it right, I'll get to meetings quicker than if I drive and have to park far away."
The downtown shuttle, in a pilot phase, offers two free shuttles connecting West Campus and the Health System to downtown Durham from 7 a.m. to 6 p.m. Monday to Friday. The shuttles collect and drop off passengers at each stop every 20 minutes. Each shuttle fits 36 passengers, is compatible with the Americans with Disabilities Act and has Wi-Fi. You must show a DukeCard ID when boarding.
The shuttle service has eight stops around Duke and Durham:
North Pavilion (2400 Pratt St.)
Research Drive/Circuit Drive (203 Research Dr.)
Research Drive at CIEMAS (Intersection of Research Dr. and Coal Pile Dr.)
Research Drive Circle (Outside of Duke Clinics)
Duke Hospital (2310 Erwin Road)
Chesterfield Building (Intersection of Duke St. and Main St.)
Imperial Building/Durham Centre (215 Morris St.)
American Tobacco Campus (Intersection of Jackson St. and Willard St.)
The shuttle pilot began in July 2018 to serve nearly 4,000 employees who work downtown, from the American Tobacco Campus to the Chesterfield Building to the Innovation District. The pilot provides about 1,600 rides a month.
Lauren Wilverding, a staff specialist for Duke Clinical Research Institute in the Durham Innovation District, uses the shuttle to run work errands downtown and in the Health System instead of using her car. She travels to American Tobacco Campus twice a month to pick up corporate cards and deliver checks to Duke Financial Services. She also rides the shuttle to the DukeCard office in Duke South to pick up IDs for new employees.
"The shuttle beats the hassle of finding parking," she said. "I can hop on and catch up on email during the ride."
Track the shuttle in real-time on Duke Transloc.
Have a story idea or news to share? Share it with Working@Duke.