On Hacking, Ethics and Op-Eds: How Justin Sherman Became a Cybersecurity Policy Wonk
The senior student discusses why Duke is the best place to mesh his academic interests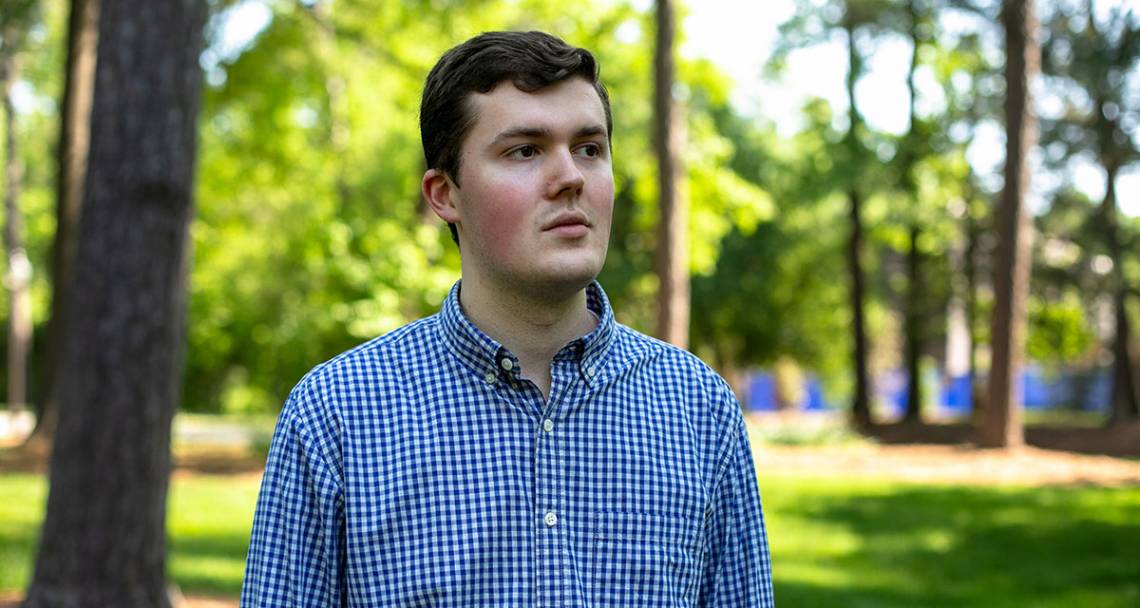 Justin Sherman started teaching himself computer coding in 8th grade. Around the same time, he took his first civics class.
Each topic interested him, though he didn't see similarities between them at the time.
During high school, amid then-President Obama's re-election campaign, Sherman watched a lot of presidential debates. He was also on a robotics team.
Again, he thought about these topics separately.
Then in 2013, whistleblower Edward Snowden leaked classified government documents to journalists that revealed global surveillance programs and launched public debate about privacy issues. In that moment, Sherman's seemingly disparate interests finally coalesced. He began thinking about the points where technology, policy and ethics intersect, and became more and more intrigued.
Ever since, the Duke senior has been at the academic forefront of that intersection. He's inhaled class work in computer science and political science, worked with the National Security Agency and co-founded a student-faculty initiative called Ethical Tech that's aimed at educating people about the moral questions related to technology. The 21-year-old also has become the youngest person to be a Cybersecurity Policy Fellow at New America, a Washington D.C. think tank that focuses on domestic and foreign policy. He spent the summer there doing research.
"He's brilliant, but he also knows how to leverage that brilliance into conversations that make a difference."
-- Ken Rogerson on Justin Sherman
On top of all that, he's also a prolific public intellectual, routinely authoring opinion pieces for high-profile publications like the Washington Post, the Atlantic, Wired, Slate and elsewhere.
"He's brilliant, but he also knows how to leverage that brilliance into conversations that make a difference," said Ken Rogerson, a Duke public policy professor who has mentored Sherman. "It's not just that he's smart; all Duke undergrads are smart. But he has this combination of savviness, networking skills, perceptiveness of what's important and what's not. He's a sounding board like none I've ever had."
Sherman, a native of northern New Jersey, chatted with Duke Today recently about the ethics of airline pricing, the greed of Silicon Valley, and why it's hard to explain to people that they should care about cybersecurity. These are excerpts from that conversation.
Q: Why did you come to Duke?
JUSTIN SHERMAN: My interests are broad and interdisciplinary. I've always been interested in STEM but have been interested as well in history and policy and political science. So I was looking for a place to study computer science and also, with relative ease, take the traditional liberal arts course work. There are lots of great computer science programs out there, but the ones I looked at were largely based in engineering programs. While on paper it would be possible to take humanities courses, it might be difficult because you had a course load that wouldn't accommodate it. At Duke, computer science is in the arts and sciences program. I knew at Duke I could do the technical computer science program but also take a lot of other courses in literature and political science and other like areas.
Early in your Duke career you took a class that touched on how airlines used algorithms to set ticket prices, and something about that bothered you. What was it?
SHERMAN: The class was called Freedom and the Market. Companies were using computer algorithms to do what's called price-tweaking. It was in a way that people didn't really detect. You open your browser and see airline ticket prices, and the assumption was you were seeing the pricing other people were seeing. But that's not the case necessarily. That got me thinking; it seemed sneaky and tricky.
You saw a bigger concern?
SHERMAN: I learned about how data was used behind the scenes to make decisions about people. Loans. Incarceration. Sentencing policy. So it all became a moral interest to me. I wondered why people don't even know this stuff is being used this way, and why it wasn't a bigger conversation in computer science.
And then you did the Duke in Silicon Valley program. What did you learn there about how ethics influenced decision-making?
SHERMAN: Profit drives decision-making from the core on down. Even if people have ethical issues, the bottom line matters. We know now that Facebook for years knew about some of this stuff – propaganda videos and other stuff that shouldn't be propagated. It was clear going to Silicon Valley that this top-down, bottom line perception is very much true. And because there's no market pressure in place to drive them off the money path, they won't go there willingly.
This is a complicated topic. Is there an initial hurdle in getting people to understand this stuff?
SHERMAN: I have thought very long and hard about why people should care. It's easy to get bogged down with 'how do I explain the tech understandably?' You have to show that it's impacting social and economic structures whether you see it or not.
People have been conditioned to fall asleep when they hear the word 'cyber.' It's been framed or explained in a way that's more difficult than it needs to be. But you don't need to code to understand it.
You've become a prolific op-ed writer. How did that happen?
SHERMAN: My mom's background is in PR and communications, and my parents instilled a love of books early on. I've always liked argument and debate and reading and writing. Working with the NSA was my first opportunity to sit down and explain this stuff to people. I got really into writing and just love it. I work remotely for New America so I can't easily do Hill briefings, for example. The writing is my public outreach.