Get the Gear, Get Outdoors
Rent camping and sports equipment from Duke Recreation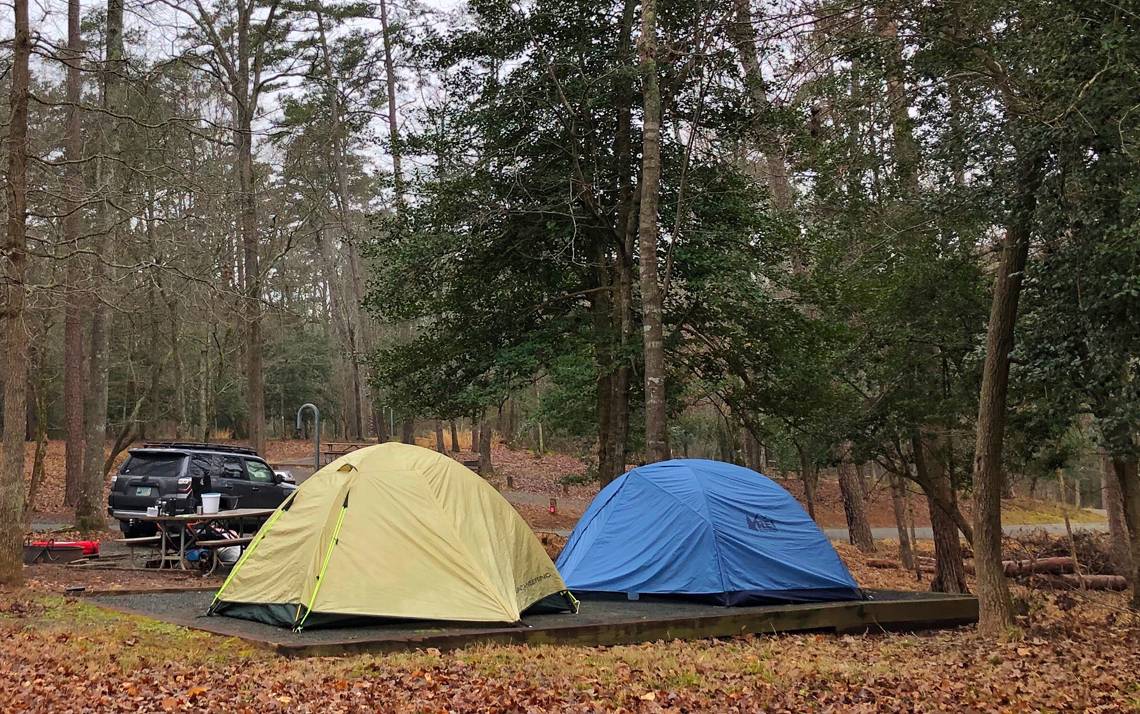 Justin Frye grew up camping with his family in the mountains surrounding their West Virginia home.
With his equipment left behind in West Virginia, Frye rented a tent, lantern, camping chair and other gear from Duke Recreation & Physical Education for a camping trip this year with friends to the Uwharrie National Forest. Cost for the gear: $30.
"I absolutely love the outdoors," said Frye, a physician assistant for Duke Infectious Diseases. "I'm trying to camp more often and knowing I can rent equipment so cheaply is going to make it easier."
With a valid DukeCard ID, staff, faculty and students can rent anything from a corn hole set and three-person canoe to a full camping set as part of Duke Recreation's equipment rental service. A Duke Recreation membership is not required to rent equipment.
Duke Recreation, which allows rentals for up to a week, has stand-up paddleboards, rock climbing shoes, coolers and backpacking and camping packages that include tents, sleeping bags and cooking sets. Prices range from $3 for a headlamp for three days to $97 to rent a four-person camping package for a week. Duke-affiliated groups receive a discount on equipment rentals. There is no charge for sports equipment such as bats and tennis rackets.
"We hope to encourage people to spend time in the outdoors exploring, relaxing and enjoying themselves," said Austin Morgan, program assistant for Duke Recreation.
Meagan Arce turned her multi-day drive to Oklahoma in April into a camping expedition. Arce was meeting her parents to pick up her dog, Duke. On her way to Oklahoma, she camped at the Lake of the Ozarks in Missouri for two nights. She rented a small cook set with pots, pans and a stovetop to cook eggs, potatoes and peppers. The package cost $5.
"I don't go camping enough to warrant buying all my own equipment," said Arce, assistant director of sports marketing for Duke Athletics. "After being cooped up in the car so much for that trip, it was nice to cook and sleep outdoors."
Equipment requests are made online at recreation.duke.edu and are granted on a first-come, first-served basis.
Have a story idea or news to share? Share it with Working@Duke.