Duke Puppy Kindergarten Admits Seven New Students
Area volunteers also sought to host young service dog puppies during the study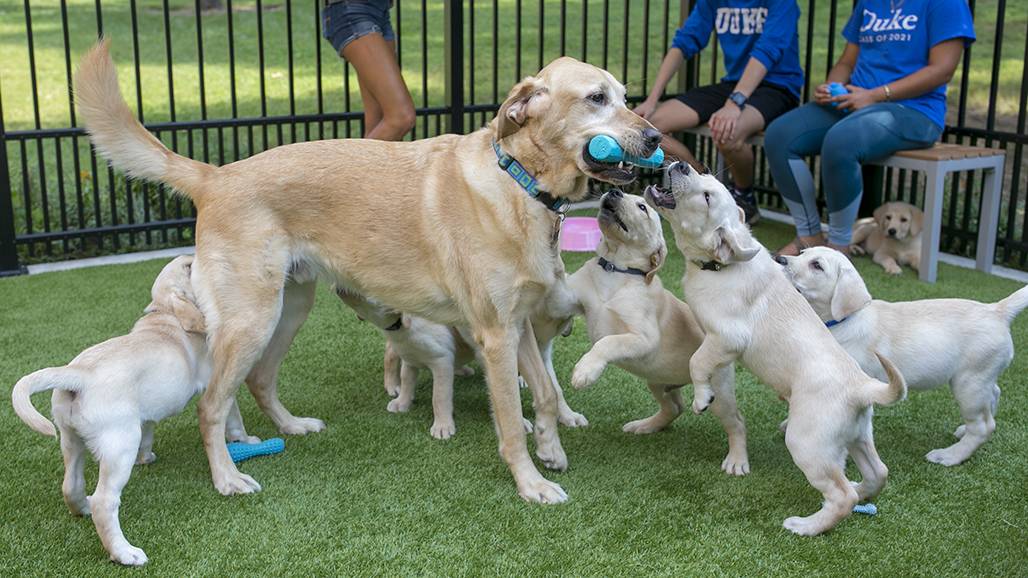 DURHAM, N.C. -- This fall, Duke University will be admitting seven students that have four legs instead of two.
In the first program of its kind, the Duke Canine Cognition Center will welcome to campus seven puppies from Canine Companions for Independence, the leading assistance dog non-profit in the U.S.
The puppies are part of a long-term study funded by the National Institutes of Health to assess the effects that different rearing strategies have on the behavior and cognitive development of assistance dogs. The dogs will be trained to perform a variety of tasks like opening doors, turning on lights, picking up objects that are dropped out of reach and alerting their human partners to important sounds.
Assistance dogs are trained to assist children and adults with a range of physical and developmental disabilities and can open up new opportunities and possibilities that lead to greater independence and confidence. Unfortunately about half of the puppies who start the program are unable to successfully complete the training.
"Becoming an assistance dog is like going to college," said Brian Hare, a professor in Duke's  Center for Cognitive Neuroscience and Director of the Duke Canine Cognition Center. "It's tough to get in, and not everyone graduates."
Hare said the Duke Puppy Kindergarten will serve as a kind of Head Start program for the puppies to increase their chances of success.
"The goal of the project is to increase the supply of assistance dogs and to see more dogs graduate and serve more people," Hare said. "To do that, we need to understand how to rear them. What experiences do they need early in life to be successful?"
"We want to identify those features that are going to be linked to success," said Brenda Kennedy, DVM, MS, national director of canine health and research for Canine Companions. "This will help us make decisions at an earlier point, which will mean we can place more assistance dogs and help more people with disabilities." 
More than a hundred Duke undergraduates will help raise the puppies from 10-20 weeks of age. The students will also run the puppies through a range of cognitive games that will function as a kind of early aptitude testing, which might be used in the future as early identifiers of puppies who are most likely to graduate as assistance dogs.
"This is also a great way to get students involved in STEM," said Margaret Gruen, an assistant professor of behavioral medicine at NC State University, and co-leader of the project. "I've never seen undergraduates more excited to do science."
Indeed, about 10 percent of the Duke student body last year applied to be a puppy kindergarten volunteer during the pilot phase of the program. More than 100 volunteers were chosen. By the end of the program, 95 percent of the volunteers reported that being a puppy volunteer had a "very positive effect on their mental well-being."
The program completed a year-long pilot phase before being awarded NIH funds for a five-year study.
"We had to pilot because we didn't know if it would work," Hare said. "But we didn't expect it to work so well. We were coming at it from the dog angle -- we didn't know it would become so important to the humans caring for the puppies."
"Being a puppy volunteer is a great way to de-stress in a high-intensity environment," said Anya Parks, a rising junior in Evolutionary Anthropology. "Learning to care for a creature who is young and small teaches you about your own values and has been so important to my mental health."
One of the objectives of the study is to compare the impact of different rearing methods on cognition during the period that is most critical to brain development, between 8 and 20 weeks.
Following the success of the puppies with the Duke students, Hare is also hoping to bring the program to the wider community in the Triangle Area. The Canine Cognition Center is calling for volunteers to raise Canine Companions puppies in their homes and bring them into Duke every other week.
"We'll host the on-campus puppies, but we need lots of volunteers in the community to host off-campus puppies." If you are interested in becoming a Canine Companions puppy raiser, please contact 1-800-572-BARK or go to www.cci.org/raise.