Duke Counts $507 Million in Private Donations in Last Fiscal Year
More than 107,000 donors supported Duke in fiscal year 2019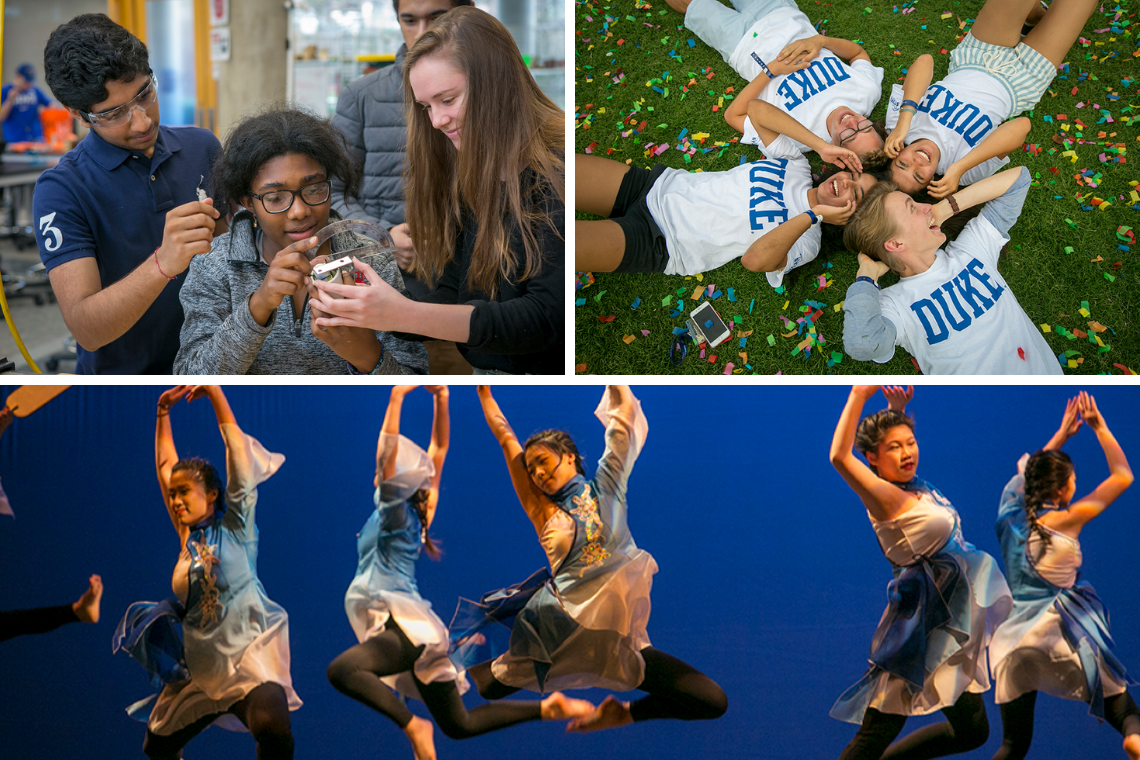 More than 107,000 donors made $507 million in gifts to Duke University in fiscal year 2019 to support such university priorities as financial aid, faculty excellence, research and campus renovations.
The total includes cash gifts from July 1, 2018, to June 30, 2019, and does not include pledges for future support or government contracts. This marks the fourth consecutive year that Duke raised more than $500 million.
"We are very grateful for the support of our donors, which will make possible our efforts to offer an exceptional education to students, strengthen our innovative and growing campus, and produce transformative research to address pressing local and global challenges," said Duke President Vincent E. Price. "This support is helping Duke to deliver on its tremendous promise."
Gifts and grants for research totaled $201 million, representing the largest funded area of private philanthropy. Donors also contributed to financial aid for undergraduate and graduate students ($126 million); support for faculty excellence in research and teaching ($23 million); and transforming the campus through new construction and facility renovations ($12 million).
"Duke's network of donors, parents and friends are the key to driving Duke's philanthropic priorities and beyond," said David L. Kennedy, vice president for alumni affairs and development. "Our donors give generously of their time, talent and resources to Duke to further education, research and service, and for all of that we are deeply grateful."
The Duke Annual Fund received more than $40 million from more than 57,000 alumni, parents, students and friends, a new record. The Annual Fund helps support students and faculty, financial aid and fellowships, and educational programs for all of Duke's undergraduate, graduate and professional schools. It also supports Duke Chapel, Duke Libraries, Duke Marine Lab, Nasher Museum of Art and the Sarah P. Duke Gardens.
Areas that received significant gifts and new commitments in 2018-19 included:
-- Environmental research and education: A $20 million gift from The Grainger Family Descendants Fund will support Duke's Nicholas School of the Environment and address environmental challenges through increased financial aid and fellowships for graduate students, expanded research on critical environmental issues, and new academic programs and facilities.
-- Faculty excellence and research: A total of $11 million in grants from The Duke Endowment, a private foundation based in Charlotte, North Carolina, will further accelerate and expand the recruitment of faculty scholars across multiple disciplines. Grants included $7 million for business research and teaching professorships at The Fuqua School of Business, and $4 million to hire faculty with expertise in African, Asian American and Latinx studies.
-- Financial aid: More than $13 million in endowed gifts will support the education of graduate students. Gifts included $5 million from A. Morris Williams Jr., a Duke alumnus, trustee emeritus and former chair of the Duke Divinity School Board of Visitors, to establish an endowed scholarship fund to support Duke Divinity graduate students who plan to enter parish-based ministry to deliver pastoral care for a church community. A gift of $7.75 million from the estate of Dudley A. Rauch, completing an $8 million commitment, established the Rauch Family Scholarship for Leaders of Tomorrow Fund, which will provide full tuition and living expense scholarships for medical students at the Duke School of Medicine.
-- Gardens transformation: A $5 million grant from The Duke Endowment in support of the Garden Gateway Project will expand and enrich the visitor experience at the Sarah P. Duke Gardens.
-- Libraries renovation: A total of $10 million, comprised of three gifts, will support Duke University Libraries' planned renovation and expansion of Lilly Library. Gifts included a $5 million grant from Lilly Endowment Inc., $2.5 million from Irene and William McCutchen and the Ruth Lilly Philanthropic Foundation, and $2.5 million from Virginia and Peter Nicholas.
Universities and colleges report cash totals to the Council for Advancement and Support of Education (CASE) for its Voluntary Support of Education survey. This reflects immediate cash flow derived from private support, including outright gifts, grants, and payments on existing pledges, and best represents fundraising activity in fiscal year 2019.