Toni Morrison Remembered as a 'Writer for This Age'
Recalling the Nobel laureate and the times her life touched Duke.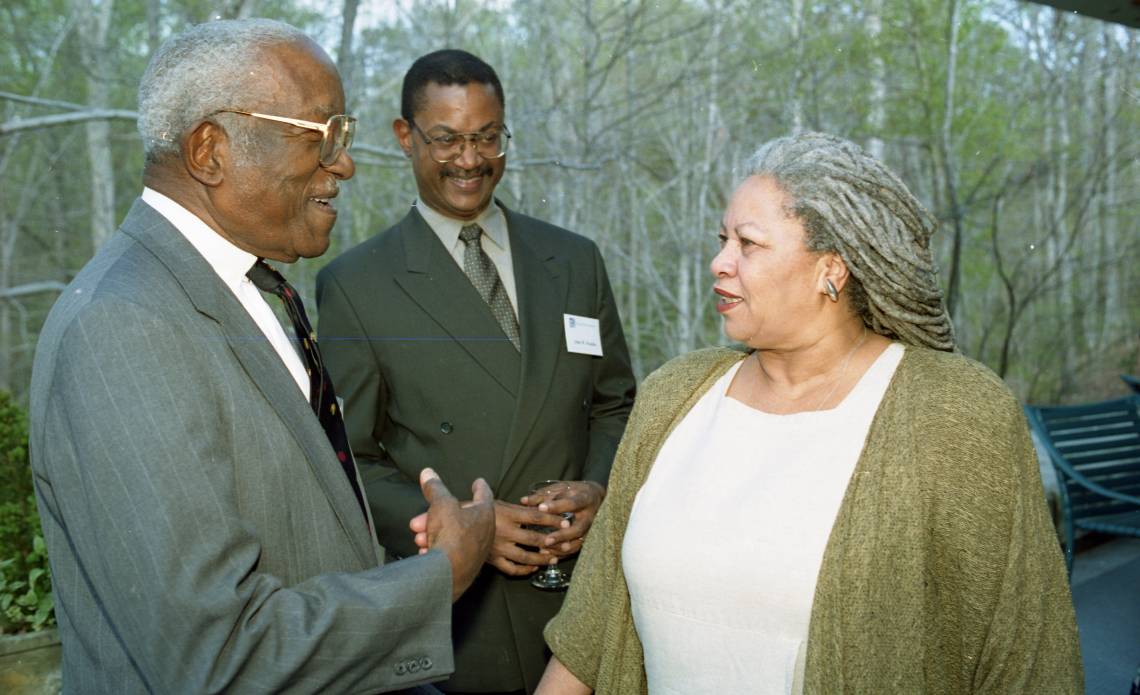 The loss of Toni Morrison, the acclaimed author who died Monday, prompted Duke professor emerita Karla Holloway to reach for one of Morrison's novels.
"In 'Sula,' Toni Morrison wrote, 'It is sheer good fortune to miss somebody long before they leave you,'" Holloway said. "The great irony of this loss is that it's her words, even at this extraordinary moment, that are better said, better crafted, more carefully curated than any we might compose for the occasion of her passing."
Holloway, the James B. Duke Professor Emerita of English, vividly recalls an encounter with Morrison at Duke in the late 1990s. Morrison was in town for a standing-room-only symposium entitled "African-American Women: The Body Politic" -- one of several visits the Nobel laureate paid to Duke.
"I am left remembering her being at Duke for The Body Politic conference and how my book club, which co-hosted the event, baked biscuits sometime after midnight and left them for her at the Washington Duke Inn where she was staying," Holloway said. "I remember what her contract rider said about flowers in her room, how she introduced us to the extravagance of Louboutins (yes, the shoes!) and how some bolder than me slipped their foot into hers." 
Holloway has written scholarly works about Morrison, and Morrison also figures in Holloway's current fictional work.
"My first book about her ('New Dimensions of Spirituality,' with Stephanie Demetrakopolous) was denied funding at first because the reviewer declared she was 'not that important a writer,'" Holloway said. "My forthcoming novel imagines a character, Chloe Wolff, modeled on Morrison, who was born Chloe Wofford.
More recently, Morrison's Pulitzer Prize-winning novel "Beloved" was the subject of a marathon campus reading in March 2017.
"Toni Morrison was a writer for this age, the one we know and the one we imagine," Holloway said. "She gave us the company of her words, the clarity of her exquisite presence and a legacy of word work that is ours but for the labor of reading. It is our 'sheer good fortune.'"