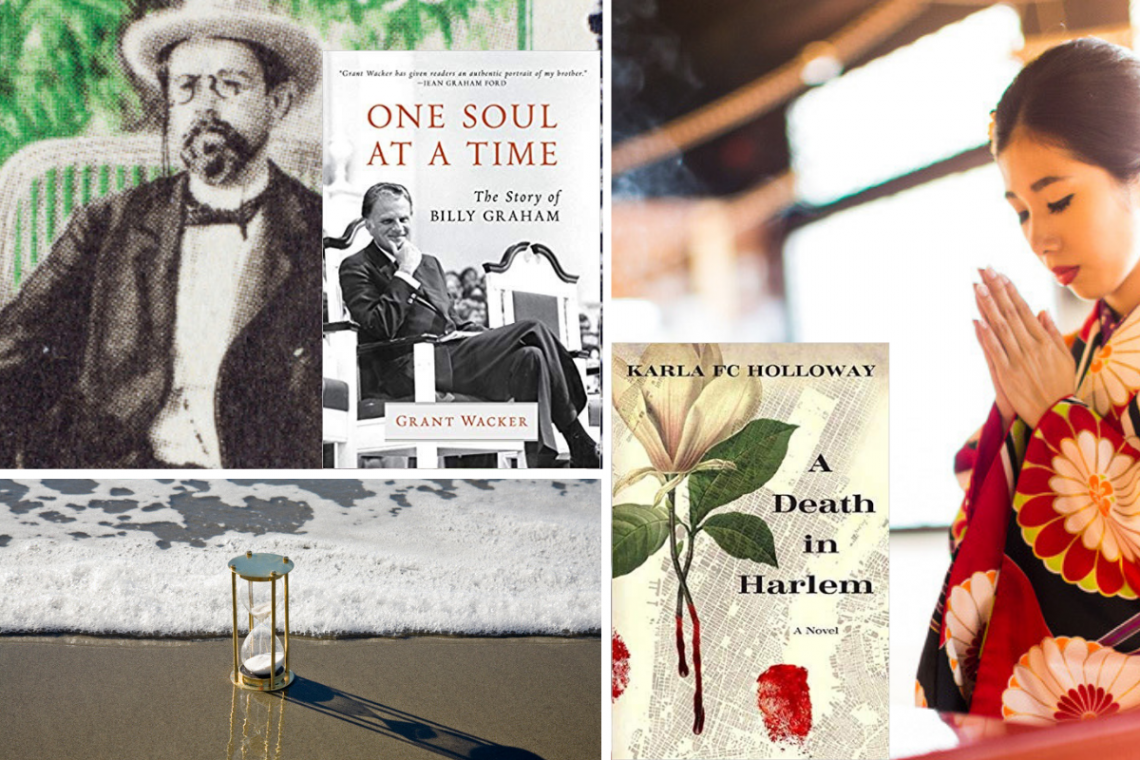 From the challenges of ministry with those with dementia diseases to the challenges of sea level rise and Dan Ariely's tour through the decision-making thicket to the story of Billy Graham, a wide range of topics is examined in recent and forthcoming books by Duke faculty and staff.
Below, we offer a roundup of titles worthy of attention.
Many of the books, including new editions of previous titles, can be found on the "Duke Authors" display shelves near the circulation desk in Perkins Library. Some are available as e-books for quick download. Most can also be purchased through the Gothic Bookshop.
(Duke Today will provide similar updates in the future. If you are a member of the Duke faculty or staff who will be publishing a book of interest to a general audience, send us a message about it along with your publisher's brief description.]
Carol Apollonio, co-editor: "Chekhov's Letters: Biography, Context, Poetics" (Lexington Books)
In this first book in English or Russian addressing Chekhov's substantial collection of letters, Slavic and Eurasian Studies professor Carol Apollonio helps bring together mostly new contributions by the world's major Chekhov scholars.
Dan Ariely: "Amazing Decisions: The Illustrated Guide to Improving Business Deals and Family Meals" (Hill and Wang/Farrar, Straus and Giroux)
Dan Ariely, James B. Duke Professor of Behavioral Economics, teams with his illustrator to offer a graphic tour through a thicket of competing social norms and market norms. Kirkus Reviews says Ariely, the New York Times bestselling author of "Predictably Irrational" and six other books, again renders the dismal science "anything but dismal with the use of provocative real-world examples of how people actually do things outside of the textbooks."
Kenneth L. Carder: "Ministry with the Forgotten: Dementia Through a Spiritual Lens" (Abingdon, Sept.)
While acknowledging the devastation of dementia diseases, Ken Carder draws on his own experience as a caregiver, hospice chaplain and pastoral practitioner to portray the gifts as well as the challenges accompanying dementia diseases. Carder, professor emeritus at Duke Divinity School, writes of the scale of the threat: "A typical mainline congregation with a membership of 200 will include 70 who are 65 or older. Of that number, seven will have Alzheimer's disease. Add the members of the family who are significantly impacted by those seven people and the effect on the congregation grows."
Karla Holloway: "A Death in Harlem: A Novel" (Triquarterly, Sept. 15)
In her debut novel, "A Death in Harlem," scholar Karla Holloway weaves a mystery in the bon vivant world of the Harlem Renaissance. Taking as her point of departure the tantalizingly ambiguous "death by misadventure" at the climax of Nella Larsen's 1929 best-selling novel "Passing," Holloway, a professor emeritus of English, law and African and African American Studies, takes readers back to the sunlit boulevards and shaded side streets of Jazz Age New York. A murder there will test the mettle, resourcefulness, and intuition of Harlem's first "colored" policeman, Weldon Haynie Thomas.
Richard M. Jaffe: "Seeking Śākyamuni: South Asia in the Formation of Modern Japanese Buddhism" Buddhism and Modernity series. (University of Chicago Press)
In the richly illustrated "Seeking Śākyamuni," Jaffe, an associate professor of Religious Studies, reveals the experiences of the first Japanese Buddhists who traveled to South Asia in search of Buddhist knowledge beginning in 1873.
Dr. J. Lloyd Michener and Dr. Don Bradley, co-editors: "The Practical Playbook II: Building Multisector Partnerships That Work" Second edition. (Oxford University Press)
Five years ago, the CDC, the Department of Family Medicine and Community Health Department of at Duke's School of Medicine and the de Beaumont Foundation launched The Practical Playbook (www.practicalplaybook.org), an online resource designed to help professionals in the fields of primary care and public health work together to improve population health and reduce health care costs.
Creating cross-sector partnerships that affect policy for improved population health is the focus of "The Practical Playbook II," co-edited by two Duke faculty members. Dr. Michener is professor of Family Medicine and Community Health at the Duke School of Medicine, professor of Clinical Nursing at the Duke School of Nursing and adjunct professor at the UNC Gillings School of Global Public Health. Dr. Don Bradley holds a position as a consulting professor in Family Medicine and Community Health at Duke and is core faculty for the Duke Margolis Center for Health Policy.
Since the first Practical Playbook was published in 2015, multisector collaborations that improve the health of communities have continued to expand, and there are currently more than 600 partnerships across the country.
Philip M. Napoli: "Social Media and the Public Interest: Media Regulation in the Disinformation Age" (Columbia University Press, Aug. 6)
In contrast to tech companies' boasts of disruptive innovation, public policy professor Philip Napoli offers a timely and persuasive case for seeing social media as news media, with a fundamental obligation to serve the public interest.
Orrin H. Pilkey, co-author: "Sea Level Rise: A Slow Tsunami on America's Shores" (Duke University Press, Sept. 6)
In "Sea Level Rise," geology professor emeritus Orrin H. Pilkey and his son Keith C. Pilkey argue that the only feasible response along much of the U.S. shoreline is an immediate and managed retreat. They focus on sea level rise's effects on coastal ecosystems, health and native Alaskan coastal communities. They also provide guidelines for those living on the coasts or planning on moving to or away from them, as well as the steps local governments should take to prepare for "this unstoppable, impending catastrophe."
Ehsan Samei, co-editor: "The Handbook of Medical Image Perception and Techniques" Second edition. (Cambridge University Press)
Radiology professor Ehsan Samei's book, the first of its kind on medical image perception, has been extensively updated and enlarged in its second edition. Samei is also the co-author of "Hendee's Medical Imaging Physics," the fifth edition of which has recently been published by Wiley.
Grant Wacker: "One Soul at a Time: The Story of Billy Graham" (Eerdmans, Sept. 10)
Drawing on decades of research on Billy Graham and American evangelicalism, Divinity School professor emeritus Grant Wacker has marshalled personal interviews, archival research, and never-before-published photographs from the Graham family and others to tell the remarkable story of one of the most celebrated Christians in American history. Where Wacker's previous work on Graham, "America's Pastor," focused on the preacher's relation to the nation's culture, "One Soul at a Time" offers a sweeping narrative of the life of the man himself.
Michael Ward, co-author: "Maximum Likelihood for Social Science: Strategies for Analysis" (Cambridge University Press)
Unique among books at this level, Ward's text develops simulation-based tools for model evaluation and selection alongside statistical inference. Ward, a professor emeritus of political science, established an innovative research lab at Duke of graduate and undergraduate students focusing on conflict prediction.
Dr. Haider Warraich: "State of the Heart: Exploring the History, Science, and Future of Cardiac Disease" (St. Martin's Press)
In "State of the Heart," Warraich, a fellow in cardiology at Duke University Medical Center, traces the journey to rid the world of heart disease and shows it to be reflective of the journey of medical science at large.
Erik Wibbels, co-editor: "Decentralized Governance and Accountability: Academic Research and the Future of Donor Programming" (Cambridge University Press)
In this volume, which will be useful to policy practitioners and students in development studies, political economy and comparative politics, contributors outline the challenges and opportunities to link evidence and policy action. Wibbels, a professor of political science, is the co-general editor of the Cambridge Studies in Comparative Politics series.
William H. Willimon: "Accidental Preacher: A Memoir" (Eerdman's)
Willimon, professor of the practice of Christian ministry, recounts -- with his signature wit and humor -- memorable moments from his rich and full preaching life. Fellow Divinity School professor Kate Bowler contributed the afterword.