Blue Devil of the Week: The Dream Job Coach
Meg Flournoy preps Fuqua students and alumni seeking health sector careers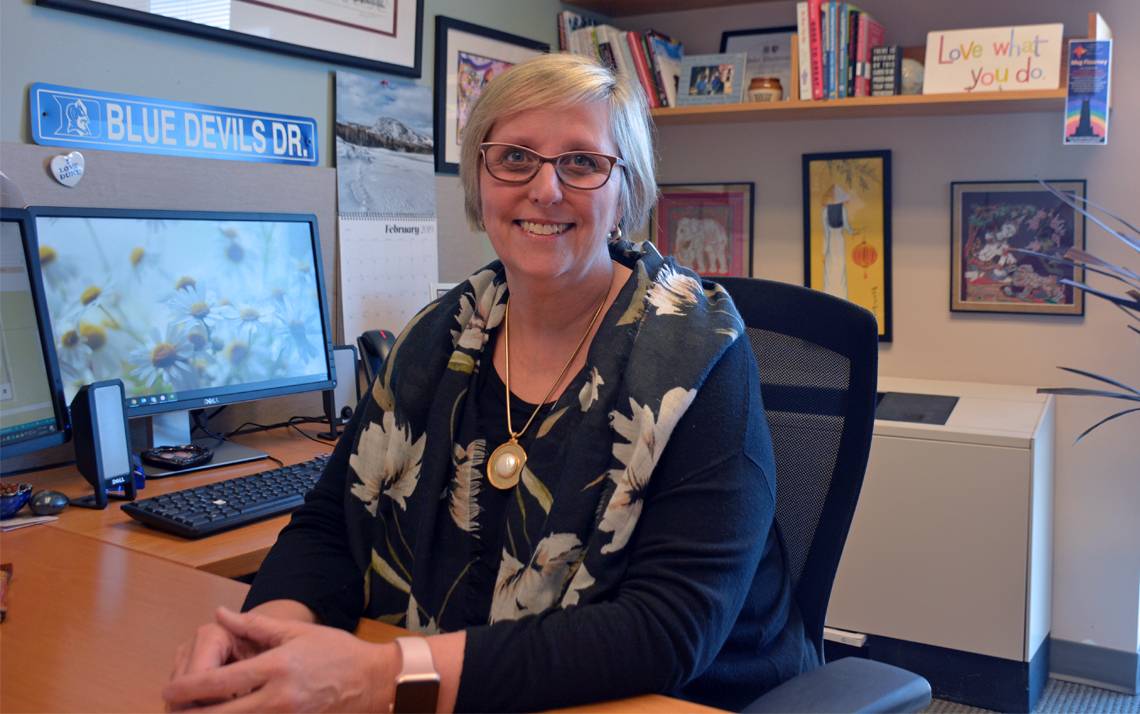 Name: Meg Flournoy
Title: Sector Director of Healthcare, The Career Management Center at the Fuqua School of Business
Years at Duke: 15
What she does at Duke: Meg Flournoy assists Fuqua School of Business students and alumni interested in the health sector. Flournoy's role involves career coaching, interviewing preparation and connecting them with fellow Duke community members working in the field.
Some days Flournoy feels like she's traveled the world without leaving her desk.
She meets with a student to discuss internship opportunities in Asia. The next appointment could be a Skype call to help a Global Executive MBA in France to prep for an interview. No matter the reason for the meeting, Flournoy uses her background with counseling psychology in career coaching.
"Oftentimes students are uncertain about their career path, overwhelmed with options or sometimes discouraged," Flournoy said. "I always like to learn about the student, what brings them energy, meaning and purpose. I'll often ask them to tell me about a time when they felt great. I want to put them in a positive mindset."
Flournoy travels every few months to places like San Francisco and Boston to meet with alumni working in the health sector. Her position also takes her abroad. Flournoy has visited alumni or traveled on a global residency with MBA students in India, China, South America, Turkey and Hong Kong. These experiences enrich Flournoy's curiosity and love for students and alumni from all over the world.
She keeps track of Fuqua alumni working in the health sector by maintaining a spreadsheet that lists former students and where they work. This helps Flournoy stay connected with alumni, and the healthcare industry sector.
"It's really important for me to stay connected with alumni," Flournoy said. "Alumni keep me updated on the job market and are valuable resources to our current students."
What she loves about Duke: Flournoy values hearing talks from political leaders, listening to world-class music, attending sporting events and going to an art exhibition at Duke.
"I love taking advantage of all the cultural opportunities at Duke," she said. "It's so amazing to be part of the Duke community."
Memorable day at work: In 2009, Flournoy traveled with the "Global Academic Travel Experience," a course in which students focus on a region's history, politics, economy and culture, to Vietnam, Thailand and Singapore.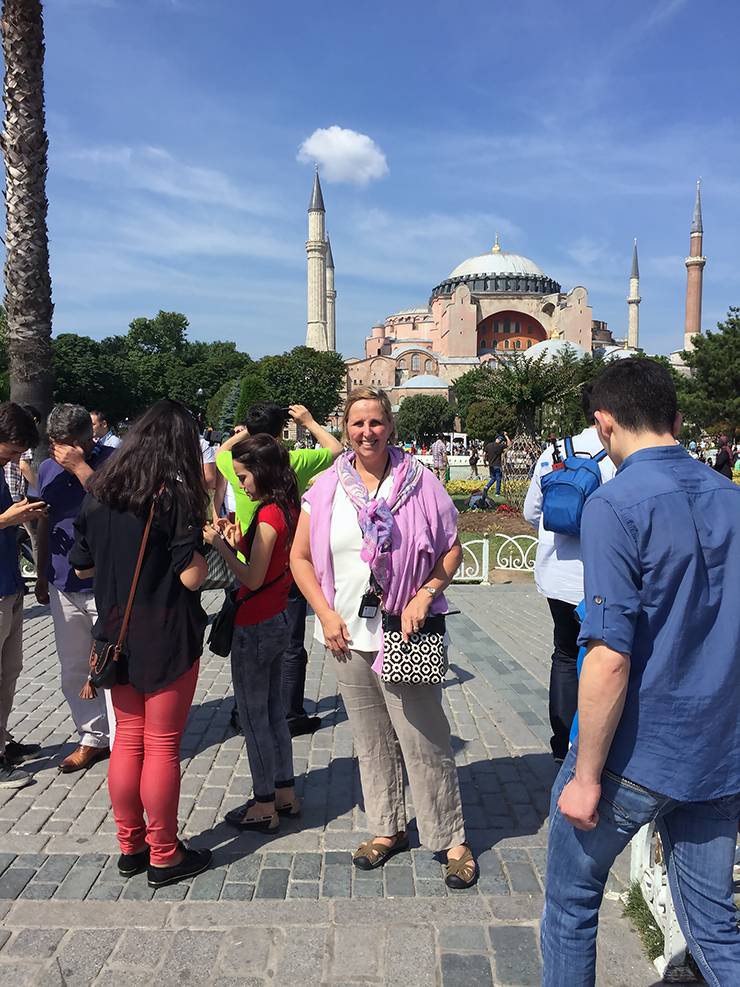 "I hadn't traveled globally much before then," Flournoy said. "It helped me connect with international students in a deeper way. I learned what it was like to experience a brand new culture for the first time. I can relate more to the mixture of fear and excitement the international students feel being in Durham for the first time."
Special object in her workplace: Flournoy likes to have a little seasonal décor in her office. She breaks out pumpkins in the fall, Duke basketball swag during the winter and a zen garden during the peak of student interview season.
"I want students to exhale and feel a sense of calm from their day to day stress when they come into my office," she said.
But Flournoy's favorite object is a small sign given to her that says, "Love what you do." She positioned the sign so it's in the line of sight of students who meet with her.
"I hope it sends a subtle message to them," she said. "It's important to me that they find a career they love."
Best advice she's received: "You can learn to love new places."
Flournoy learned that advice from Trudy Cunningham, former associate dean of Engineering at Bucknell University, when she finished her undergraduate degree. Whenever a change or something new has come along, Flournoy finds herself thinking about learning to love new places or opportunities.
"Trudy's advice has stayed with me whenever I'm making a change in my life," Flournoy said.
First ever job: Flournoy worked at a small grocery store in Center Ossipee, New Hampshire. The town was a popular tourist destination because of its proximity to Ossipee Lake.
"I loved seeing all the different people that come from out of town to the lake," she said. "Everybody would talk and chat, and I would just listen their stories."
Something most people don't know about her: Flournoy loves to play tennis. After not playing for many years, she and her husband recently started playing again at the Duke Faculty Club.
Is there a colleague at Duke who has an intriguing job or goes above and beyond to make a difference? Nominate that person for Blue Devil of the Week.