Professional Development Program Awards 139 with Certificates
Employees earn certificates in seven categories to further their careers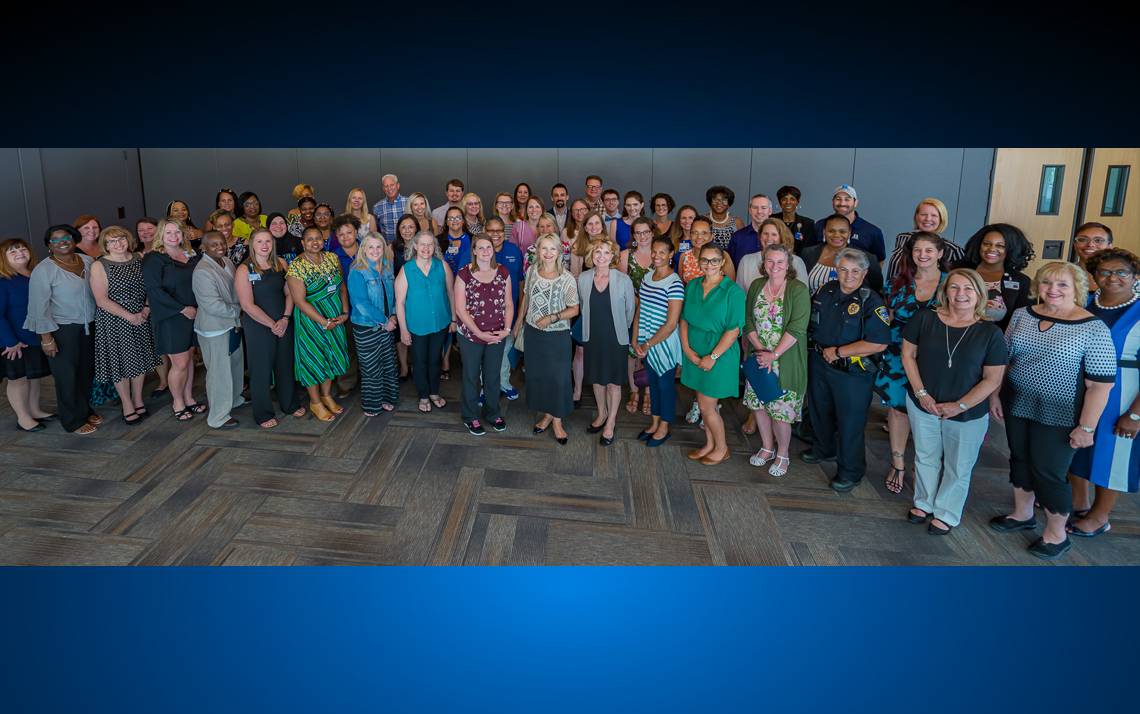 Recipients of the Professional Excellence Certificate had their eyes on the future on July 17 during a graduation ceremony hosted by Duke's Learning & Organization Development.
In all, 139 University and Health System employees received certificates in one of seven disciplines from Learning & Organization Development (L&OD): Administrative Assistant, Executive Assistant, Training, Customer Service, Supervisory, Leadership and Technical.
"Investing in our employee population is absolutely essential," said Kyle Cavanaugh, Duke's vice president for administration who offered remarks during the ceremony in Penn Pavilion on West Campus. "We need to continue providing our workforce with the skills needed to support Duke's strategic direction."
To earn a certificate, employees take three to four core courses along with two to four electives. Typically, that means about 72 hours of L&OD courses.
Sharena Ballard, program coordinator for the Duke-UNC Brain Imaging & Analysis Center, earned certificates in the administrative assistant and executive assistant categories. The program inspired her to investigate pursuing a bachelor's degree in accounting or business.
"I never thought I would return to school," Ballard said. "Earning the certificates gave me confidence. I'm ready to keep learning and growing."
About 350 employees have received certificates since the program launched in 2014. Another 2,500 are currently pursuing an L&OD certificate in one of the seven disciplines.
"This is a journey," said Keisha Williams, assistant vice president of L&OD. "We're teaching the participants to have the skills needed to move their career and Duke forward."
Cindi Wood, a lieutenant for the Duke University Police Department, completed the supervisory certificate and is working on a certificate for leadership excellence. She supervises about 25 officers and signed up for the program to learn how to manage different personality types.
L&OD instructors taught Wood how to practice active listening, maintain positive body language and find the right tools to motivate employees.
"The certificates should act as a bridge for my employees," Wood said. "I want to use the skills I picked up to motivate my team into pursuing leadership roles. I want to inspire them to always strive for more."
Here is the full list of graduates:
Leadership Excellence
Nathan Amos
Jennifer Bailey
Adrienne Baroff
Cheryl Bock
Emilia Chiscop Head
Jeff Fisher
Nicole Fleming
Kris Herring
Karem Jackson
Lisa Massa
Edward "Jamie" Mills
Sulochana Naidoo
Hien Nguyen
Sara Patillo
Diane Satterfield
Claire Swift
Kelsey Vinson
Colette Watt
Supervisory Excellence
Jack Adams
Angelo Azevedo
Barbara Baxter
Megan Bell
Cheryl Bock
Walter Crevoiserat Jr
Daniela Cofoni
Marianne Drexler
Alberto Dunbar
Amanda Frederick
Kris Herring
Amy Judd
Tamara Kirk
Erica Kitchen
Kenneth Langenhahn
Tracey Lannon
Aijun (Anna) Li
Tracey Madrid
Viken Momdjian
Cristin Ryman
Sally Paul
Deidra Powell
Margaret "Peg" Rood
Michelle St. Pierre-Gurganus
Mary Jo Smith
Melinda Strickland
Vivian Thompson
Christopher Todd
Deborah Vanderford
Darla Wohlfarth
Cindi Wood
Amal Youssef-Elgamal
Customer Service Excellence
Wanda Amons
Babi Borah
Jennifer Collins-Mancour
Minerva Dantzler
Tammy Day
Emily Dysart
Sarah Friskney
Kimberly Holleman
Stephanie Jordan
Chandra Lingenfelter
Melissa Neeley
Love Nelson
Robin Owens
Nadia Pasha
Maryann Payne
Ashley Personius
Nichole Ryan
Yashaundra (Shonie) Taylor
Ashaletta Troxel
Elisabeth Wharton
Amal Youssef-Elgamal
Judy Zlatovich
Training Excellence
Kimberly Black
Thomas Devine
Alpha Esser
Diane Satterfield
Laurelin Younger
Technical Excellence
Lamont Bass-Patillo
Dominique Cole
June Durand
Malinda Elammari
Pratik Gandhi
Susan McClanahan
Crystal Russell
Tiffany Standridge
Elisabeth Wharton
Administrative Assistant of Excellence
Sharena Ballard
Ginger Berry
Cecilia Burns
Kim Campbell
Kimberly Cotton-Wilson
Ameshia Daniels
Bonita Douglas
Sharon W. Evans
Lisa Griffin
Elizabeth "Lizz" Hawkey
Lee Hines
Jennifer Hunter
Lisa Keith
Angela Latta
Robin Marley
Robin Mason
Chantia Massey
Ashley McCann
Tabitha Moore
Gail Morrah
Ebony Nash
Victoria Navarrete
Lara Orgain
Deborah Patillo
Ashley Robbins
Norma Roberts
Catonya Ross-Holloway
Cassandra Royal
Stephanie Stephens
Linda Suite
Mark Taylor
Carolina Tennyson Laws
Kimberly Toole
Vickie Z. Waters
Erin Willis
Athena Wilson
Kaitlyn Wilson
Leia Wright
Executive Assistant of Excellence
Cecilia Burns
Diane Butler
Ameshia Daniels
Wendy Dixon
Bonita Douglas
Irish Hamilton
Kristina Hill
Gail Morrah
Ebony Nash
Lara Orgain
Sherolyn Patterson
Ashley Robbins
Catonya Ross-Holloway
Cassandra Royal
Linda Suite
Have a story idea or news to share? Share it with Working@Duke