Healing One Word At A Time
Find clarity and resilience through daily writing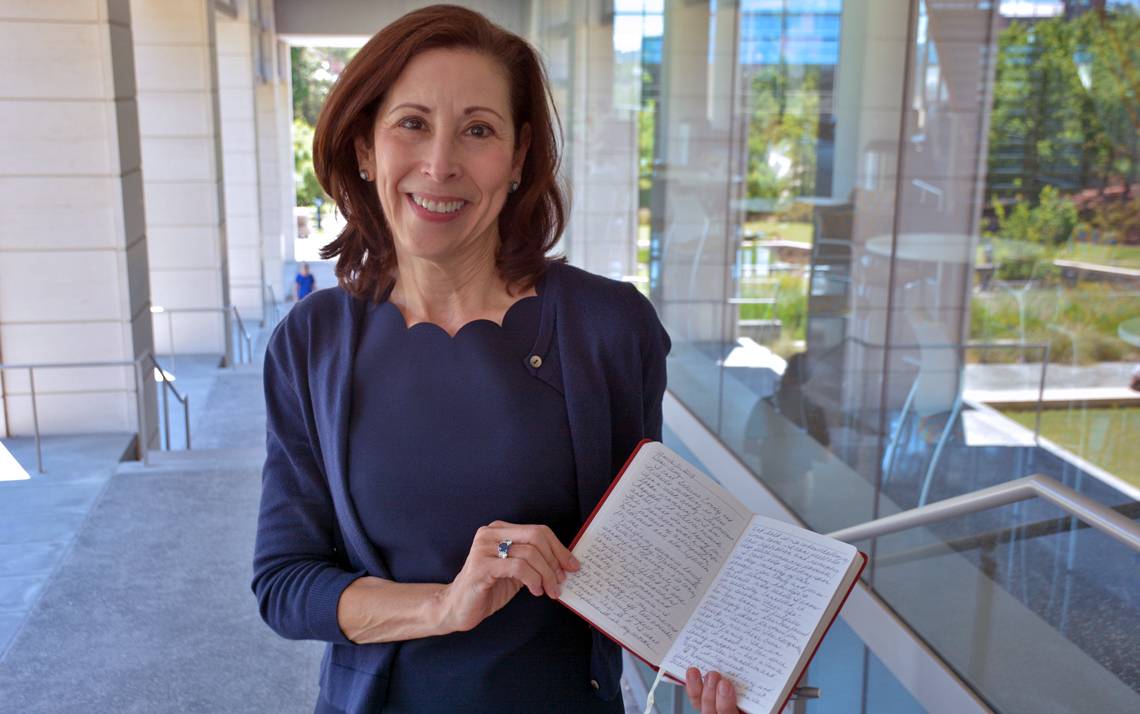 Larry Burk was working in private practice when he received an offer to return to work at Duke. In a notebook next to his bed, he wrote: "Should I return to Duke?"
That night, he dreamed of a yellow brick road leading him to Duke. He described the dream in his journal and realized the dream was a sign to come back to Duke.
"I write down what's in my dreams while it's fresh because it's often important guidance for questions or problems I've been avoiding," said Burk, a consulting associate in the Department of Radiology. "I get information on my career, health and personal relationships by writing it all down."
Burk has kept a bedside notebook for the past 30 years. He writes a question at the end of each day and details what he can remember from the dreams every morning.
Writing can be a transformative self-care tool for anyone looking to heal and develop self-awareness, according to John Evans, a writing clinician for Duke Integrative Medicine and the Franklin Humanities Institute's Health Humanities Lab. During the academic year, he teaches a free wellness and writing workshop that is open to Duke staff, faculty and students. To attend, check the Health Humanities Lab page in late summer for a schedule of events for the fall.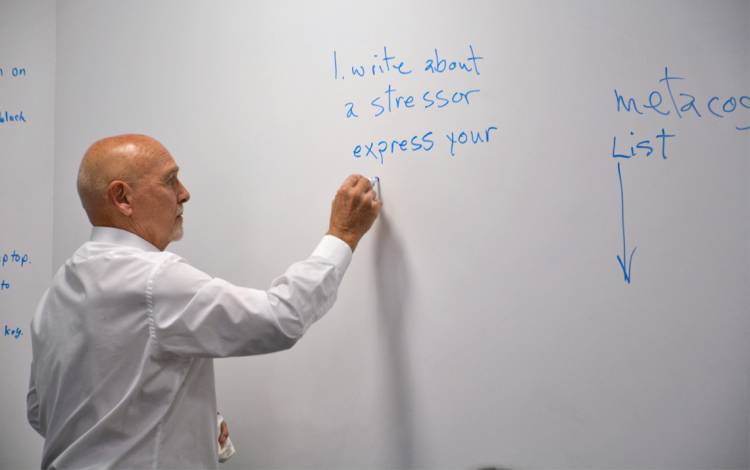 During the workshop, Evans asks participants to perform expressive writing, which is writing one's thoughts and feelings without regard to grammar or conventions. If you're trying expressive writing at home, Evans recommends writing for about 20 minutes every day for four days in a row about extremely personal topics, like relationships, stress and trauma.
The 2016 edition of the "Encyclopedia of Mental Health" states that expressive writing can shows improvements in "healthcare utilization, immune functioning and depressive symptoms."
"Writing gives you clarity about what's going on in your heart and mind," Evans said. "Having some sense of organization gives you peace. You feel better and you think better."
In addition to the workshop taught by Evans, the Health Humanities Lab offers a monthly "Narrative Medicine Mondays" during the academic year. The expressive writing series, open to the Duke community, engages participants with writing prompts about health, such as communicating with doctors and providers, childhood wellness and using arts in health.
Elizabeth Ross, associate consulting professor in the Duke Doctor of Physical Therapy Program, has attended the Health Humanities Lab's "Narrative Medicine Mondays," and practices expressive writing on her own time. She has shared a journal with her younger sister, Amy Rosenblatt, for the past 15 years. The two exchange the journal every few months and fill pages with their successes, challenges and memorable moments.
Ross treats her writing as a time capsule that allows her to process what she is feeling in the highs and lows of life. She recounts joyous moments with family and friends, reflections on worries, memories of loved ones who pass away and, recently, her feelings while planning her daughter's wedding.
"I prepared a toast for my daughter at her wedding, which fostered a lot of reflection about our relationship," Ross said. "It was such a beautiful feeling. I wanted to capture it and be able to relive those feelings in the future. Writing in the journal helps me do that."
Ross has been a writer for as long as she can remember. She fills birthday and anniversary cards with messages of gratitude because it provides an opportunity for her to verbalize how important relationships are to her. She sometimes writes letters during moments that upset her and then she throws the note away, knowing she has some closure about her feelings.
"It's a bit of a paradox because I use writing to both hold onto a moment and let things go," she said. "Writing makes me stronger. It builds my resilience."
Have a story idea or news to share? Share it with Working@Duke.