Find Teamwork in Toastmasters Speaking Clubs
A range of roles help club members improve their speaking and leadership skills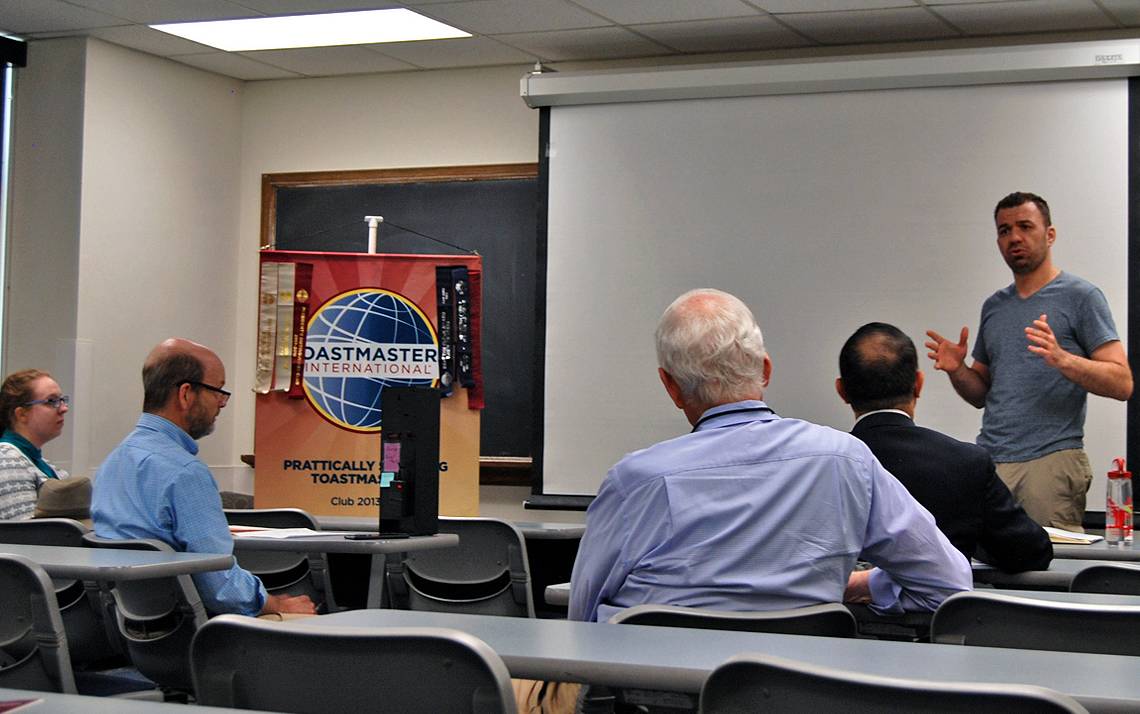 On a recent Wednesday meeting of the PRATTically Speaking Toastmasters Club, members and guests got up and spoke, either in the form of a prepared speech or off-the-cuff monologue based on a prompt, while the rest of the group listened.
Audience members had a role: people kept time, counted stammers and unnecessary words, and jotted notes on how well talks were given.
To many, Toastmasters clubs help people get more comfortable speaking in public. But the benefits go far beyond ridding reluctant speakers of butterflies. Instead, the structure of meetings help hone your ability to organize thoughts and beef up your leadership skills.
"The structure here makes the difference," said PRATTically Speaking Club President and Mechanical Engineering Ph.D student Dani Levin. "You go up and speak, but this helps you learn what you did well or what you might want to improve in the future. That's really important."
Three Toastmasters clubs meet at Duke several times each month. Meetings for all follow the same format with members filling speaking and leadership roles.
Here's how Toastmasters Clubs can help make you a more effective speaker and leader.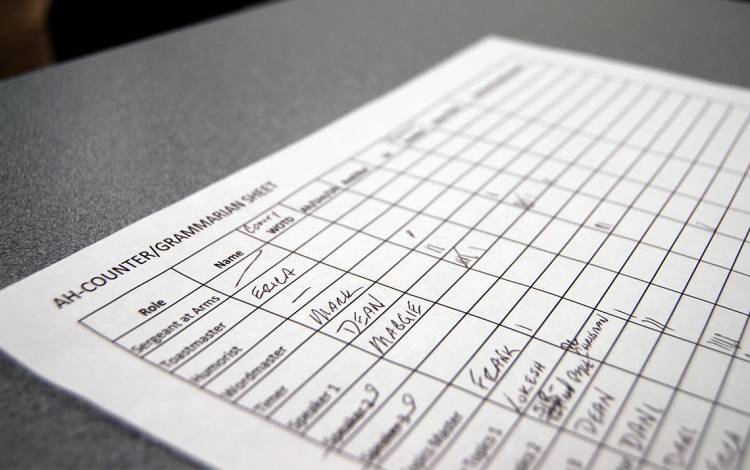 Get Crucial Feedback
During each speech, there are a few people who follow the content of the speech closely and provide feedback to the speaker afterward. The Grammarian keeps notes on both incorrect grammar and eloquent turns of phrase. The Ah-Counter also tally the number of unnecessary words or sounds. Meanwhile, the Speech Evaluator studies overall effectiveness of the speech.
At different points during the meeting, they present their findings, giving the speaker hard data and supportive feedback on how the speech was presented and providing an idea for areas of improvement.
"Most people are only thinking about their notes or their content," said Dean Storelli, an staff member at the Sanford School's Center for International Development and member of the PRATTically Speaking club. "But this makes you aware of how you're delivering things. It teaches you how to pay attention so you can adjust it."
Tighten Your Message
Maggie Gatongi, a lab administrator with the Department of Biomedical Engineering, used the PRATTically Speaking meeting to run through a speech she gives students about how to correctly use certain lab equipment. Having to relay a large amount of complicated information to people in a short time is a challenge Gatongi faces often.
By practicing the speech at the meeting, she can get feedback on how cleanly and – perhaps more importantly – quickly she delivers the message. Helping her do that is the Timekeeper, who watches every speech at the meeting and records exactly how long it took to deliver.
"I only have a limited amount of time at the beginning of a lab to introduce this to the students," Gatongi said about why she chose to workshop the speech at the club meeting. "I need to be able to introduce this quickly and give them the bulk of information so they don't have to raise their hands every two minutes to ask questions."
Think on Your Feet
Table Topics is an exercise found at most Toastmasters meetings. It calls upon club members to get up in front of the group and give a short talk on a surprise topic selected by the Table Topics Master. Speakers only have a few moments from the time they're given the topic to begin their remarks.
PRATTically Speaking's incoming club president Erica Yeager Thomas, staff assistant at Duke University Chapel, said the quick-thinking nature of the exercise helped her get more confident in her ability to voice her thoughts when the moment arises.
"I used to not always speak up in meetings because I didn't always feel comfortable organizing my thoughts in an impromptu way," Thomas said. "But actually getting out and practicing is the only way you're going to get better. It helps you take a second to think."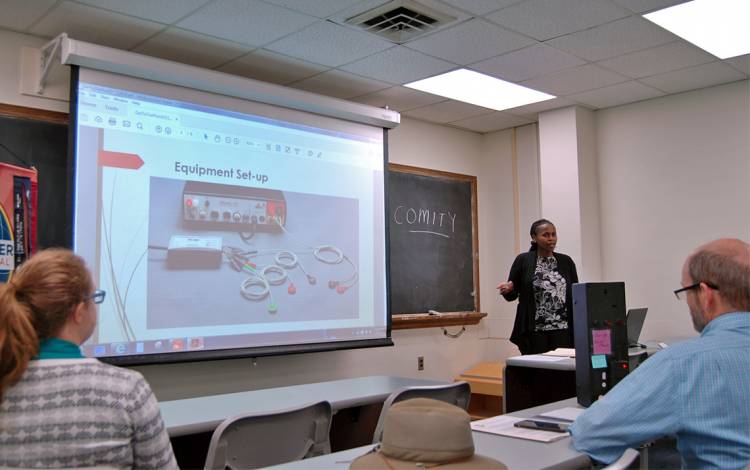 Develop Leadership Skills
Each club meeting is run by a Toastmaster. This is the person who introduces each exercise, welcomes guests, selects speakers and sets the conversational tone for the meeting.
As part of her job, Gatongi, the lab administrator with the Department of Biomedical Engineering, leads a meeting at the beginning of each semester helping new teaching assistants in the Pratt School of Engineering understand the finer points of their position. She said serving as an occasional Toastmaster for the PRATTically Speaking club helps strengthen her ability to oversee meetings.
"This allows me to practice starting a meeting and driving it," Gatongi said. "Being able to facilitate a meeting from beginning to end, and have people engaged throughout, is something I can say I learned here."
Have a story idea or news to share? Share it with Working@Duke.