Blue Devil of the Week: Smoothing Out Duke's Purchasing Process
Andrew Stasiuk manages the technology that brings goods in and out of Duke
Name: Andrew Stasiuk
Title: IT Analyst with the Office of Information Technology (OIT)
Years at Duke: 19
What he does at Duke: The next time you grab sticky notes from an office supply cabinet or use a piece of equipment in your office, think of technologists such as Andrew Stasiuk, who helps bring supplies to Duke as an IT Analyst with the Office of Information Technology (OIT).
Stasiuk helps facilitate business transactions between Duke and outside vendors, primarily in the health system. Stasiuk develops and maintains the Electronic Data Interchange technology, software that translates vendor files, like invoices, into files that Duke's materials management system can read.
For example, when the Health System purchases surgical masks, the company that manufactures the masks sends Duke an invoice. Companies use different formats to send invoices, and they may not be compatible with Duke's system. But when the invoice is received, it goes through Electronic Data Interchange software, which translates the invoice into a universal format, making it easier to automatically pay the vendor for the product.
Before this seamless process, Stasiuk manually deleted 20,000 files in the system every week to keep the software running smoothly. Now, more than a million purchases pass through the software at Duke each year.
Memorable day at work: Stasiuk remembers the lead-up to "Y2K" or the year 2000 as a big and worrisome event. Many were unsure what would happen to computerized systems built on four-digit dates beginning with "19 "once they advanced to "20."
For months in 1999, Stasiuk and his colleagues poured over lines of programming code at Duke to verify that the "scripts," or programming instructions, were viable. All of Duke's systems – such as materials management and payroll – rely on this information.
"The biggest concern was that the whole Duke system would shut down," Stasiuk said.
It didn't.
"I was at a celebration, but I remember watching the news reports from other parts of the world that celebrated the new year before us, and based on that I felt much better," he said.
Something special in his cubicle: Stasiuk is most proud of a piece of paper hanging in his cubicle.
"I have this poster that my son drew when he turned 16 or 17. It was a poster to advertise his band, playing at a coffeehouse in Apex," he said.
His son, Sebastian, now 23, was in a rock band in high school.
"I got the poster signed by all the band members including my son. It's a treasure. If he ever makes it big, it's going to be a huge piece of memorabilia," Stasiuk said.
First job: After moving from his family's homeland of Poland to Toronto when he was 11, Stasiuk applied to be a paper boy for the Toronto Star newspaper. He was turned away because he was too young. He tried again in the seventh grade and got the job.
Stasiuk woke up early in the morning before school and carried newspapers to each house. He enjoyed being able to purchase his own things with his earnings.
"In the best of times, it involved getting up on Sunday morning with just a few papers to deliver. In the worst of times, it was getting up at 5:30 a.m., in the middle of a Canadian blizzard, when the snow plows hadn't been through the streets yet," he said.
He delivered papers until he was 16-years-old, when he got a part-time job at McDonalds.
How he got into tech: After Stasiuk graduated from the University of Toronto with a double major in Computer Science and Economics. The internet was just starting up, and he joined a startup company that developed the Electronic Data Interchange translators that Duke uses. Stasiuk did the programming and built the software that carried out the translation. After that, he worked for IBM in North Carolina and then came to Duke.
Something most people don't know about him: Stasiuk is an avid collector of stamps. He started collecting when he lived in Poland as a child. Many of his most cherished stamps come from Poland.
"I recall one day in second grade my father brought me an old stamp album, and it was only after years and years that I learned that it was filled with very common and somewhat financially worthless stamps, but they had value in getting me interested in it," he said.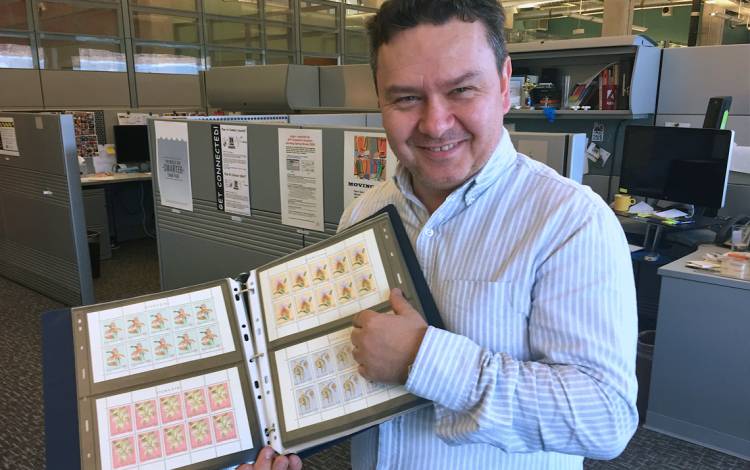 Since then, he's grown his collection to 12 album volumes full of stamps from around the world, including Rwanda and the United States.
The most unusual stamps are from Disney's private island, Castaway Cay, where he took his family on vacation during a cruise.
"We made a stop at Castaway Cay, and I was like, 'oh my goodness. There's a post office here.' I don't know if they're worth anything but still, it's a cool souvenir," Stasiuk said.
What he loves about Duke: Stasiuk appreciates Duke's flexible and family friendly environment for staff and faculty. He's been able to bond with his sons, Sebastian and Lukasz, 16.
"When the kids were younger, I had the flexibility to go down to their school and volunteer with things like reading time," Stasiuk said.
Now that the boys are older, Stasiuk said that Duke's time off benefits help him to spend time with the boys' new pursuits.
"Sebastian and I got together to do maintenance on his car, while Lukasz and I do driving lessons and college campus tours," he said.
Is there a colleague at Duke who has an intriguing job or goes above and beyond to make a difference? Nominate that person for Blue Devil of the Week.